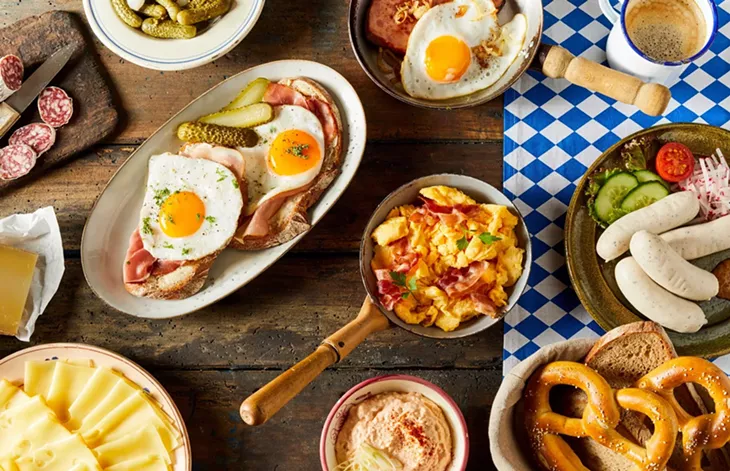 German food may never have had a boom in Oklahoma City, but the cuisine does have a rich history in the metro.
There are three tiers of German offerings available in close distance to the city core: the formal, real-deal food at Royal Bavaria, the richness of the bread and meats from Ingrid's Kitchen, and the brat and beer on the run variety exhibited by Fassler Hall.
But first, we must pour a little from our steins in remembrance of a longstanding German establishment that has shuttered in recent years: Old Germany.
After unsuccessful attempts to revive the former Choctaw restaurant ended in 2019, the last standing in the realm of true German eateries is Royal Bavaria.
Royal Bavaria
Located south of Moore and several miles east of Interstate 35, Royal Bavaria, 3401 S. Sooner Road, offers traditional German dishes for the evening crowd seven days a week. The menu items are also listed in German, with English counterparts, of course.
Anyone even vaguely familiar with German food knows that the menu is heavy with cooked meats, pickled cabbage and potatoes and the selections at Royal Bavaria are no let down. For reference, Bavaria is the state in southwest Germany of which Munich is the capital and is the birthplace of the Oktoberfest tradition. Bavaria is also known for its distinctive cuisine.
Some of the heartier, must-try dishes at Royal Bavaria include:
Bayerischer Schweinebraten in Biersauce Mit Semmelknödl and Blaukraut: Sounds more intimidating than it is. The literal translation of this is, Bavarian pork shoulder in a beer gravy with dumplings and red cabbage. Enough said.
Jägerschnitzel Mit Pilzrahmsauce, Spätzle: A schnitzel is just a thin strip of meat, in this case pork and a Jägerschnitzel indicates that it's topped with a mushroom sauce. A Spätzle is just a type of thin German noodle.
Schlachtplatte AKA the Royal Bavaria: We're not going to tell you what the literal translation of this one is, but there's nothing mysterious about this traditional autumn dish. It's just grilled and smoked pork chop, gourmet ham, and a skinny pork sausage served with sauerkraut and mashed potatoes, with gravy.
There is always a wide selection of craft beer brewed at Royal Bavaria, in- cluding their seasonals. For those who aren't into beer, Royal Bavaria also offers a nice selection of wine from Germany, Austria and the U.S.
Ingrid's
Ingrid's is known for two things: bread and brunch.
There's a reason Ingrid's Kitchen, 3701 N. Youngs Blvd., has more than two dozen sandwiches, from deli to grilled and German selections, but in the spirit of the season, we recommend these three, all served with Ingrid's signature bread:
Their Sauerbraten, or roast beef topped with brown gravy, includes sauerkraut, red cabbage, German potato salad.
Schinkenwurst is a German bologna and ham served on bread with German mustard and mayonnaise.
The Gelbwurst sandwich is veal loaf served on bread with German mustard and mayonnaise.
Their Sunday brunch, served from 10:30 a.m. until 2 p.m. on Sunday, was a thing before brunch was ever a thing in Oklahoma City, but hearty offerings include: eggs benedict, scrambled eggs, sausage links, bacon, biscuit and sausage gravy, roasted and mashed potatoes, chicken, roast beef, bratwurst and sauerkraut, and salads as well as the entree and vegetable of the day.
But don't forget about the desserts.
Highly recommended are the nuessecken, which is shortbread crust with nuts, coconut and chocolate, or a streusel square with cream cheese, coconut, and streusel topping along with a rotating filling. And, of course, there are German chocolate and Black Forest cakes available.
Fassler Hall
Simply put, Fassler Hall, 421 NW 10th St., is a beer hall. Its pretzels and brats definitely fill stomachs, but you really should be coming here primarily for its draft selection. Offering more than a dozen German and other European beersontapatpricesof$6or$7a serving (or $12/$14 per liter), there aren't many other places you're likely to find Weihenstephaner or Spaten on draft, and the Warsteiner Dunkel (dark) is one of the tastiest beers around.
There are plenty more varieties of bottled German beer on hand as well as a well-rounded selection of Oklahoma brews and typical domestic fare.
To soak it all up, snap one of their Bavarian pretzels. Both the house mustard and the smoked gouda cheese sauce Fassler offers with them are wonderful. Speaking of cheese, definitely try the cheddarwurst over the regular bratwurst, but make sure to get some of that mustard with it.