provided
More than 8,000 people attended the first Oklahoma City CannaCon in April.
For the second time this year, CannaCon is upon us.
The first business expo, held in April, brought more than 8,000 people to Cox Convention Center, 1 Myriad Gardens, CannaCon marketing director Angela Grelle said.
CannaCon is 10 a.m.-5 p.m. Friday-Saturday. Tickets range from $40 for a single day to $150 for a two-day pass with access to all the seminars.
CannaCon
10 a.m.-5 p.m. Friday-Saturday
Cox Convention Center
1 Myriad Gardens
cannacon.org
425-791-4467
$40-$150
"I would say that Oklahoma's definitely been our busiest show," Grelle said. "I think a lot of it has to do with the licensing laws and the fact that Oklahoma has really allowed anyone. It's really not extremely expensive like it is in a lot of other states. In a lot of other states, it's really cost-prohibitive for people to get a license. You're looking at anywhere between $30,000 and $100,000, in most states, just to get your license going, and they make it so difficult too. There's so much red tape."
Event space
While the last expo was held on Thursday and Friday, this time, it will be held on a Friday and Saturday.
"We almost always do our shows on Friday and Saturday. I think the last Oklahoma event was the first time that we didn't do a Friday-Saturday, and it was just because we couldn't get the Cox Convention Center for that Saturday," Grelle said. "They had something else booked."
That Saturday during the first CannaCon was also April 20.
"We try not to do our shows on 4/20 just because there's so many other things going on always on 4/20 that we worry that it's going to distract people from coming to our event because we're not a smoking event," Grelle said. "And so usually on 4/20, people want to go to the parties and the smoking events."
The convention has expanded, with 228 vendors confirmed for the two-day expo. There were 189 vendors at the April event in Oklahoma City.
"We had some of our bigger companies that were kind of on the fence about coming to Oklahoma the first time, and then they saw videos and pictures and all of the buzz of how busy the show was and how great everything went, and they were all chomping to make it into the next one. I think that's why we sold out of booths so quickly," Grelle said. "We had to take our seminar rooms and turn those into spaces for booths. And so then we had to take space for seminar rooms out. We had to rearrange a little bit. It's still in the convention center. They're just in the outside meeting rooms that are right down the hall."
CannaCon said that while it is running out of space for more vendors in Cox Convention Center, it has looked into hosting an outdoor event and decided against it, instead hoping that Oklahoma City's new convention center will be able to accommodate larger shows in the future.
Last time, it had only sold between 3,000 and 4,000 tickets up until the week leading up to the event but saw more than double that number of attendees, so CannaCon has prepared for larger crowds in advance in the aim of cutting down wait times in line to get into the expo. Attendees who register in advance can avoid the wait in line altogether and print out their own badges at a kiosk instead of having to enter their information on-site.
"We have to ship all of that equipment out ahead of time, all of the iPads and the registration equipment, and we have to have other registration kiosks set up, and so, at that point, we were really too late to add any extra kiosks. … It was crazy. We were expecting like half of that," Grelle said. "Normally, our first time in a state, we'll hit like two to 3,000. We feel like that's pretty average. It's pretty good. We target so much the business side of the industry, and they don't really target a whole lot of the end users because nobody's smoking at our shows. People come to shop and do business and learn, and it's a kind of a different vibe than something like Hempfest or a High Times Cup, so we don't usually draw like a High Times-sized crowd."
She said many of the attendees also come from out of state. The nearest CannaCon currently slated will be held in Chicago in July 2020.
"We drew a lot of people from Texas and a lot of people from Missouri, and I think we will again, judging from our analytics and our website traffic," Grelle said. "We're getting a lot of hits from those areas."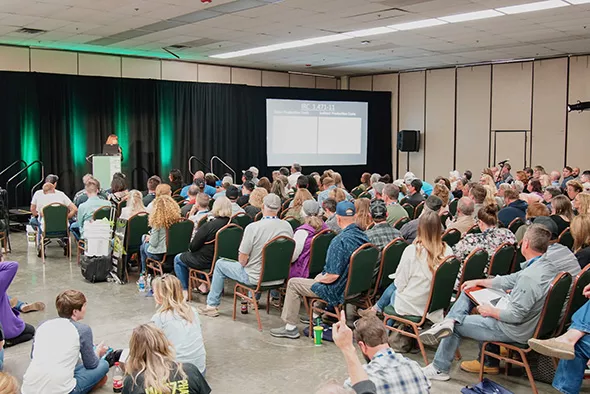 provided
CannaCon includes four seminars by industry experts.
Seminars
In addition to the vendors, which again include more than a dozen seed companies, there will be seminars running the duration of the event.
The centerpiece of those seminars is an infused cooking demo with chef Shaun O'Neale, named America's best chef in September 2016 and the champion of MasterChef's seventh season. His seminar will explain in detail what chefs need to know about the cannabis decarboxylation process and how to dose properly when cooking with cannabis.
Other seminar topics will be crop optimization and high-tech irrigation with Doug Jacobs, the technical advisor for Grodan, a sustainable agriculture tech firm; solventless extraction and the entourage effect with Chet Tucker, the executive director of Arcadia Brands; and a primer on how to enter the cannabis industry with J. Blake Johnson, founding partner of Overman Legal Group and Climb Collective.
"Our seminars are getting a little more into the nitty-gritty of the business side of the industry and the more technical side of the growing industry, just because I think now everybody in Oklahoma is kind of at that point where they need that information," Grelle said. "Oklahoma has done a really great job, I feel like. I wish every state would kind of follow suit, at least in some of the ways, so that people can get licenses a little bit easier. And it's a more even playing field for everybody. You don't have to be some big corporation with some huge amount of money. You just have to be somebody that knows what they're doing that wants to get into the business."
CannaCon has already set the dates for the next event in Oklahoma City. It returns May 29-30, 2020.
Visit cannacon.org.