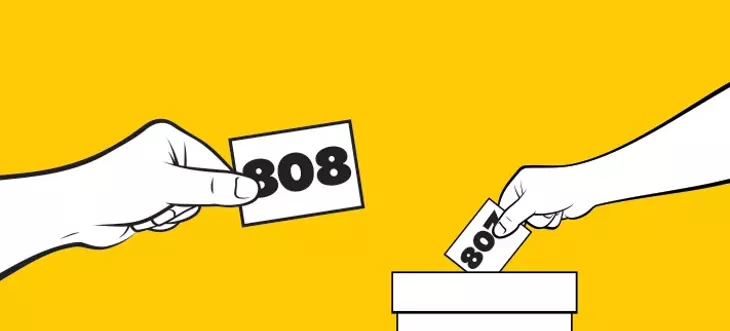 Shutterstock.com
Two cannabis ballot initiative petitions have been filed with the Oklahoma secretary of state.
Four days after withdrawing State Question 806, a modified version was again filed with the Oklahoma Secretary of State as State Question 807 and another party filed State Question 808 on the same day.
This time, the state question included a cover letter from the firm Crowe & Dunlevy, signed by D. Kent Meyers and Melanie Wilson Rughani. Speculation had been rampant about who authored the proposed constitutional amendment along with American Civil Liberties Union executive director Ryan Kiesel, who along with Michelle Tilley, are the proponents who signed their names to SQ807. Tilley is the campaign manager for the ballot initiative.
A press release that accompanied the refiling stated that the effort is "backed by stakeholders in Oklahoma and New Approach PAC, a national marijuana reform organization that has managed successful ballot initiative campaigns to legalize medical marijuana and adult-use marijuana in several other states."
New Approach is based in Washington D.C., and has raised about $19 million for cannabis reform initiatives since 2014, according to OpenSecrets.
It was a proponent of Oregon's initiative in 2014 as well as the successful 2016 recreational campaigns in California, Maine and Massachusetts and the 2018 petitions in Florida and Michigan, according to Ballotpedia. It will also be backing Nebraska's medical cannabis petition drive in 2020 and was a supporter of the 2016 Arkansas medical cannabis petition, which made it to the ballot but whose votes were not counted due to invalid signatures.
The language of the proposed ballot title itself is mainly intact, with two changes to the first sentence, which reads, "This measure adds a new article to the Constitution, which would generally legalize, regulate and tax marijuana for adults 21+ under state law," and a parenthetical clause that reads "but not alter the rights of medical marijuana licensees." The second change is that the phrase, "It provides for local zoning of businesses" has been stricken, though the second portion of that sentence, "It permits municipalities, upon popular vote, to limit or prohibit retail licenses" remains intact.
Under section 7, regarding rules and regulations, this passage has been added: "The Authority shall begin accepting applications for licensure within twelve months after the effective date of this article. For the first twenty-four months after the Authority begins to receive applications, the Authority shall only accept applications from and issue licenses to existing medical marijuana business licensees."
Stricken from SQ807 is the passage that states medical cannabis licensees are allowed to distribute to consumers without a license rather than solely medical cannabis patients.
An expanded passage of one first found in SQ806 is repeated multiple times in SQ807. It reads, "Nothing in this section or this article may be construed to limit any privileges, rights, immunities or defenses of patients, medical marijuana licensees, or medical marijuana businesses or to change or affect any law or regulation addressing marijuana for medical use or to apply any fine or other penalty to a patient. Any restrictions or limitations on persons or consumers set forth in this section or elsewhere in the article do not apply to patients, medical marijuana licensees, or medical marijuana businesses if the restriction or limitation is inconsistent with Oklahoma's laws related to medical marijuana."
The other patient protections, civil penalties and tax structure (15 percent excise tax applying only to nonlicensed cannabis users) remain intact in the ballot initiative.
Those opposed to the language of SQ806 celebrated a short-lived victory when news of its withdrawal began circulating Dec. 26, three days after its official withdrawal. Campaign manager Michelle Tilley said that they had planned to refile the petition on the same day but continued to work on the language revisions. It was filed with the Oklahoma Secretary of State the afternoon of Dec. 27 and placed online that day.
Also, on Dec. 27, a separate ballot initiative petition was filed as SQ808 by Paul Tay. Tay has run unsuccessful campaigns twice for Tulsa City Council as well as being beaten in the 2018 primary of the Tulsa mayoral race.
SQ808 is also a proposed addition to Article 31 of the Oklahoma Constitution. It is two pages long and contains 13 sections. The proposed ballot title reads, "This measure adds a new article to the Constitution, which would generally decriminalize cannabis, hemp, and all its related products for all persons. Specifically, it states the right of all persons to cultivate, consume, and consign for sale, barter, or charity of cannabis, and all its related products, while establishing the official State of Oklahoma policy on drug abuse as a public health issue, not in the purview of law enforcement or criminal justice system. The measure would enjoin all appropriate State Officials to establish the infrastructure for universal basic cannabis access, without regard of the ability to pay. No persons shall be denied employment, equal protection of law, right of self-defense by any available means, or be subjected to any adverse, punitive administrative actions by any State agency, or official, due to cannabis consumption. No persons shall be incarcerated, due to cannabis use, transfer to any other person or corporate entity, or transport to its final destination. All persons currently or formerly incarcerated for cannabis offenses, without any other violence related offences, shall be exonerated, released as free persons, and reparated for time served, to the fullest extent possible. No State official may assist federal enforcement of the Controlled Substances Act, or any other federal administrative rules prohibiting the same transactional access, as any other substances, such as alcohol, and tobacco. The measure establishes state-sponsored financial infrastructure to provide for easy, convenient transactions, quality control, and baseline standards for all cannabis, and related products. The measure provides for extensive public input when specific cases arise to require changes, to allow appropriate State officials to promulgate appropriate administrative rules and procedures to address future needs. The measure allows the State Legislature to impose a reasonable tax to the extent required to promulgate and implement all provisions of the measure, and for no other purposes."
All of the provisions of SQ808 are covered by the proposed ballot title. It would be effective 90 days after passage by a vote.
Petitions will be required to be signed by 178,000 registered Oklahoma voters within a 90-day window. After signatures are verified, the questions would be placed on a ballot in the November 2020 general election.