Liliana Campon / provided
Kat Lock plays Friday at 89th Street - OKC.
Since she left St. Basic to go solo, Kat Lock's songwriting has not evolved, not exactly.
Lock — who celebrates the release of her new EP You Again 6 p.m. Friday at 89th Street – OKC, 8911 N. Western Ave. — estimated that the most recently written song on the album is from 2017.
"A lot of people tell me, 'Oh, since St. Basic, your songwriting has gotten so much better,' and everything, but all of these songs that are on the EP, at least, I wrote either before St. Basic or when I was still in the band," Lock said. "They all were written years ago, but they were just songs that I wrote just for my own personal nothing. I didn't really plan on taking them anywhere because they were either too personal or I didn't think they were a St. Basic song."
Recorded by Brine Webb at Lunar Manor, the songs from You Again feel and sound distinct from the songs she wrote for St. Basic, Lock said.
"I'm going to say the difference is the music is more vulnerable," Lock said, "and it's more, I don't want to say all over the place, but St. Basic, I felt, followed a certain sound a little more clearly than my solo stuff does."
She originally wrote the songs on her new album without any intention of releasing them.
"They were kind of secret songs," Lock said. "I mean, you could ask any of my friends and they'll tell you who they're about. … They're like, 'This one's about this person, right?' and I'm like, 'Shut up.' But I just decided I didn't care if people knew. I probably became more confident through St. Basic, and now I don't really care if people know they're about someone. Who cares?"
She also would not care about classifying her music if people were not always trying to make her describe it.
"I personally hate genres," Lock said. "I understand they're necessary and you're going to get asked that question so much, but I actually did a test the other day. I posted on my Facebook and said, 'What genre would you say my music is? I got everything from pop to country to punk to folk, so I honestly couldn't tell you. There were people being like, 'Oh, I tell people that you're a punk artist,' and I'm like, 'What?' Someone before them is saying, 'It's kind of country.' I'm like, 'No, it's not.' I would say indie rock, but I think I'd say anyone's guess is as good as mine."
Even describing herself as a singer-songwriter can cause problems.
"I found that if I say singer-songwriter, people assume it's just me and a guitar when I have a full band and everything," Lock said. "They think it's me and, like, an acoustic. I learned that the hard way. I got to a show and there's, like, no sound setup. They were like, 'I thought you were a solo act,' and I'm like, 'Yeah, but with three guys.'"
The three guys in her backing band are bassist Matt Ellis, guitarist Matt Swann and drummer Ethan Neel. Swann and Ellis both previously played bass in St. Basic. While Lock was primary songwriter for St. Basic, she said she was not fully in charge of the band's creative direction. By revisiting old songs for You Again, Lock said she is reconnecting with the person she used to be and discovering all the ways she has changed.
"I wrote this song called 'Someone Else's Future,' which is where the name of the album comes from," Lock said. "The first line is, 'I'll see you again in someone else's future.' That was maybe the second song I ever wrote. I'd kind of forgotten about it, and when I stumbled upon it on an old phone or something, I was like, 'Well, I wrote this about this guy and this thing, and now looking back on it, it has an entirely new meaning to me.' It was just weird being like, 'Wow! I wrote this, and I was a different person then. … My thinking was so different. How I went about things was so different than I would have now.'"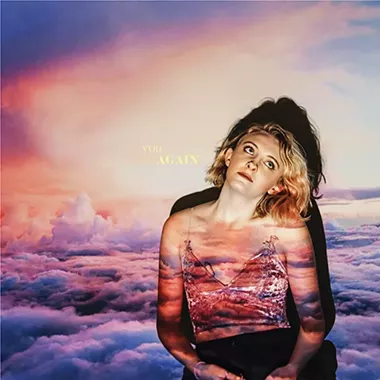 Liliana Campon / provided
You Again is Lock's solo EP debut.
Lock, now 23, began playing guitar and writing songs at 19.
"You're really at your most emotionally wild, moving out for the first time," Lock said. "I had a crush on this guy, and I found my old Soundcloud the other day that I just made to put my own songs on when I was first learning how to write songs. I mean, they were trash. They all started with C and went nowhere, but they were all about the same person, and I was like, 'Oh, my god! These are so embarrassing.'"
A concert review from Tulsa music webzine Star Catcher posted in February said Lock seemed to be laughing at her own lyrics.
"Lock's music can only be described as silly and girlish," reviewer Caity Robb wrote. "The songs were sung in a humorous way. Jokes were used to punctuate the transitions, and some of the songs even had breaks in them for sarcasm. It was like each one was an insight on how Lock views her love life. Instead of giving us the dirty, gritty details, she seems to satirize her own thoughts."
Looking back on her naiveté, Lock said she sometimes cannot help rolling her eyes, giving her performances an extra layer they would not have had when she originally wrote the songs.
"I think once I was removed and I reworked on them, I'd come up with little jokes or puns or something," she said. "I try to be self-aware at least. … I would have meant it more back then. Now, I still mean it, but I can be like, 'Oh my god! I can't believe I thought that.' My big thing is genuine authenticity. I mean, someone can be the best songwriter in the world, but if I don't believe that they went through what they're singing about, I don't buy it. I'm not into it, and you can tell."
While she revisits her recent past performing previously unreleased songs, Lock is also having to rebuild her audience, many of whom knew her as the frontwoman for St. Basic but do not necessarily know her name.
"That's annoying," Lock said. "Like applying for Norman Music Fest; 'Have you played here before?' 'No,' even though I played there for two years. … If St. Basic had applied, we probably would have gotten a better slot. … I made some connections that carried through, but I've had to start all over with the name recognition. People have accidentally been at my shows and been like, 'Wait. Were you in St. Basic?'"
Matt Jewett and One Two Ten share the bill. Visit 89thstreetokc.com.