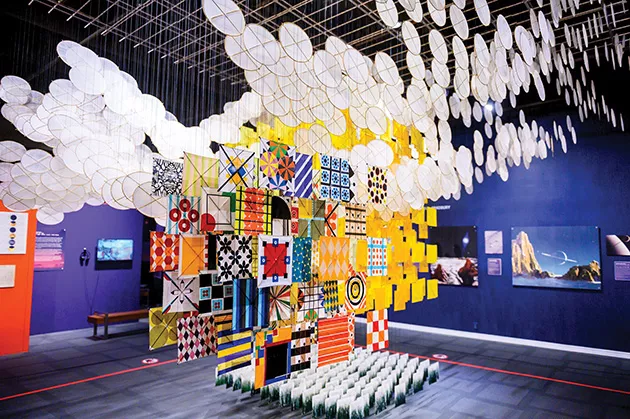 Provided
Cosmic Culture — on display through March 29, 2020, in the smART Space gallery at Science Museum Oklahoma — orbits around Jacob Hashimoto's The Other Sun, an installation constructed from 2,000 bamboo and paper kites.
Cosmic Culture: Intersections of Art and Outer Space
through March 29, 2020
smART Space gallery
Science Museum Oklahoma
2020 Remington Place
sciencemuseumok.org
405-602-6664
$13.95-$16.95
Long before people could explore space, they were imagining it.
"In the beginning of man's interest in outer space and what was up there and what was going on up in the sky, the only way to document it was through art, by drawing it and writing about it," Alyson Atchison, curator of Science Museum Oklahoma's smART Space. "We see scientists and artists working hand in hand, but in the very beginning, scientists had to be artists, too."
Cosmic Culture: Intersections of Art and Outer Space — on display through March 29, 2020, in the smART Space gallery at Science Museum Oklahoma, 2020 Remington Place — investigates the interplay between creativity and scientific discovery.
Inspired by the solar system, the exhibit is arranged in "a heliocentric manner" orbiting Brooklyn-based artist Jacob Hashimoto's The Other Sun, an installation constructed from 2,000 bamboo and paper kites.
Art critic Margaret Zuckerman, reviewing The Other Sun for Daily Serving in 2012, wrote, "Elegant white, solid gold, or patterned, the cascading assemblage of kites moves like a flowing river of shimmering color, rolling through the space with extraordinary buoyancy and energy. It's difficult for the eye to focus on an individual kite without getting lost in the whole, all-encompassing space. Some of the more decorated kites are like tiny paintings; each 'superflat' composition floats above or below its surrounding neighbor, intrinsically incorporated into the design like the patterned scales of a fish."
Atchison said visitors to Cosmic Culture seem to be equally impressed.
"My office is just outside of the gallery, and on my whiteboard, I've thought about ticking off every time I hear someone walk into the gallery and says, 'Wow!'" Atchison said. "It happens multiple times a day, which is so fun because part of our mission is inspiring wonder. So hearing people say, 'Wow!' is really cool."
The exhibit also includes pieces from Los Angeles-based artist Kysa Johnson's The Long Goodbye, a series of paintings illustrating the life cycle of stars using the formula for charting subatomic decay.
According to a statement on Johnson's website, "pairing these two iterations of the same process of birth, transformation, decay and regeneration highlights the basic similarity of processes across scale, the inevitability of change and the demise of the status quo whether measured in nanoseconds or millennia."
Atchison said Johnson's paintings creatively reveal fundamental facts about the universe.
"She expresses through her art the fact that everything around us is always decaying," Atchison said. "Everything has a lifespan. She's using the subatomic decay pattern formula to draw out the life cycle of a star, so when you look closely, you see scientific data and formulae and pi signs and all that stuff, and then when you step away, you see a constellation of stars that are moving and slowly burning out. Talk about the crossover of arts and science."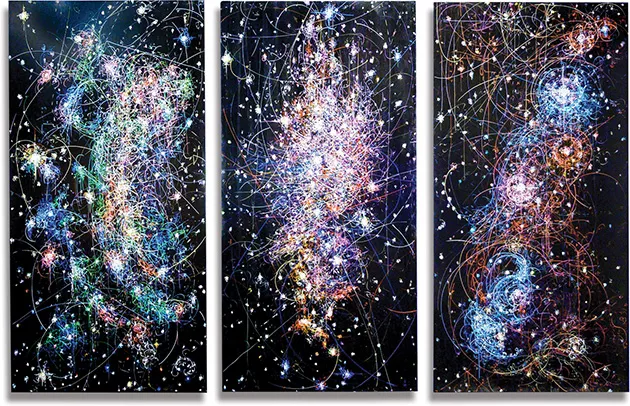 Provided
Paintings from Kysa Johnson's The Long Goodbye illustrate the life cycle of stars using the formula for charting subatomic decay.
Like all of the pieces on display, Johnson's work can be appreciated from either a scientific or a creative perspective.
"My brain is more on the artistic side," Atchison said, "so sometimes when I'm talking to an artist like Kysa, I don't 100 percent understand exactly what she's doing. I get to learn about it. We got these paintings and hung them up, and our education director walked in and said, 'Oh, she's using the subatomic decay formula.'"
Accurate portrayal
While the artwork on display depicts far-away subjects, some of the featured artists are based in Oklahoma. Tulsa artist fellow Carrie Dickason creates mixed-media artworks from found and recycled objects, and Norman fiber artist Darci Lenker conveys cosmic scales through small embroideries.
"One goal that we had for this exhibition was to show a wide array of media," Atchison said. "It's not just a photography show; it's not just a painting show."
Prints of paintings by highly influential artist Chesley Bonestell, who worked on backdrops for films such as Citizen Kane before he began painting scenes from outer space and extraterrestrial landscapes, are also on display. The International Space Hall of Fame at New Mexico Museum of Space History credits Bonestell's artwork in the 1949 book Conquest of Space with helping to convince millions of "dazzled" readers "that the exploration of outer space was worth whatever risks and costs might be required." Former Adler Planetarium director Joseph Chamberlain suggested that "without Bonestell and his early space age artistry, the NASA era might have been delayed for many years, or it might not even have happened at all." Atchison said that Bonestell's artwork was based on the most accurate information available at the time, and the results when compared to actual photographs is impressive.
"In the '40s and '50s, NASA would provide him with data that they were collecting about outer space, and Chesley would take that information and paint what he imagined outer space was going to look like," Atchison said. "Next to the prints of his paintings, we put NASA images of what he was painting. For example, we have a 1951 painting titled 'Descending Toward the Moon,' and then we've compared it to the actual moon landing in 1969, and they line up. It's so fascinating."
Like smART Space, National Aeronautics and Space Administration (NASA) is also interested in finding the crossroads where creativity meets scientific advancement.
"NASA has always had a strong interest in the arts," Atchison said. "They've always been open to working with artists and how they can document space exploration."
Cosmos host and NASA consultant Carl Sagan said these artworks inspired his imagination.
"I didn't know what other worlds looked like until I saw Bonestell's paintings of the solar system," Sagan said.
Admission is $13.95-$16.95. Visit sciencemuseumok.org.