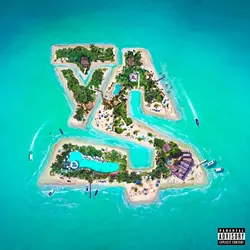 Image provided
Beach House 3
Many fans first became aware of Ty Dolla $ign following his inclusion on the 2014 edition of XXL's annual "freshman" list, which traditionally features up-and-coming rappers who have yet to release an official debut album. In hindsight, one could label that inclusion as the beginning of the artist's overly conflated image.
Though a multi-talented vocalist and multi-instrumentalist who clearly makes music informed by the rap aesthetic, Dolla $ign is not a rapper, nor does he claim to be.
The Los Angeles-born musician has recently been focused on clarifying his status as an R&B and hip-hop singer with an all-around skillset and appeal. Dolla $ign's Don't Judge Me Tour, which passes through Oklahoma City March 30 at Tower Theatre, 425 NW 23rd St., often features him performing solo on instruments like the guitar, bass guitar and drums. Even his recent studio album Beach House 3, released Oct. 27, was a concerted effort to show off more of his skill as a singer outside the hip-hop realm.
Known as one of popular music's most prolific collaborators with guest appearances on songs by artists like Post Malone, Jason Derulo, Kanye West and Fifth Harmony in the last two years, Dolla $ign recently spoke with Oklahoma Gazette about floating between genres, tracking down a vocal feature from John Mayer and avoiding the powerful grip of fame.
Oklahoma Gazette: On the Don't Judge Me Tour, I've been seeing you photographed onstage with a guitar and some other instruments. Is that something you usually do on tour?
Ty Dolla $ign: Yeah, I've always been playing bass, but this is the first time I brought out the guitar. Now I've got my guitar and I'm doing a lot more singing — a more melodic vibe and less of a rappy vibe.
OKG: Is that a vibe you've been wanting to bring to your show for a while?
Where did that idea come from?
Dolla $ign: It was just time. Coming off of Beach House 3, I have a song called "Famous" on the guitar. And I've done that with a lot of my projects, like on [Nov. 2015's] Free TC, I had a couple of guitar joints. Now I just felt like it was time to really sing more. On the project Beach House 3, I really wanted people to know that it's not like the rapper Ty Dolla $ign, but it's Ty Dolla $ign the musician, the singer, the instrumentalist. That's what I want.
OKG: You do get put into a lot of different musical categories, and there are a lot of places where you do fit in. But maybe some people get confused. You're more of a singer than a rapper.
Dolla $ign: Yeah. It's all good though. Anybody out there who is checking the music out, I appreciate them. I want to get that clear though. I'm not a rapper.
Photo Gabe Shaddow / provided
Ty Dolla $ign
OKG: The list of all the amazing artists you've worked with throughout your career is so impressive. Is it an honor that so many artists are not only willing to work with you, but even request you on their own stuff?
Dolla $ign: Yes, it's a big honor. It just feels good to be recognized by my peers and people that I look up to. I couldn't wish for anything more, man.
OKG: What's the most excited you've ever been about an artist reaching out to work with you for the first time?
Dolla $ign: The most exciting time an artist reached out to work with me? Recently, it was when John Mayer hit me up on Instagram. He hit me up in the comments when I put out the art for the single "Love U Better." He was like, "Dope artwork," and I'm like, "What the fuck? You follow me? Oh shit!" So I hit him up because I knew he was going to be in LA at the same time I was going to be in the city. I'm like, "Bro, me and a couple of other people want to come to your show. Is it cool?" He's like, "Bro, come through! Here's my tour manager's number; he'll sort you guys out." We pulled up, man, and that show was so good, but I was kind of late to that show and I missed a couple of the songs I really wanted to hear. I really didn't know if they were in the setlist for sure or not. So I was like, "Bruh, I want to come to the Anaheim show as well." So I went to the Anaheim show like a day or two later, and he killed that shit. The next day, I read his schedule and it said it was an off day, so I just assumed he might still be in LA. I hit him up, and he was. He shot me his number, and I texted him. I was like, "Bro, come by the studio right now. I got some fire I think you would sound good on." So he pulled up! He was like, "I'm coming" and he really came!
I didn't tell anyone in the studio. Me and my boy Poo Bear (producer and songwriter Jason Boyd, best known as a frequent collaborator with Justin Bieber) were there, and a couple of other people. He just walked through the door, bruh — solo; no security guard, no cameraman, no extra shit. I played him the record, and I rented him a guitar too, in case he didn't have a guitar on him. He heard the record, and he was like, "Yeah, I hear some guitar parts, but I really want to do the singing on it." So he did the guitar parts, and I was like, "Bruh, just try something on the mic." And then he did that whole background part that you hear at the end. So, shout out to John Mayer, one of the best artists of all time. It was definitely a pleasure working with that dude. We're going to work together again soon, hopefully.
OKG: Yeah, that's really cool. So you just read his schedule and saw that free day? That's crazy.
Dolla $ign: Yeah, man. I did my research.
OKG: You were talking about the song "Famous" earlier. That's a song I really like off the new album. What was on your mind when you were working on that song?
Dolla $ign: I made that song with my brother Poo Bear. There's just a point in your career where everyone sees you're on and some of the people are happy for you and some of the people, you're like, "Hey, wait a minute. Why are they really around me?" It just sort of feels like people are trying to be around for the clout or trying to be around for a fucking like on Instagram. It was just like that time where it was like, "Wow! Some people just want to be famous. Ugh." You know what I'm saying? We made a song about it and all the interludes — "Famous Lies," "Famous Excuses," "Famous Friends" — were "famous" this and "famous" that. It's a cool album, and it was time to show off my solo vibe. I also read a lot of comments and tweets like, "Oh, Ty always got to do a feature; Ty Feature $ign." So there's 10 songs that are solo and 10 collaborations.
OKG: On this project and a lot of your other music too, it seems like you have this great respect for the musicality of everything. On Beach House 3, all those "Famous" interludes really add to the feel and vibe of the album.
Dolla $ign: Yes.
OKG: You see a lot of interludes and skits that are half-baked filler, but these really added something.
Dolla $ign: Thank you, bro. I'm glad you paid attention to that and considered where I'm coming from. The way music is — and a lot of the stuff that goes super big — is so simple and so trash in a real musician's eyes. It makes me feel like, "Wow! Do people even appreciate real music?" The fact that you just said that lets me know that there are people who are still listening.
Print headline: He's money; Serial collaborator Ty Dolla $ign speaks with Oklahoma Gazette ahead of his Tower Theatre performance.