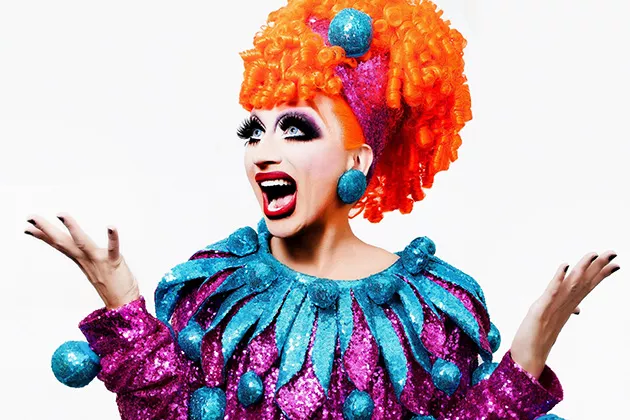 Rene Koala / provided
Bianca Del Rio performs 8 p.m. Nov. 6 at Hudiburg Chevrolet Center at Rose State College in Midwest City.
Bianca Del Rio
8 p.m. Nov. 6
Hudiburg Chevrolet Center
Rose State College
6000 S. Prosper Blvd., Midwest City
okcciviccenter.com
405-594-8300
$39.50-$199
When Bianca Del Rio began hosting drag bingo nights in New Orleans more than a decade ago, she didn't realize at first that she had a winner.
"The bars were looking for anything you could possibly imagine to get people into a club," Del Rio, the season six winner of RuPaul's Drag Race, said. "When I grew up, the gay people actually went out to clubs, and we would have a good time, and there was happy hour and there was all this madness, but the start of the apps and online dating kind of ruined everything. So at the bar that I was working at … they started bingo one day and they ended up doing it three nights a week. Sometimes it was four people; sometimes it was 100. … At the time, I really didn't know what I wanted. I just knew that I could make some money to live. … I never expected the opportunities that were there, and I didn't know how long I would do it, too, because at that time, I think it was about 12 years in or 13 years in and now I'm on 24 years, so I definitely didn't think that drag would be as exciting as it is now, nor did I think I would be doing it this long."
Del Rio's international It's Jester Joke Comedy Tour stops 8 p.m. Nov. 6 at Hudiburg Chevrolet Center at Rose State College, 6000 S. Prosper Blvd., in Midwest City. Del Rio, known for her mental Rolodex of Hate, said she learned early in her career that combining drag with her acerbic insult comedy allowed her to "get away with murder."
"There's some novelty about it that people find, an extra little poke when you are a man in a dress," Del Rio said. "People just think it's funny. It's tongue-in-cheek, and it's theatrical. It adds another layer to something. Most comedians wear jeans and tennis shoes and have a stool and a glass of water. When you're a drag queen, it kind of just vamps it up a little bit. It becomes more of a cartoon and less of reality."
One of Del Rio's inspirations is Dame Edna Everage, a character created by Australian comedian Barry Humphries, who told The Guardian in 2018 that he defends "to the ultimate [his] right to give deep and profound offense … so long as people laugh while they're being offended." Del Rio, who published comedic advice book Blame It On Bianca Del Rio last year, espouses a similar philosophy.
"I don't care what people have a problem with," Del Rio said. "That's not how you live your life. You don't live your life listening to people you don't know online telling you what they think you should be doing. Nothing anymore considers context. … All they want to do is say, 'We don't like this. We're offended.' If you're offended by something and you don't like it, then you just don't watch it. That's it. That's the end. … Concern yourself with things that really matter, like the president or the senate or somewhere you can actually make a difference, but yelling at me is definitely not going to change my perspective of my life. Come on. It's a joke. I'm a joke. I'm a man in a wig. Life is not that fucking serious, and I think people have lost their fucking minds lately. … People forget what entertainment is. People forget what comedians are. People forget what real life is, and that's kind of sad."
Declaring certain topics off-limits is fatal to comedy, Del Rio said.
"People usually make jokes about their experiences and their life and what's going on from their perspective, and once you start putting barriers up, then you're fucked," Del Rio said. "So you take the risk of saying something, and someone can not like it. That's OK if you don't like something. Every joke is not going to be a winner. So if someone doesn't like something you say, that's fine. That's fine. That doesn't mean it's the end of the fucking world."
Creating opportunity
The mainstream popularity of
RuPaul's Drag Race
has changed drag and its audience for better and worse, Del Rio said.
"With everything that's exposed, there's good and bad," Del Rio said. "It's great that drag is in people's living rooms. It's great that a show about drag is winning awards. The downside is that people still are assholes. The downside is that you can't choose your audience. The downside is someone has a problem with it. Christians don't like men in wigs; so what? Do I not live my fucking life? … I can't choose who's going to like me and who's not going to like me. That's just kind of part of the game."
Rather than dwelling on negative criticism, Del Rio is determined to enjoy the incredible opportunities she could not have imagined while hosting bingo in a bar — a world tour, a book deal, two feature films (Hurricane Bianca and its sequel From Russia With Hate, both co-starring Rachel Dratch).
"I would never sit here as a gay man and say, 'It's all changed. It's all ruined,'" Del Rio said. "That's not how the world works. With good comes bad, but things change. Things shift, but it's an amazing opportunity. I think it's great when a 13-year-old boy can come in drag to the show with his grandmother. I love it. I think that's wonderful because I didn't have that opportunity. You've got to find the humor and the good in all of it. If not, you're going to just be a miserable cunt, and there's a lot of miserable cunts in the world."
But being positive doesn't always mean ignoring negativity. In Hurricane Bianca, for example, Del Rio plays a teacher in a small Texas town who is fired for being gay.
"I don't mind taking on a serious topic, but I think it needs to be done in a comedic way," Del Rio said. "I don't want anything to be too preachy, and I definitely don't believe in beating someone over the head and saying, 'This is the right way.' … But sadly, that's what exists in the world. In 26 states, that's possible in America. … The movies is reminding people, 'Hey, this is going on in our country. This is possible.' And I have a huge problem with that because I'm a tax-paying son of a bitch, and I should have rights just like everyone else. If gay people aren't considered a whole person, then I should only pay half taxes. How's that? I should pay you for every right that I get. How do you like that, government?"
Tickets are $39.50-$199. Call 405-594-8300 or visit okcciviccenter.com.