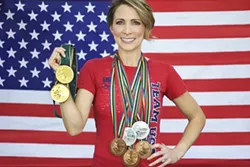 On Nov. 16, Oklahoma Project Woman hosts its third Celebrate Pink OKC luncheon and fashion show to support its commitment to promote early detection and reduce breast cancer mortality statewide.
Founded in 1995, the organization is dedicated to ensuring access to mammography and other diagnostic and surgical procedures for low-income and uninsured Oklahoma residents.
This year, Edmond native, decorated Olympic gymnast and women's health advocate Shannon Miller will be the event's guest speaker.
Miller sees a special affinity between the local, community-focused mission of Oklahoma Project Woman and that of her health and wellness organization, Shannon Miller Lifestyle.
"We are national in our reach and enjoy working with other companies and nonprofits," Miller said in a recent interview with Oklahoma Gazette. "It's so important to have a voice in your community. Oklahoma Project Woman helps women by creating awareness and expanding education. In addition, they provide resources to get women the help they need."
Wellness focused
Miller's passion for promoting women's health and wellness grew organically following her retirement from Olympic training.
"I went from eating six full meals a day and training 40-plus hours a week to a complete life change virtually overnight," she said. "I kept eating the same but was no longer training. I gained a significant amount of weight and lost a lot of that confidence I had gained through gymnastics."
Miller had to make significant changes to her lifestyle.
"At first, I was very focused on the number on the scale. However, I soon realized that it was really about my overall health. Over time, with a focus on an 'everything in moderation' approach to diet and exercise, my weight evened out," Miller said. "More importantly, I had more energy and began to think about life beyond gymnastics in a positive way."
After completing her law degree at Boston College, Miller put these newfound insights to use, founding Shannon Miller Lifestyle and pursuing a new, post-Olympic career as a health and wellness promoter and motivational speaker.
"It has been an amazing experience, and I am so blessed to do something I love each day," Miller said. "In gymnastics, my favorite part was to be able to make people smile. Now I have the opportunity to effect real change in people's lives in such a positive way. I'm living my dream."
Cancer journey
In 2011, Miller was diagnosed with a rare form of ovarian cancer.
After undergoing surgery followed by an aggressive chemotherapy regimen, Miller has remained cancer-free.
In addition to intensifying her personal and professional focus on fitness and nutrition, the experience also prompted her to "stop and smell the roses a bit more."
"As I racked up degrees and started my business, I didn't stop to enjoy the success. I was on fast-forward through life," she said. "When I was diagnosed, my world stopped. I was forced to slow down, forced to focus on my health. I was also forced to think about my own mortality. That's a really tough thing to do. I tried not to dwell on it, but I did hear the lesson loud and clear: Enjoy the moment."
Miller is proud to take part in Celebrate Pink OKC.
"I'm excited to speak at the luncheon. I'll talk about my experience with cancer and the importance of what Oklahoma Project Woman does each day," she said. "I'll also be talking about the importance of making your health a priority. Of course, I'll need to talk about the Olympics a bit as well."
She also relishes spending time in her home state.
"I love that I get to bring my kids to Oklahoma and they are at ages where they can now experience more," she said. "They even know the song 'Oklahoma' since I've been singing it to them since they were born."
The Celebrate Pink OKC luncheon is Nov. 16 at Oklahoma City Golf & Country Club, 7000 NW Grand Blvd. Tickets are $75.
Visit oklahomaprojectwoman.org.
Print headline: Health champ, Olympian Shannon Miller speaks at Oklahoma Project Woman's Celebrate Pink OKC event.