"I would say my grandpa got me into woodworking," Chase Jenkins said. "He built my sister and me toy boxes and two story playhouses when we were young, along with many other small projects. A lot of my first wood tools came from him."
Jenkins comprises the one-man operation that is Moonsaw Guitars, an ultra-boutique custom guitar brand that he runs from his family's ranch between Ninekah and Cement, south of Chickasha.
Photo provided
A Moonsaw Guitar.
Though the fledgling guitar-building company is still in its infancy, Jenkins' experience with small-scale building and manufacturing extends back a number of years, and the name actually goes back with him.
"Before Moonsaw Guitars, it was Moonsaw Furnishings," he said. "The name mostly came from me working late at night when I would get off work."
In addition to his grandfather stoking an interest in building and woodworking, he also helped Jenkins to develop a love of music, and at just 9 years old, Chase began reaching for the guitar.
His musical interests and crafting skills would grow and evolve alongside one another over the years. He continued developing as a guitarist playing in church and with his band Jenkins Valley until their dissolution around 2018, and simultaneously honing his woodworking skills with Moonsaw Furnishings.
"I built custom furniture for a few years until I got bored with it," Jenkins said. "At the end of 2020, I realized I wanted to try again at building my vision of the perfect guitar so I started building the templates and gathering up the tools I needed to make it happen and Moonsaw Guitars was born."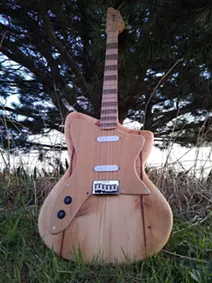 Photo provided
A Moonsaw Guitar.
Though he didn't yet have any experience with body-carving or complete builds, he did have some experience modifying and combining existing guitar parts and pieces to make his own versions of the classic Stratocaster style.
"Throughout the years I had built several 'Franken-Strat' type guitars, just changing out parts and repainting them," he said. "I remember when I first got the idea to build my own body shape, I had no idea what I was doing, but after some trial and error, I had a real functioning instrument that I still have, and that got me hooked."
With some wild and unique "offset" body styles, and switches and knobs galore, Jenkins' guitars were immediately striking to players and collectors around the area. While many upstart guitar makers aim to replicate the time-tested and beloved shapes and styles of manufacturers like Fender and Gibson, Jenkins wanted Moonsaw to come right out of the gate with an individual style of its own.
"I started by sketching around until I got a shape I was happy with and then used an old school projector to shoot the image on the wall and trace it out to actual size," he said of coming up with the creative body shape. "A few of the quirky details about my guitars start with the wiring/switch configuration. It's basically just a volume and tone with a simple rocker switch to turn on/off each pickup, but it adds a unique look that people seem to like."
There's another very specific and intentional detail, though, that most guitarists will be baffled by:
The tuning machines are installed "backwards."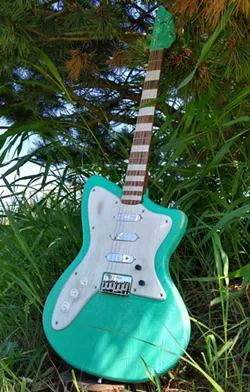 Photo provided
A Moonsaw Guitar.
"The tuners are installed 'righty-tighty, lefty-loosey' like I believe they should be," he explained, at odds with practically every other guitar builder worldwide. "That comes partially from my background in classic cars (I daily drive a '74 Charger) and partially because the tuners fit in my headstock shape better that direction."
He insists to his customers, with a laugh, that it's something to get used to.
"You'll learn to love it."
Nothing about Moonsaw Guitars is exactly routine, from the use of oak, which is rarely seen in guitar construction, to the raw, naked look and feel of the instruments, to even the way that he connects with his clients and customers. Currently, there is no dedicated website for Moonsaw, as Jenkins takes all orders entirely through social media, in particular the "@moon___saw" Instagram page (that's 3 underscores in the middle there.)
He's doing something right, though. The guitars are gaining popularity and are already starting to generate as much income as buzz.
"I quit my job at the beginning of 2021 to make a go at Moonsaw Guitars and I have had great feedback and have sold a number of guitars now and I'm still going strong and I'm excited for people to see what I'm working on now," Jenkins said. "I hope to one day expand, but for now I'm the happiest I've ever been just chasing my dream."
Jenkins can be reached at "Moonsaw Guitars" on Facebook and "@moon___saw" on Instagram, where guitarists can discuss their preferences and order a complete instrument, custom-made with a case, for just $800, many hundreds of dollars cheaper than almost any other custom guitar brand.
And wouldn't it just be cool to have an all-Oklahoman guitar?