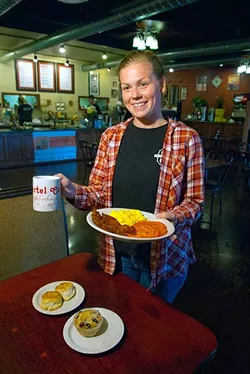 Mark Hancock
Liz Richards brings breakfast and coffee to diners at Shartel Cafe.
There are times when you just want to settle in at a local neighborhood cafe for a quick breakfast or lunch without much fuss. Shartel Cafe, 5116 N. Shartel Ave., is the perfect nook for hometown food with a small-town atmosphere.
First: breakfast coffee. You want morning coffee ($1.75) that's going to get you to greet your day saying, "Yes, bring it on." This is the good, hearty coffee you need. It is also sold by the pound here, whole bean or ground.
Next: breakfast fare. The Early Bird ($6.25) is a traditional breakfast of two eggs and bacon, sausage or ham with hash brown potatoes and a choice of toast or biscuits. For a gluten-free option, fresh sliced tomatoes or fruit can be substituted.
The cinnamon rolls ($1.95) deserve a separate mention. They are huge; breakfast-worthy, with a buttercream frosting; and remind me of my childhood. I used to unroll the spiral, eating as I went along to expose the sticky, sugary goodness inside. (OK, I still do this.)
On weekdays, lunchtime hums. By 12:15 p.m., the line is almost at the door. However, it moves quickly, with staff efficiently preparing orders. Place yours at the counter, take a seat and listen for your name to be called. That's it.
Try the Quiche of the Day ($5.95) special served with a fruit cup. I'm not an ardent fan of this open-faced pastry dish, but I loved the bacon cheddar jalapeño quiche. It was light and baked in a savory grated potato crust. Other daily specials include a homestyle meatloaf, green beans and mashed potatoes ($8.50) — a meal straight from the 1950s.
It has been difficult to find an authentic Reuben sandwich in Oklahoma City, but now there's hope: The Oh, My Reuben! ($7.25) is the real deal. The Swiss cheese, corned beef and sauerkraut trifecta plus Russian dressing sandwiched between two pieces of rye bread is the closest to Manhattan that anyone can get.
Mark Hancock
A Fuzzy Monkey smoothie piled high with whipped cream.
Shartel Cafe really excels with its freshly made smoothies ($3.50), including the Fuzzy Monkey, a refreshing peach-and-banana concoction. There is also a Purple Rain made with raspberry, strawberry and blueberry and a Strawberry Fields with strawberry and banana.
Grab a fork and plenty of napkins for the Chili-Chez Burger ($7.75); it's hugely huge. Forget picking it up; it's an open-faced burger sandwich cooked the way you like, topped with cheddar and jack cheese and chili. Pair it with an Italian cherry cream soda (2.75) for a perfect balance of sweet and savory.
Vegetarians will find happiness with the Veggie-Veggie ($6.50) wrap, served with a side of potato salad. The wrap includes cucumbers, carrots, lettuce, tomatoes and roasted red pepper hummus. The hummus is delightful, and the wrap would be faultless with at least twice the hummus to balance the vegetable flavor.
There is also the lentil roast vegetable soup special ($3.50 cup, $4.50 bowl). It's warm and hearty, perfect for a fall day.
If you find yourself in the city center, craving Shartel Cafe fare, try its second location, The Shartel Underground Cafe, at 201 Robert S. Kerr Ave. It's underneath Bank of Oklahoma, on the concourse. While there, order the focaccia pizza ($7.50) exclusive to that location. It's spectacular with a spinach-and-pesto topping and mozzarella, Parmesan and feta cheese.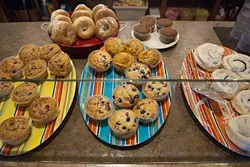 Mark Hancock
Muffins and other baked goodies are available near the cash register for walk-in customers.
Print headline: Homestyle sustenance; Shartel Cafe offers small-town bistro fare, from breakfast to sandwiches and smoothies, right here in the big city.