Norman High School special education teacher Shawn Sheehan was recently named Oklahoma Teacher of the Year. As such, he now has a larger platform for his passion: promoting his profession.
The spotlight
After the Aug. 25 announcement ceremony at State Fair Park, Sheehan vowed to "shine a spotlight on the teaching profession."
"I'm hoping to spark a Renaissance in education in Oklahoma," he said. "If you want to change something in education, what can you do about it? Do it. Go with it. Run with it. Now is the time."
In a call to teachers across the state to be more engaged in decision-making processes at the Capitol, he encouraged them to act.
"It does mean that educators stop tip-toeing around on serious issues and start dragging people to vote for things that will support public education in the long run," he said.
His remarks revealed what many know from experience: Teaching is a collaborative effort, not a competitive one.
The final phase of the Teacher of the Year decision process involves judges taking all finalists through a series of interviews. In some cases, they take place with the whole group. Contestant comments that come out of that process reveal how the competition turned into more of a collaboration.
"I found so much comfort knowing that there are stellar educators all across our state. These guys are amazing," he said and then gestured to the row of finalists onstage with him.
As 2016 Teacher of the Year, Sheehan gets to travel the state to promote his Teach Like Me campaign, which aims to recruit and retain teachers.
Sheehan founded the teachlikeme.org website to illustrate how complex and collaborative the profession is, as well as educate others about common industry misconceptions. Several colleagues recently joined him to further develop the website into a campaign spaning Facebook, Twitter, YouTube and Instagram.
He plans to use his time as Teacher of the Year to update his website and social media as he encourages high school and college students to pursue teaching as a profession.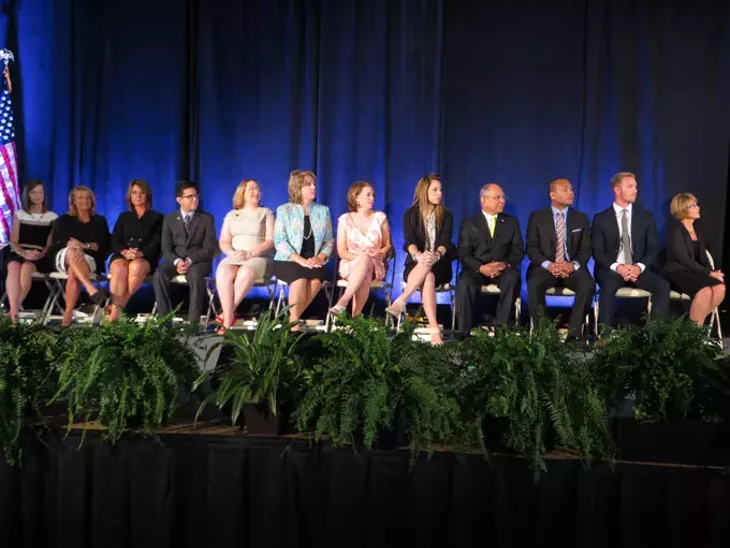 Outgoing
Jason Proctor, the 2015 Teacher of the Year, also shares Sheehan's passion for recruiting new teachers.
He said the most fun he had in the past year "was going out to college campuses and talking to those pre-service teachers (students in the last phase of their college education degree) and encouraging them."
"I would just share with them why this is a valid, true profession," he said.
He also said the past year as Teacher of the Year has been fulfilling but he is eager to get back to his math classroom at Tahlequah High School.
Leader appreciation
"Shawn's message elevates the profession," said State Superintendent Joy Hofmeister after the ceremony. "He is someone who is committed to the children of Oklahoma ... [He is a] wonderful example and role model ... [who will] bolster the morale of educators across the state who may feel, or have felt, demoralized."
Norman Public Schools Superintendent Joe Siano agreed and lauded Sheehan's efforts.
"The truth is that he has the heart of an educator," he said, "and his whole campaign about advocacy is about getting the best and the brightest in every classroom and reinvigorating the whole idea that education is a noble field."
Oklahoma State Rep. Emily Virgin, D-Norman, said the 12 finalists represent the profession across Oklahoma and praised Sheehan for reminding everyone that teachers need to work to get voters to stand behind educators.
The Oklahoma State Department of Education has been organizing the Teacher of the Year competition every year since 1955.
The last time a Norman teacher received the designation was 50 years ago.
Print headline: Role model, Oklahoma chooses a new 2016 Teacher of the Year.