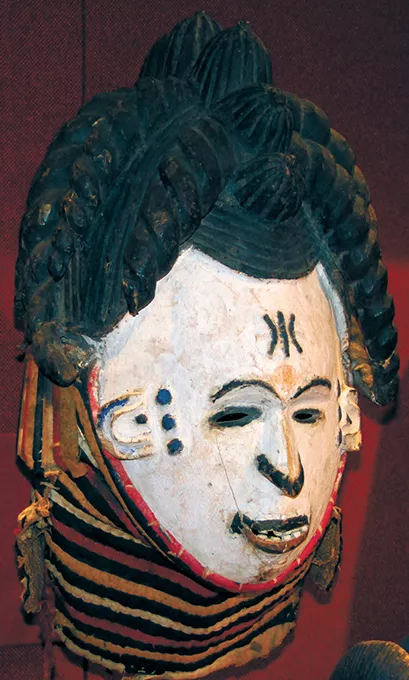 Photo Mabee-Gerrer Museum of Art / provided
An Igbo maiden mask in Mabee-Gerrer Museum of Art's permanent collection.
The first thing most guests at Shawnee's Mabee-Gerrer Museum of Art encounter is the windowed cabinet of curiosities, a hodgepodge display of everything from a pig's tail whistle to tacks burned in the Great Chicago Fire of 1871. The eclectic assortment all comes from the original collection of Rev. Gregory Gerrer, the museum's namesake founder who officially opened the museum in 1919.
The cabinet is intended to illustrate how varied the artist and Benedictine monk's collection of cultural artifacts could be. While giving a tour to Oklahoma Gazette, museum curator of collections Delaynna Trim pointed to a pair of ancient Jivaroan shrunken heads housed behind the cabinet's polished glass.
"They're very popular with the kids," she said with a smirk.
Though it has always been independent of St. Gregory's University, Mabee-Gerrer, 1900 W. MacArthur St., in Shawnee, does sit on the former university's campus. The school's surprising closure after the fall 2017 semester had no immediate effect on the museum's ability to stay open, and Mabee-Gerrer plans to proceed with its scheduled exhibition plans for the foreseeable future.
Still, Trim said calls asking whether the museum will remain open have not stopped since the news of St. Gregory's closing first broke several months ago. She is always happy to inform them that Mabee-Gerrer remains committed to its mission of bringing the world to Oklahoma. The museum is open 10 a.m.-5 p.m. Tuesdays-Fridays and 1-4 p.m. Saturdays.
Though it is called a museum of art, Allied Arts-affiliated Mabee-Gerrer houses far more than paintings and sculptures. The museum is the only in the state to feature Egyptian mummies in its permanent collection. Centuries-old armor and regalia from around the world can be found in the same gallery space that also hosts a collection of contemporary Oklahoma art.
Gerrer's original mission was to collect as much as he could from his world travels and associations with various figures in the art world.
"Everything was up for grabs," Trim said. "Anything that wasn't from around here in Oklahoma he wanted to collect so people could see it."
Instead of focusing on a particular time or place, Mabee-Gerrer tries to collect a little bit of everything.
"You name a culture or time period, and we probably have something from that time," Trim said.
Global collection
Aside from being the founder and namesake of the museum, Gerrer could also stake a legitimate claim as the original world's most interesting man.
Born in France in 1867, Gerrer was trained in Italy as a painter. He moved to the United States with his family as a young man. For a while he worked in a circus, where he played clarinet while riding a donkey. He even worked on fishing boats off the coast of Alaska for a time before eventually joining the church.
As a monk, Gerrer split his time between St. Gregory's and Indiana's University of Notre Dame. Gerrer traveled the world, both through his work in the church and as a trained portrait artist and museum conservator. Trim said he was able to build his collection of art and artifacts partly through his travels and partly through influential connections he made.
"He knew people who knew people," she said.
Not far from the museum's cabinet of curiosities is a life-size portrait of Pope Saint Pius X painted by Gerrer himself. The pope selected the close likeness as his official portrait.
Gerrer painted two copies of the portrait. Somewhat surprisingly, the original hangs inside Mabee-Gerrer while the Vatican houses his reproduction.
Trim said Gerrer was aware that he held many opportunities for travel that others did not.
"He felt very privileged to be able to go to all of these places around the world," she said. "Of course, Oklahoma in 1904 is before statehood, so in the early years of the state, he wanted to bring the world to Oklahoma."
From the very beginning, Mabee-Gerrer's collection has always been about promoting global literacy.
"Unlike many museums that started out as a personal collection in a home," Trim said, "we were pretty much always a collection for the people."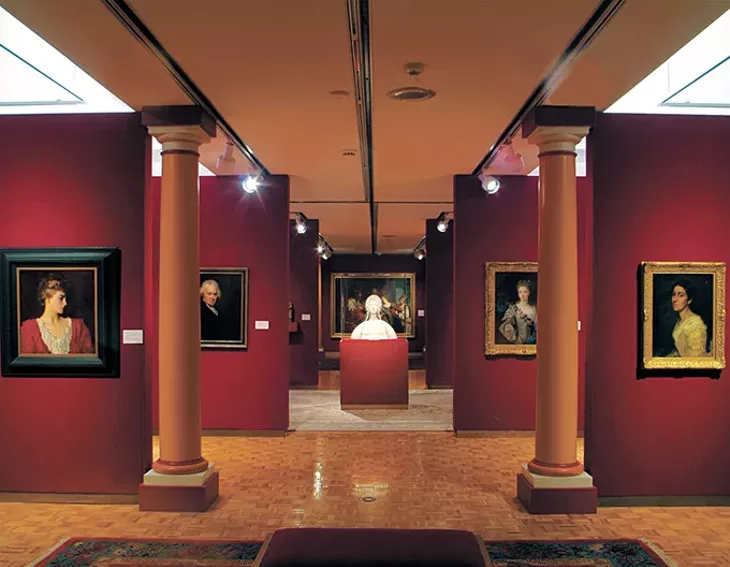 Photo Mabee-Gerrer Museum of Art / provided
The gallery space inside Mabee-Gerrer Museum of Art includes paintings, sculptures and cultural artifacts from a wide range of places and time periods.
Still open
Trim and the Mabee-Gerrer staff were as surprised as anyone else to hear the news of St. Gregory's closing.
"We were not told ahead of time," she said. "We heard the same time as the students heard."
In November, students were told in a schoolwide meeting that the university would close at the end of the semester. Many of the students that did not graduate at that time transferred to Shawnee's Oklahoma Baptist University and other schools around the state.
Though Mabee-Gerrer was not affiliated with St. Gregory's, the museum did work closely with the school. Often humanities, art and history coursework at the school would incorporate the museum's resources. The closing of the surrounding campus also led to a noticeable dip in museum foot traffic.
"We definitely are missing the students," Trim said. "We worked a lot with the students over there."
The school's closure even led to some minor technical difficulties with the museum's water and electricity.
"Those problems are being worked on," Trim said. "Nothing moves fast."
Everything was working as normal during the recent Gazette visit. A group of local high school students on a guided tour were the only other visitors. The large surrounding campus, recently re-annexed by the City of Shawnee, was quiet and empty.
Trim said the museum would like to move into a larger space in the future, perhaps into a more prominent building on the former school campus. But no firm plans are developed. The news of St. Gregory's closing is still as fresh to Mabee-Gerrer as anyone else.
Though the closing will alter the course of the museum's future in some way, the way in which that change will come is yet to be known. Regardless, Trim is excited for what could be.
"The news was very shocking and very sad," she said, "but we've continued on and will continue on."
Reference points
Though the art and artifacts on display in Mabee-Gerrer's gallery space are fantastic, the museum only ever has about 3 percent of its total collection on display at any one time. The rest is all tightly packed into its on-site archives, which doubles as Trim's office. It is impossible to look somewhere without seeing something of historic or cultural significance.
"Pretty much every space is completely filled," she said.
A rack of weapons includes seal harpoons, medieval Belgian halberds and African spears. A full suit of samurai armor stands in another corner. Ancient Egyptian pottery on one shelf dates back to 6,000 B.C.
Trim has worked at the museum for more than 18 years. No one deals with the artifacts more than her.
"I probably know the collection better than anyone else," she said. "I've been here a long time, and even then, I probably don't know everything."
Though Gerrer was a monk, he was fascinated with other cultures and religions. Trim said it is a common misconception that Mabee-Gerrer is a Catholic museum. It is not affiliated with any religion.
Instead, visiting Mabee-Gerrer is more like stepping into a real-life encyclopedia. There is something new for every visitor to learn, and the museum is more than happy to facilitate that discovery.
"We have a wonderful collection," Trim said. "It's always fun to get to go through and see what new treasures you can unearth."
Visit mgmoa.org.
Print headline: Open book; Shawnee's Mabee-Gerrer Museum of Art continues its encyclopedic approach to art and history despite the closing of St. Gregory's University.