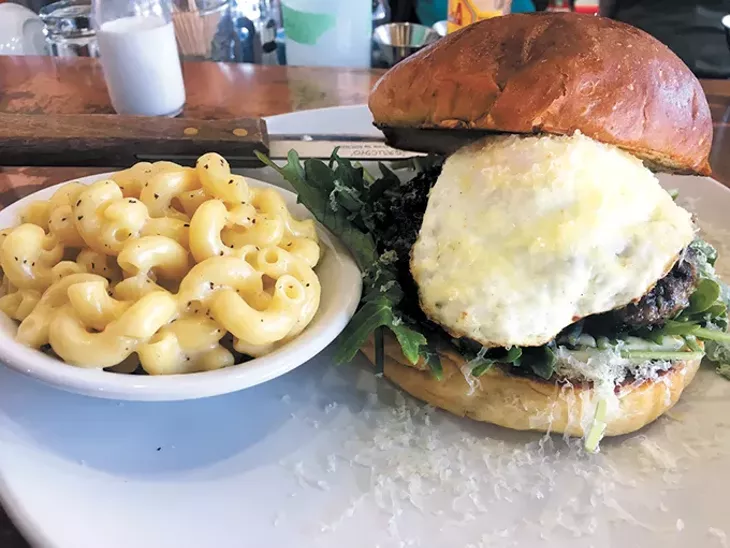 Jacob Threadgill
Aurora's signature burger with a side of macaroni and cheese
Since opening almost exactly a year ago, Aurora Breakfast, Bar & Backyard has become a beacon for locally sourced brunch and savory options at its prominent Plaza District location at 1704 NW 16th St.
Owners Aimee and Jeff Struble have found success in real estate, owning the building that houses Aurora and a few other retail and gallery spaces, and that success has continued with Aurora.
"We've had very consistent business since opening," manager Christee Whittig said. "I've served about the same amount of menu items, which speaks to the popularity of everything, but the biscuit sandwiches are definitely a favorite."
It's where chef Henry Boudreaux's freshly made thyme biscuits go to shine and where I wanted to start my first meal at Aurora.
Waking up early and getting to the restaurant just after its 8 a.m. Sunday opening, I managed to beat the brunch rush to try the cinnamon roll ($7), which is only available on weekends, and one of its most popular biscuit sandwiches, the Plaza Jam ($9).
Still groggy from waking up without coffee, I ordered the dirty chai latte ($4.50) after the barista told me it had an extra shot of espresso compared to the standard chai latte. It gave me enough of a caffeine kick, along with the warm notes of cardamom, cloves and ginger, that another drink would've made my eyes vibrate.
I specifically wanted to go to Aurora on Sunday to try its version of a cinnamon roll, which comes with three toppings: classic icing, salted caramel and citrus vanilla with blueberries.
I've had other types of cinnamon rolls that replaced the cinnamon filling with fruit preserves like strawberry and orange, and while I enjoyed them, I found myself missing the less cloying traditional cinnamon-and-brown sugar filling. Aurora's version allows the best of both worlds. Fresh lemon zest cuts through the cream cheese icing with a nice citrus pop that is enhanced by fresh blueberries. I'm still thinking about the combination of the citrus icing and cinnamon filling days later.
Boudreaux's family recipe inspired the heirloom tomato jam that tops the Plaza Jam biscuit sandwich. Equal parts sweet and savory, the concoction blends well with scrambled eggs, whipped cream cheese and bacon.
I found the side of potato and cabbage to be slightly cold and lacking cohesion. It seemed as if the cabbage and potato were boiled and then put on a plate without getting grilled on the flattop for a nice, crispy finish. The cabbage arrived lukewarm, bordering on cold, and the vegetables were screaming for something to unite them, like red or white wine vinegar.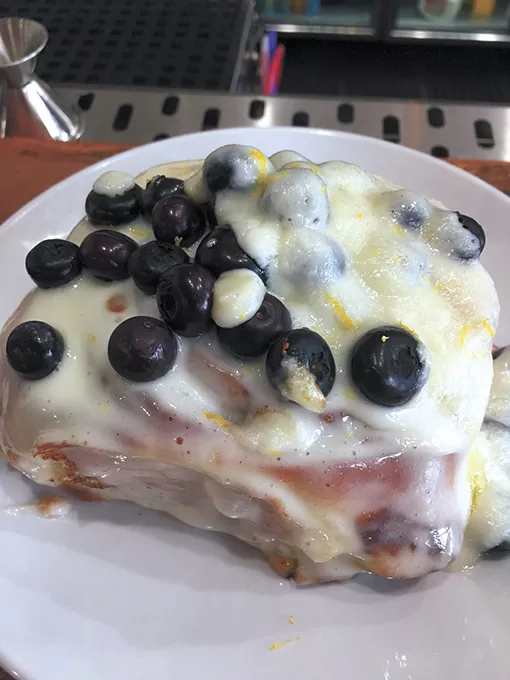 Jacob Threadgill
The citrus vanilla cinnamon roll with fresh blueberries is one of three varieties only available on the weekend.
Boudreaux arrived at Aurora after a year at the Museum Cafe and a stint at Ludivine; the latter's commitment to local ingredients is shown off at Aurora. Local purveyors like Guthrie's Hoboken Coffee Roasters, Tulsa's Farrell Family Bread, OKC's Urban Tea House and Prairie Earth Gardens are only a few of those prominently displayed on the menu.
Fresh arugula replaced spinach on Aurora's burger ($13) during my second trip at lunchtime on a Tuesday. Nestled between two halves of a toasted
challah
bun is a beef burger from Destiny Ranch that is perfectly crisp and seared to hold its natural juices. Topped with a bacon jam that was cooked down in balsamic vinegar, I thought it might overpower the pesto aioli on the bottom bun, but I found the interplay very pleasant. Add in the yolk from an egg, and it was an excellent burger.
With a side of macaroni and cheese (an additional $1.50), it is a nice and filling meal. The mac and cheese had prominent notes of pepper and aged cheddar in a sauce that was equal parts creamy and gooey from melted cheese.
I decided to get an order of biscuits and gravy ($9) to-go because I enjoyed my first biscuit experience so much. You won't mistake Boudreaux's biscuit for a large buttermilk biscuit like those seen at recently opened concepts HunnyBunny Biscuit Co., 429 NW 23rd St., and Buttermilk, 605 NW 28th St., Suite A.
I was somewhat disappointed to find the order of biscuits and gravy (it is listed as plural on the menu) only comes with one biscuit, split in two and grilled on the flattop. The description underneath does only refer to one biscuit, so perhaps it's on me.
While I appreciated a pepper gravy that wasn't chock-full of greasy sausage, I thought the decision to use sweet paprika over the smoked variety was a misstep.
I look forward to returning to Aurora, particularly to try the tiramisu pancakes. The open dining room with lots of natural light is a good environment, especially when you go out back to see the colorful backyard complete with a tepee for children to play in.
Even with a location in the trendy 16th Street Plaza District, the prices are very reasonable. In fact, the cinnamon roll has gone down from $9 to $7, and the pecan waffle's price was reduced by a dollar from an earlier menu.
There are plenty of menu options that are vegan-friendly or can be easily modified to fit the diet, like the savory lentil hummus bowl, overnight oats or avocado toast. The veggie burger — with an oat-and-mushroom patty — also caught my attention for a future visit.
I liked the restaurant's commitment to local ingredients. While we are so conditioned to count calories, we should be focusing on eating whole foods and eliminated processed sugars. A place like Aurora is a good dining-out option in that regard.
Jacob Threadgill
A dirty chai latte at Aurora