Todd Clark / provided
Poet Angie LaPaglia began adapting her poetry to visual art formats as an appeal to audiences outside the traditional poetry realm.
In a literal sense, poetry can be seen as just another way to organize words on a page. It is usually tidier and more concise than an essay and more formal than a text message.
Poetry, and really any intimate or immediate form of communication, represents much more in practice. Angie LaPaglia, who released her autobiographical book of photography and verse titled simply 1 in 2015, said the words are the closest thing anyone can come to capturing a tangible piece of an author's rational or emotive thought at a given point. A poem can be a looking glass into thoughts and feelings that would otherwise stay hidden from public view.
"There's not a lot of space between me and the words," LaPaglia said in a recent Oklahoma Gazette interview. "Not that it isn't crafted and honed, but I'm very vulnerable in what I write about."
Shame is often a subconscious reaction to vulnerability. It can be used as a shield one builds as a defense against outside judgment or embarrassment over personal trauma. And while it might be a feeling that is developed out of a need for self-preservation, shame can also be a rope that tethers people from healing or progress.
It was through poetry that LaPaglia first realized shame's restrictive grip. The only way she knew to cut the line was to lift the veil on her past pain and trauma through verse. That might sound like an act of courage, but LaPaglia says walking away from shame and being open in her work was her only choice. She needed to feel liberated — first for herself, but later realizing that others were also moved.
"What I figured out is that if I say it out loud, people go, 'Oh, man. That happened to me, too,'" she said. "And it sort of gives them permission [to do the same] and it makes them feel less like a freak."
Freedom in openness is the theme behind Shameless, LaPaglia's new poetry/visual art hybrid exhibition on view at The Paseo Plunge, 3010 Paseo St., through the end of August. The exhibit's opening reception begins 6 p.m. Friday during the Paseo Arts District's First Friday Gallery Art Walk.
Shameless is a collection of LaPaglia's poems taken from the page and adapted into more visual forms of media. There are poems carved from handmade paper or scratched out of photographs. Others are given new layers of meaning attached to objects like mirrors or straitjackets.
The exhibit is both an opportunity to understand poetry in a new way and heal through exposure.
"If you pull back the rug and shine a light on what happened, shame can't survive," she said. "It's like, 'You know what? This happened. It's only shameful if it's under here.'"
Finding fulfillment
There will be no reading or performance element to Shameless. LaPaglia believes it is important for the works in the exhibit to speak for themselves.
"This exhibition is about visual art — it's about presenting poetry as art," she said. "I think spoken word is a little bit different discipline."
Writing has almost always been a part of LaPaglia's life. She wrote her first poems when she was 13 years old. Her words were often a catharsis for a young girl burdened by life's troubles. LaPaglia majored in English through college and spent a lot of time reading the great poets and attempting to understand what made them great.
Over time, she developed her own style, which was confessional. At first, LaPaglia was content to make poems in the way poets always have — written on paper and published in books. But eventually she realized the audience for poetry was often limited to poets themselves. She began thinking of ways to present her art in a way that might appeal to the scrolling social media society that exists today.
LaPaglia soon realized by presenting her poems in picture form, she could open her work up to an audience not in the habit of reading poetry. Though she would not call herself a visual artist up to that point, she was a longtime supporter of local artists.
"Art makes me happy; it brings me peace," she said. "My house is so full of art that I have art leaning against the walls because I don't have the wall space to put it on anymore."
The thing about being a poet is that, unless one is doing a live reading or recital, there is not a lot of opportunity to see someone react to a work firsthand. When her words are hanging up a gallery wall for view, LaPaglia said she has found a new sense of fulfillment in watching viewers' reactions.
Like many artists, LaPaglia's goal is to share her work with others.
"If the only people reading poetry are poets, that's not cool," she said. "And if the only people listening to slam poetry are other poets, then that doesn't help the form."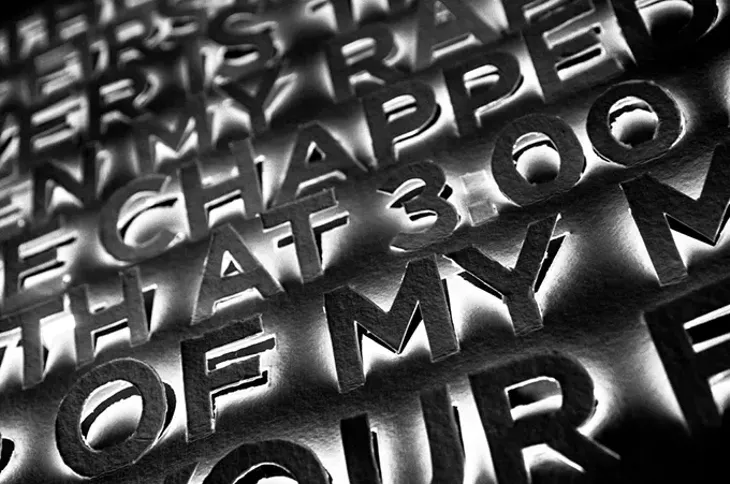 Todd Clark / provided
Light shines through the hand-carved words in Angie LaPaglia's "Power" banner on handmade cotton paper.
Powerful progression
Those who walk into Shameless will be greeted by "Power," an original poem carved into a 63-by-43-inch handmade, acid-free cotton paper banner. Light shines through the banner, literally illuminating its message.
LaPaglia's first made the piece for the Nasty Women art show hosted by the former Current Studio gallery in the Classen Ten Penn area. The show was part of a national women's movement reacting to the election of President Donald Trump in November 2016 and fear for what that could mean to the future of women's rights and politics in general.
LaPaglia still remembers the chill after seeing her phone's first push notification saying Trump had secured the nomination.
"I had fear as a woman about what is going to happen — for myself, for my daughter, for women's issues and rights," she said. "Whether or not that fear was rational or irrational, that's what I felt. And I felt powerless."
Some of the Nasty Women pieces were irreverent or expressed frustration. LaPaglia wanted to take a different approach, choosing to list ways in which she did feel powerful.
As a woman, she has the power to conceive a child, to feed life, to withstand adversity, to give and receive pleasure. Remembering these things helped bring some sense of calm back into her life.
Many of the other works in Shameless are about the feeling of powerlessness, but LaPaglia wants everyone who comes through to leave feeling hopeful.
"I want the message that people walk away with to be that you can still be powerful, even if all this shit happened," she said.
LaPaglia is unsure whether poetry presented as visual art is or might later be a trend. But she does know it has an impact on viewers.
"Poetry is one of the least experienced artforms around," she said. "Compare it to film or visual art or music. It's not as experienced. I think some people come to poetry and they're like, 'Ew, it's weird; I don't know what it means.'"
When LaPaglia first began adapting her poems to the gallery experience, she was looking for new ways to engage audiences, not necessarily to extend the poetic form altogether. But it could be that poetry is due for a new phase.
"Like anything, I think poetry has to evolve," LaPaglia said. "Technology is evolving and visual art has gone through several stages throughout history. I think our user base is used to ingesting information in a different way, so why not try to present poetry in a different way?"
Visit angielapaglia.com.