Malory Craft
Norman's Favorite Smothered Chicken Biscuit
For me, there are two schools of thought: old Paseo and new Paseo. Old Paseo includes open mic nights at Galileo's; colorful, decorative and inviting old buildings; and perusing the baubles inside Craig's Emporium. New Paseo is slick, whitewashed buildings shiny on the inside with trendy tile and wallpaper. New Paseo is a CBD store, $9 biscuit sandwiches and gourmet vegetarian tacos. I'm not saying that I love one Paseo more than the other. Both are satisfying to me, albeit staggering when you examine the differences.
Scratch Paseo resides in the new Paseo school of thought. Nestled just behind Dewey Avenue, at 605 NW 28th St., it was one of the first residents of the development, quickly followed by Buttermilk and, more recently, OSO Paseo. However, Scratch is not a new concept; it's an extension of the Norman restaurant, and there is also a location in Telluride, Colorado. Brady and Jamie Sexton are the owner/operators of the restaurant, and they are also heavily involved in the revitalization of The Paseo Arts District (new Paseo).
I chatted with the general manager, Robyn Winters, about the concept of Scratch.
"We opened in February of 2018 with a focus on fresh ingredients in all of our offerings, including our dishes and hand-crafted cocktails."
Robyn has been with the Scratch family for four years, starting with the Norman location and transferring to the Paseo location along with head chef Levi Hunt.
The restaurant is beautiful in a way that I can't really fully describe. It's like if you hired a really expensive interior decorator. The trendy wallpaper lining the bottom of the bar features cheetahs on a green-and-gold-patterned background. The bar itself is beautiful, made out of an old wooden basketball court floor. Glasses of fresh herbs, olives, fruits and vegetables are lined up, not only giving a beautiful visual, but also a great aroma when you sit close enough to them.
Malory Craft
Son of a Buch
I visited Scratch on a Sunday because I was curious about its brunch offerings. When I looked online, I noticed its dinner menu was rather small (about five main entrees) and the brunch menu was rather robust. I stopped in on a colder-than-normal day and was seated right away. The service on that particular day was great, very attentive, but that might have been because I was one of the only patrons in the restaurant. I ordered a Son of a Buch ($14), one of the most expensive cocktails on the menu, because I was feeling really spendy. The cocktail included Hawaiian ginger gin, grapefruit, rose syrup, Pimm's No. 1 and spicy kombucha. It was good, but not entirely groundbreaking in my eyes. I think I would have had the same experience with a mimosa.
I ordered a few things. I started with smoked portobello botanas, which included eggs, a variety of sauteed peppers, tomatoes, fried potatoes and corn tortillas ($14). The smoked portobello was great, but I was missing a sauce to put on my botanas. I piled my toppings into a corn tortilla (which was a little crispy for my liking; I would have liked them steamed) and took a bite. The smoked mushrooms were great, but everything else needed a little work to make a cohesive meal.
I also ordered Norman's Favorite Smothered Chicken Biscuit ($16). From the freshly fried chicken to the made-from-scratch biscuit that rivals its next-door neighbors, everything came together with the topping of maple chipotle gravy and fried onions. I have eaten a lot of fried chicken and biscuits in this town, and this one was one of my favorites.
I finished with the French toast sticks ($10), which are a slight upgrade from the Sonic dish of the same name. They were sweet and also freshly fried, and I enjoyed them as a treat after my meal. I could see myself ordering a plate of them for the table and fighting my brunch pals for the last bit of chocolate hazelnut sauce.
Other brunch items of note: I would be interested to try the kimchi hash ($15), egg in a basket ($14) and Scratch Caesar ($11).
The next night, I came back for dinner. I was surprised to see that Scratch has a whole different tone at night during dinner service, one that I much preferred over the brunch crowd. The lighting in the restaurant sets a moody atmosphere and highlights the ceiling-high shelves behind the bar.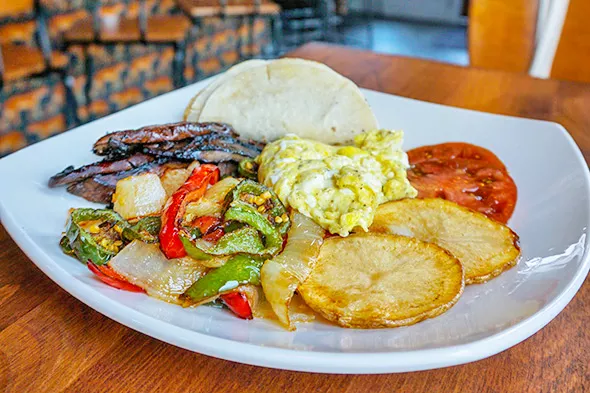 Malory Craft
Smoked portobello botanas
I must mention that the beverage program is the real gem of Scratch Paseo. The craft cocktail menu is huge and full of fun, delicious, inventive offerings. The wine list is also progressive — I noted some natural and organic wines that I haven't seen anywhere else in town. I started with Paper Crane ($11), a scotch cocktail that came with a tiny crane on the edge of the glass. I also tried the Covfefe ($10), a rum-and-coffee liqueur cocktail that rivals any after-dinner drink.
When it came to food, we started with the chimichurri fries ($13), which I was a fan of as a bar snack. The pickled onion separates the dish from any other loaded fries, so make sure to get a bite of the fries, pork cheeks and pink onion all together on your fork. I had the seared pork tenderloin ($18), which came with apple fennel risotto and shaved Brussels sprouts salad and topped with cider gastrique. It was by far my favorite dish. The risotto was perfect cooked, along with the tenderest cut of pork. The Brussels sprouts added the perfect crunch, and the cider gastrique added a hit of acidity that rounded out the dish. I also tried the steak frites ($22), topped with the same in-house chimichurri that came with our appetizer. The cut of steak (Hanger) shined through and was the star of the meal. We finished the night with seasonal eggnog ice cream that was also made in-house. The service was fantastic.
For a special treat, bartender Austin Stallings made us his Spanish Coffee and burned off a shot of Bacardi 151 to brûlée the sugar rim. It was a fantastic bartending trick and an even more delicious after-dinner cocktail that left us feeling warm and boozy. If you catch Austin, make sure to ask him for his Spanish Coffee; you won't be disappointed.
Several employees told me Scratch is revamping its dinner menu to include more dishes and will be transitioning its cocktail menu for winter. I look forward to trying all its new dishes to see its new inventions. Scratch is a welcome addition to the new Paseo family. I would recommend visiting for cocktails, dinner service and after-dinner drinks and desserts.
Visit
eatatscratch.com
.