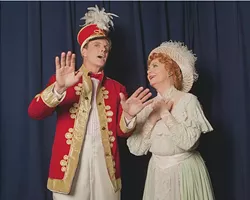 Provided
Patrick Cassidy and Shirley Jones
Shirley Jones made her film debut singing "Oh, What a Beautiful Mornin'" as Laurey in Oklahoma! By then, she was already a Broadway star, having auditioned for John Fearnley, who immediately cast her in South Pacific. Fearnley was the casting director for Richard Rodgers and Oscar Hammerstein II. She was cast as Laurey for her next role.
Jones filmed adaptations of Rodgers and Hammerstein musicals in the 1950s and '60s, starring in major hits such as Carousel and April Love.
Her voice and looks made Jones a darling of the stage and screen, and when the title role for the film version of Oklahoma! came calling, she was the obvious choice.
"[Rodgers and Hammerstein] signed me to a contract. They were fabulous," she said. "Hammerstein was a particularly wonderful human being."
Then came the film adaptation of Meredith Willson's The Music Man. In the movie, Jones played Marian Paroo, the town librarian and music teacher. Professor Harold Hill, played by Robert Preston, is a traveling salesman and con man convinced he can swindle the town of River City, Iowa, into paying him to create a marching band. His plan includes riling up the residents about the recently added pool hall and convincing them a marching band would be a wholesome activity that will keep the boys out of the den of iniquity.
Hill, of course, plans to skip town the moment he has convinced them to pay up, leaving them high and dry, still in a tizzy about what's to come of the trouble with the pool hall. As the show progresses, Paroo falls for Hill, and with a gradual change of heart, River City gets its marching band.
One of the show's most unforgettable characters is the shy, lisping brother to Marian, Winthrop, played by a young Ron Howard in the film.
"We had plans to pick up a different Winthrop in each city that we visited (on this tour)," Jones said, "but [Actor's] Equity said, 'Are you crazy?'"
Jones is working with her son, Patrick Cassidy, on this tour, which is not an unusual situation. She played Maria alongside Cassidy's Rolf in a 1977 production of The Sound of Music, with a very young Sarah Jessica Parker as Brigitta. They also played opposite each other as Dorothy and Julian in a 2004 Broadway production of 42nd Street.
For this particular production of The Music Man, Jones will be on stage as both a cast member and an emcee.
"I literally get to hold a book and tell real-life stories about the filming. People love to hear what went on in the background," she said. "We've worked with this director, and Patrick and I have done the show. We still have singers and dancers. It was really just a great idea."
Jones was just recently in Oklahoma City for a screening of the remastered Oklahoma! with a Q&A afterward. The event was invite-only at Oklahoma City Community College's Visual and Performing Arts Center Theater.
"I always enjoy visiting Oklahoma. I just love it," she said. "It was an incredible evening, and the new movie they've redone, it's just fantastic. I've been here many times, and it's a wonderful city. You've grown up incredibly, especially in the past 10 years."
Jones' only regret is that she's never here long enough to take in the sights and things to do. As visitors are apt to do, she did mention how nice Oklahomans are.
"You know, I'm from a small town, Smithton, Pennsylvania, and I like the people [in OKC]," she said. "I am accustomed to places where people are genuine and fun; you don't get that in Los Angeles or New York."
Print headline: