Kimberly Lynch
Dan and Linda Brown stock exclusive models from popular shoe brands at their locally owned business.
Tucked away on N. MacArthur Boulevard just off Northwest Expressway, independent shoe store Daniels Shoes has catered to a dedicated customer base for years, creating a friendly, comfortable atmosphere and boasting an extensive knowledge of shoes and feet.
The store, 7929 N. MacArthur Blvd., is small, locally owned and family-run in the truest sense. Owners Dan and Linda Brown, high-school sweethearts married 48 years, arrive long before the store opens, getting ready for the day.
Shoes, it seems, have always been in their blood.
Dan Brown started working at another store, Bates Shoes in Bethany, while he was still in high school. He learned the ropes of fitting and selling, then decided to branch out on his own in 1975. At the time, Brown Shoe Company in St. Louis offered low-interest, five-year loans to business owners wanting to open franchise stores, which Dan Brown did. His first location was on the south side of Oklahoma City so he wouldn't compete with Bates Shoes.
After a couple of moves closer to Bethany over the decades and a departure from Brown Shoe Company, the family bought its current building in 1999.
"So we won't be moving anymore," Dan Brown said with a chuckle.
The Browns acknowledged that they're not in any local malls, but they don't mind and are proud to be completely independent. In fact, they said many of their customers get referred to them from the bigger chain stores like Dillard's or SAS Shoes.
The reason? Employees at Daniels Shoes pride themselves on being able to get a customer's true measurements and provide them a perfect shoe size, no matter how unique a foot is. According to Dan Brown, they carry widths from super-slim to doublewide.
Kimberly Lynch
In addition to a large selection of footwear, Daniels Shoes offers Brighton handbags and luggage.
"If you come in here, first thing we're going to do is, I get down on my hands and knees and I measure your feet," Linda Brown said. "And we go from there."
The Browns' customers are extremely loyal, and many have shopped with them since 1975. Some come to them from as far as Nashville, Tennessee, or Dallas, Texas. Both Dan and Linda Brown appreciate and remember most of their customers — and their shoe size, of course.
For instance, they recalled a recent new customer from Norman, referring to her as "a 9 1/2 to 10 narrow." She was so impressed with her fit that she got emotional in front of them.
"She's walking up and down, and she stops right here, and almost teared up," Linda Brown said. "Really."
This level of satisfaction is what the Browns strive for. They are comfortable discussing conditions like plantar fasciitis (heel pain) or pronation and supination (which have to do with ankle alignment) and can recommend shoes to help fix such issues.
Kimberly Lynch
Daniels Shoes features in-demand styles like this sandal from Fly London.
Dan and Linda Brown's son, Chad Brown, has been working in the store since childhood and will someday take over the business. For now, he has focused on updating its point of sale and expanding their advertising and online presence. He maintains the store's website and places some of its stock on Amazon.
"We handwrote tickets for 40 years," Linda Brown said. "Well, he changed that."
"We ran out of paper," Chad Brown said, laughing.
Local love
Daniels Shoes repays its faithful customers by staying involved in the Oklahoma City community. During the Oklahoma teacher strike in April, the store offered a 20 percent discount to teachers. In the past, it has hosted fall pumpkin patches and raffles for free shoes.
The Browns are most proud of their involvement with the Children's Center Rehabilitation Hospital in Bethany, a relationship Dan Brown has continued since Bates Shoes went out of business. Because of the unique size selection at Daniels Shoes, they are able to provide for children with special needs.
"Most of those children wear a brace," Linda Brown said, "and so you're actually fitting the brace."
Now Daniels Shoes is gearing up for the end of summer and back-to-school shoppers, an exciting time for them that signals the beginning of the busiest time of year.
For those seeking back-to-school deals, Daniels Shoes features a large, separate clearance room that includes all the store's brands at half price. Customers can also utilize the layaway program.
Chad Brown said he plans to organize a promotion for Oklahoma's sales tax holiday, a tax-free weekend set for Friday-Sunday, as another way to help families with school shopping.
He expressed excitement about the 70 cases of new inventory the store just received for the back-to-school season, including Stride Rite, Uggs, Birkenstock, Nina Shoes and exclusive New Balance styles that are only found in smaller independent stores like theirs.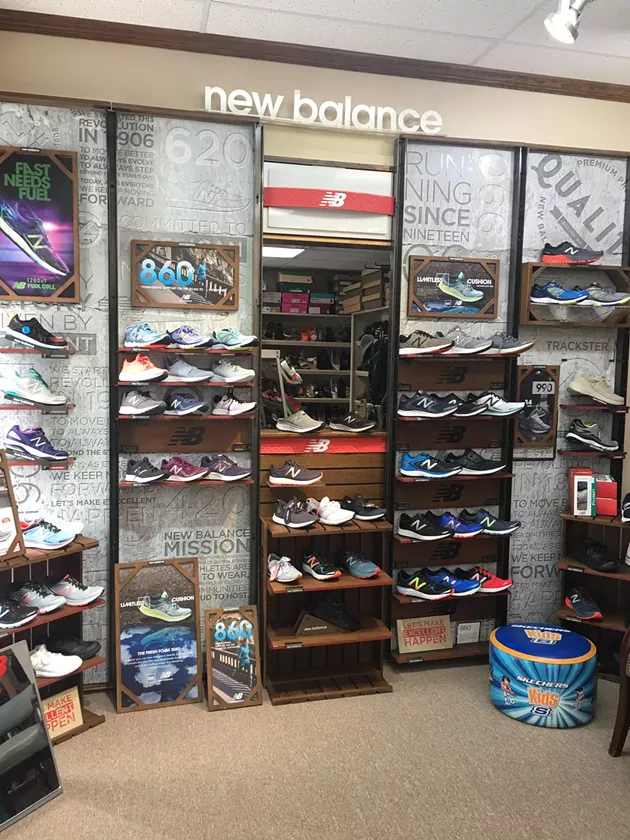 Kimberly Lynch
Daniels Shoes carries a large selection of children's footwear.
The big rush will come around Aug. 15. He mused that teenage students tend to wait longer on new shoe purchases because they want to see what their friends are wearing first and what is trendy.
As Chad Brown rearranged the New Balance displays, shoppers started arriving, braving the rain and morning traffic. Dan Brown carried armfuls of shoeboxes in and out of the stockroom for one customer, while five-year employee Sarah Smitherman showed another customer his special-order arch supports. The customer happily greeted Chad Brown, who made sure the inserts were placed in the correct shoes. The customer was pleased.
"We're just an old-school, old-fashioned mom-and-pop shop," Chad Brown said.
Clearly, they're doing something right.
Visit danielsshoes.com.