Jacob Threadgill
Manager Yvonne Cagle's award-winning chicken salad recipe is available in sandwich or as a standalone salad.
Located inside H&H Shooting Sports with its 90,000 square feet and 61 shooting lanes — possibly Oklahoma's largest selection of firearms in the state — is a quaint from-scratch kitchen, 4U Café.
Café manager Yvonne Cagle is a 45-year veteran of the catering and restaurant industry and came to the 400 S. Vermont Ave, Suite 110 location about 12 years ago after a business partner opened a small sandwich and coffee shop. Cagle convinced the owners to install a hood vent, range and ovens to become what is now 4U Café, which she said has expanded three times in the intervening years.
"A lot of people tell us that we're one of the best-kept secrets around," Cagle said. "Not a week goes by and people come in here and they say, 'I didn't know you were in here.' I joke with them and say, 'I bet it's because when you come in, you turn right,' which is where the gun range is. They laugh and say, 'I guess so.'"
Cagle said that they're sustained both by H&H customers and nearby offices that call in orders or stop in to eat in the dining room that is located on the western end of the building near the archery range and situated underneath several taxidermied animals.
In April, Cagle made the tough decision to remove several popular items from the menu, like chicken-fried steak with mashed potatoes and gravy, due to not having the staff to handle the additional prep and cook times.
"We do everything from scratch. We had a lot of stuff people came in and went crazy over, but it was too time-consuming," Cagle said. "It was one of the hardest decisions I've ever had to make, getting rid of a lot of that stuff."
Although an entrée of chicken-fried steak is gone, it's still available as a sandwich, although the mashed potatoes are no more. A roast beef and gravy sandwich was taken off the menu, but they serve a French dip that is topped with gravy and served with housemade au jus on the side, which seems like a lot of calories and the incarnation of the 10-year-old old Xzibit meme "Yo dawg, I heard you like gravy so I'm going to put gravy on your gravy."
Cagle did add six hamburgers, which build on its already-popular onion burger, with additional toppings like green chili, guacamole, mushroom and Swiss, and the hickory BBQ onion burger that puts an onion ring on top of the caramelized onions.
The menu advertises "our world famous" grilled onion burger ($6.49), and for my first visit, I had to try it along with its self-described award-winning chicken salad sandwich ($5.99).
The onion burger isn't El Reno-style, and I considered it a good thing. Some restaurants place raw onion directly onto the burger, which is fine if the grill is the right temperature to achieve caramelization — like at Tucker's — while other places essentially give you a steamed onion. Cagle and staff caramelize a large batch of onions in the morning and then finish them to-order with every 6-ounce burger.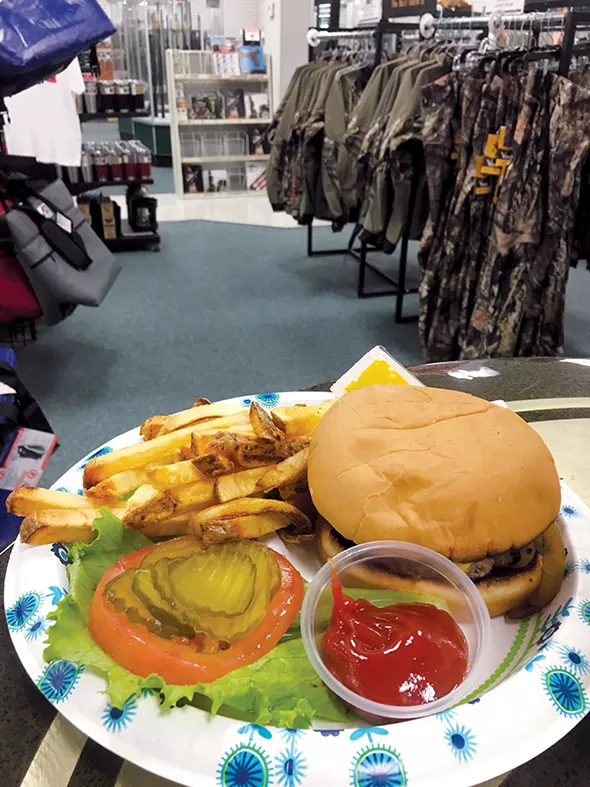 Jacob Threadgill
The classic onion burger is one of seven types of onion burgers on the 4U Café menu.
The burger arrives undressed, allowing the customer to add the accompanying tomato, lettuce and pickle or a selection of condiments like ketchup, mustard, barbecue sauce and honey mustard.
It was a very solid burger for its price. It's not in the upper echelon of hamburgers I've had this year, but the caramelization is nice.
I'm a connoisseur of chicken salad. I like all forms, so it piqued my interest to see it listed on the menu as award-winning. Cagle said her recipe was honored at a Taste of Midwest City in the early 2000s.
It's chicken breast with toasted almonds, grapes, celery and parsley that is seasoned with Cagle's special blend of seasoning.
"The chicken salad has followed me everywhere [I've worked], and we make sandwiches and salads out of it," Cagle said. "What sets mine aside is the seasoning, and it gives it a good flavor."
I liked the savory seasoning and finely chopped celery, but I thought the chicken breast was too coarsely chopped and made for an inconsistent bite. I would've preferred the chicken to be poached and pulled.
"Years ago, we used to shred the chicken more than we chopped it, but we've gotten away from it over the years," Cagle said. "We do talk about shredding it again, but we've trained people to chop it over the years, and it's hard to change."
I nearly ordered the pecan-smoked pork sandwich but balked when I didn't see coleslaw on the menu. I like the combination of creaminess and crunch that coleslaw adds to a pulled pork sandwich, and Cagle said that it's a matter of space.
"We don't have coleslaw because I've found that if you don't have a refrigerated area out front to visually see, it doesn't work on the menu," she said. "It's a small area as it is, and we use every inch."
My only regret from my visit to 4U Café was not ordering the onion rings. The accompanying french fries weren't bad, but they paled in comparison to the huge, hand-battered onion rings.
I went around noon, and the cafe enjoyed a hearty lunch crowd. Customers place their order and pay at the counter and receive one of those light-up buzzers that lets you know when the food is ready. Even at peak lunchtime, the wait was less than 15 minutes.
You don't have to be an avid gun or archery enthusiast to visit H&H Shooting Sports; just have a hungry belly.