Soon, the leaves will start to lose pigment, change hues, fall and get trampled beneath the feet of neighborhood kids playing football on Saturday afternoons. That's right; it is time for football! Don't waste another season wishing you had the right attire. Throw the best pigskin party on your block, with everything you need to show the world exactly who is No. 1.
— By Gazette Staff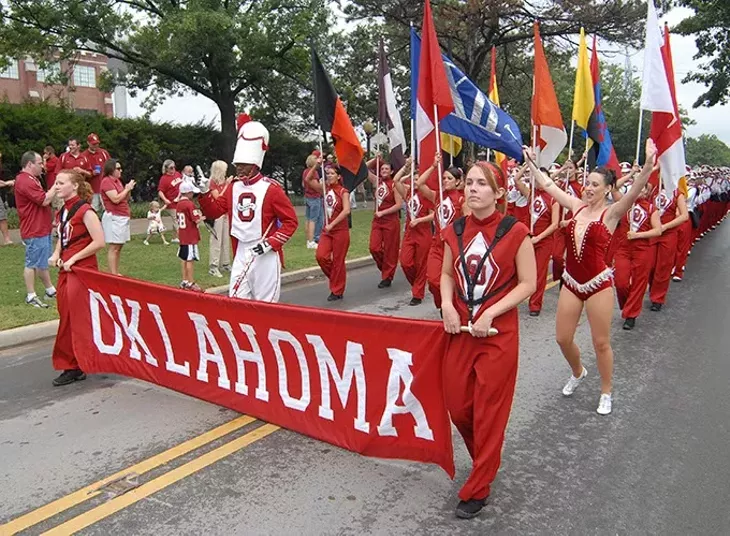 Mark Hancock
The Pride of Oklahoma marching band marches towards Memorial Stadium for the OU vs Miami football game, 9-8-2007.
Gaylord Family Oklahoma Memorial Stadium
180 W. Brooks St., Norman
325-2424
Oklahoma doesn't have a pro team yet — we're looking at you, St. Louis Rams — but it's easy to get your fill of football fanaticism at the state's temples of pigskin: Boone Pickens Stadium in Stillwater and Gaylord Family Oklahoma Memorial Stadium in Norman. Root on the Cowboys or the Sooners next to die-hard fans who know more about the personal lives of college athletes than is acceptable in normal society.
Someplace Else: A Deli & Bakery
2310 N. Western Ave.
524-0887
You had it for lunch and wished you ordered that extra cookie for an afternoon snack. Bring the glory of superb sandwiches to your next football event with an 8-foot-long party sandwich or party tray order from Someplace Else: A Deli & Bakery. Football fans will rave about the sliced ham, turkey, roast beef, salami and hard salami. They'll hope the game goes into overtime, allowing more time to huddle around the food table for more grub.
Champro Sports Little league football pads at Ron's Sports World in Bethany. mh
Ron's Sports World
7801 NW 23rd St., Bethany
787-1550
Ron's Sports World began selling shoes but pivoted into sporting goods and uniforms. It is just shy of the 40-year mark and helps many local sports teams look sharp (and fierce) on the fields, courts and tracks of Oklahoma City.
Metropolitan Library's
e-book collection
Football might appeal to a lot of people. If your family is enraptured with sports but it's not your bag, wrap yourself up in a good e-book or audiobook via your Metropolitan Library System card and the OverDrive app while they scream at the television. Download sci-fi epics or borrow a book about football fundamentals and strategy if you'd rather join in the family fun.
Brian Keefe slices brisket as he would for someone ordering for a Football Watch Party, at Oklahoma Station BBQ. mh
Oklahoma Station BBQ
4331 NW 50th St.
947-7277
Leave the cooking to the pros at Oklahoma Station BBQ while you and your friends watch the game. Pick up a feast to-go and dig into a dog-pile of sliced brisket, tackle a few meaty ribs or lay into a mountain of potato salad. You won't need a helmet to survive this flavorful onslaught, but if you don't grab some napkins, your significant other might exile the whole party to the backyard.
The Store Divided
1901 Northwest Expressway, #1104
767-0000
It's called The Store Divided for a reason. Football fans can shop for Sooners and Cowboys merchandise in a place dedicated to getting fans what they need. Grab a hitch cover, get a magnet and pick up a flag to show your school spirit as you drive into the stadium parking lot.
OSU Football party baloons at Party Galaxy, 1700 Belle Isle Blvd. mh
Party Galaxy
1700 Belle Isle Blvd.
843-9388
Whether planning a tailgate or having friends over, food is one of the first things to consider. Encourage partygoers to dive into those pigs in blankets, cheese trays, meatballs and football-shaped cookies. Don't plan your next event without picking up football-inspired cups, plates, silverware and napkins at one of Party Galaxy's metro locations.