Alexa Ace
The Social Club sells a wide array of jewelry, prints, candles and other gifts.
Upon entering The Social Club, 209 E. Main St., in downtown Norman, you might see a mix of people — customers in the middle of hair appointments, families browsing handmade jewelry or clients chatting with stylists.
The large, bright space is divided into a hip salon and eclectic gift shop, the result of two friends and business owners merging their dreams into one cool, modern concept.
Erica Smith and Dana Scott were acquaintances while in college at University of Oklahoma, where Scott studied public relations and Smith studied political science. Scott said that Smith was cutting her hair after college, which is how they started getting to know each other better.
"I would call her 'my dreamer friend,'" Scott said. "So we would just sit around and dream up these things that we wanted to make happen in our lives."
Scott pointed Smith out as she worked in the salon, a pair of sunglasses perched on her head while styling a client's hair.
When Smith decided to leave her job at a larger salon to open one of her own, Scott went in to share the space for her event-planning and jewelry-making businesses. Their first shop was on Crawford Avenue, and it opened in 2012.
Scott said she always dreamed of owning a shop but thought she would attain that goal much later in life. Instead, she put up a small retail shelf in Smith's first salon. They expanded by 2013 and shortly after moved into their current, much larger location on Main Street, where they've been for almost five years.
"We're sort of an anomaly," Scott said. "Not so much anymore, but in the beginning, people were like, 'We're so confused. What are you?' We're a shop and a salon. I own the shop and Erica owns the salon."
Scott said the partnership and sharing of responsibilities opened up opportunities they wouldn't have otherwise had, including moving into a fairly large space in downtown Norman that houses eight salon chairs.
During a brief move to Los Angeles, Scott developed an interest in hair and beauty, as well. When she and her husband returned to Oklahoma, she decided to join Smith on the salon side too.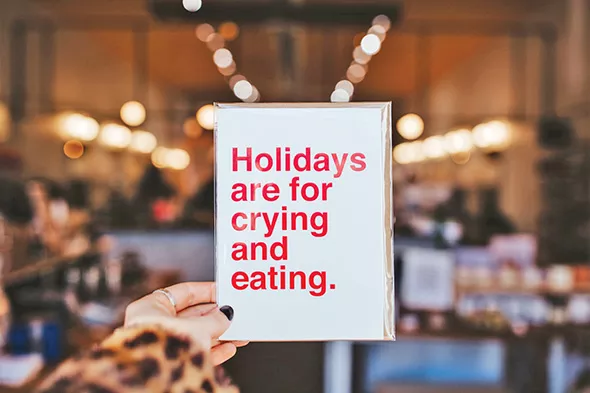 Alexa Ace
The Social Club sells a wide array of jewelry, prints, candles and other gifts.
"If I look at my books and I have a day full of clients that I know and love, it's, like, the best day ever," Scott said.
In the salon, they offer haircuts to both women and men, blowouts, color services, eyelash extensions and waxing. They use R+Co products and offer complimentary beverages with every service. The salon has nine stylists and one esthetician.
Scott called their hair philosophy "lived-in" and natural.
"Everyone here does take education very seriously," Scott said. "We want to be on top of the hair game in Oklahoma."
Alexa Ace
The Social Club is home to a salon as well as a gift shop.
On the shop side, Scott has curated a mix of vintage, local and handmade goods, and the space, to some extent, reflects a light, carefree California sensibility. They have a Social Club branded line of candles, glassware and small prints, and Scott continues to make jewelry.
Up until about six weeks ago, Scott and her husband were hand-pouring the shop's candles in their kitchen, but they've since trained another employee to help them. Seasonal scents include Mistletoe Make Out and Stoke My Fire.
"I love to give a good gift," Scott said. "To give somebody something that you know they're going to love or use forever or make them really happy in a moment when they're down, or whatever it is, I think there's something so powerful about that. So I think I do all of my buying in the mindset of, 'Who would you give this gift to? For what would you give this gift?'"
Scott worked for Iron Curtain Press, a company founded by Rosanna and Joel Kvernmo, while she lived in Los Angeles. She witnessed their extreme attention to detail when they made items like notepads, and she knew that she wanted to feature their stationery products in her shop.
"I think when you have a maker making something, versus big-box stores, you know that there's more intentionality put into it," Scott said.
The shop also sells small-batch greeting cards, clothing and accessories, barware, printed goods, office supplies and textiles like napkins, towels and bandannas. The Social Club makes a yearly cocktail calendar as well as a desk calendar, which are printed in Norman through Transcript Press.
Scott has made an effort to include many Norman and Oklahoma City artists in her shop. There are also California crafters she met while living in the state and artists she has discovered at The Little Craft Show in Fayetteville, Arkansas. Brands include Mariposa Coffee, Confetti Riot and Pink House Alchemy.
She pointed out a set of baby milestone cards that are illustrated by local artist Roshni Roberts. The watercolor cards can be used in photographs to document a baby's first year, but these uniquely have a space to journal on the back. Scott said she always seeks out products like this that she can't find anywhere else.
One exclusive item Scott commissioned from the Oakland-based People I've Loved art collective is a map of Norman printed on a tea towel or a tote. It features all their favorite handpicked Norman locations and is a popular gift item.
Scott said they are currently working toward opening an Oklahoma City location in the West Village development near Film Row. The shop/salon concept will be the same. They hope to open sometime next summer.
Visit wearethesocialclub.com.