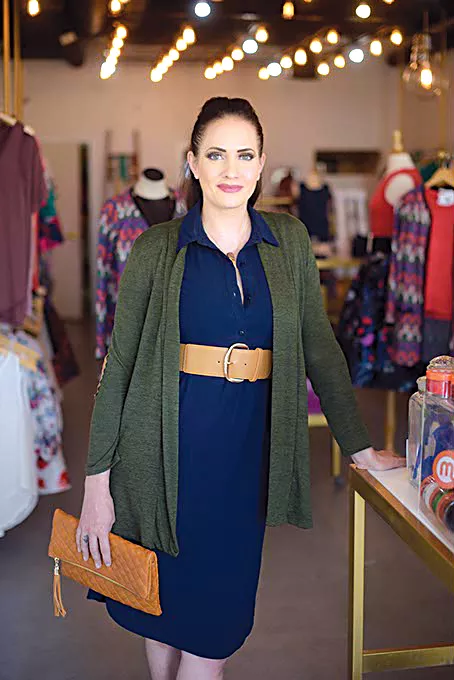 Gazette / file
Rachael Gruntmeir said the holiday shopping season always drives up sales numbers for Midtown's The Black Scintilla.
The day after Thanksgiving — Friday, Nov. 24, Black Friday — Rachael Gruntmeir asked her Black Scintilla customers if they had shopped earlier in the day to score big discounts online or at big-box stores.
The most common answer was no, said the Midtown shopkeeper. Instead, customers expressed a desire to shop at her business and other locally owned shops in the Oklahoma City area this holiday season.
"Every year, I hear more and more customers say they are only shopping local," Gruntmeir said from inside The Black Scintilla, a boutique selling women's, children's and men's clothing items along with home accents and accessories. "It is great that people are aware of where they are spending their money and where their tax dollars are going. Their money is going directly back into the community."
Not far from Midtown in Oklahoma City's 16th Street Plaza District, Cassie McDonald of Out On A Limb Boutique also heard similar comments from customers at her handmade goods store.
"I've heard people say they are shopping down in the Plaza as much as they can," said McDonald. "If they are looking for something specific that I don't have, I point them to other locally owned stores. A lot of my customers shop local on purpose, but I have also heard my customers say they will have to buy on Amazon because someone on their lists doesn't want anything local or handmade."
The buy-local movement, often called Shop Small or Shop Local, is strong in OKC, home to many small, local businesses in the various thriving commercial districts. While the state's economy was slowed by the recent downturn in the oil and natural gas industry and as online shopping increased, locally owned businesses adjusted to keep attracting and serving customers. Not every small retailer is recession-proof, but many local shopkeepers provide a retail experience unlike shopping web pages or visiting large shopping centers.
"Some people say retail is dead," said Jill McCartney, president and CEO of Northwest Oklahoma City Chamber, an organization representing many small retail stores. "It's just that smart retailers have to provide something different or exceptional in service, selection and personal attention. That's something our small businesses do."
Recently, popular crowdsourced review website Yelp published a list of top 20 cities for local holiday shopping on its blog. OKC ranked 13th on the list for shoppers favoring local shops.
Gruntmeir wasn't surprised Oklahoma City made the list, which named San Francisco as the top city to shop local in 2017, followed by Seattle and Chicago. Oklahoma Citians connect shopping and buying local to supporting neighbors and the community, she said. Purchases made in locally owned shops dramatically impact the community as tax revenue funds local government, parks, law enforcement and other community services.
"We have visitors come in from other states that don't know what Shop Local means or have never heard of Small Business Saturday," Gruntmeir said. "It blows my mind, but I am also so thankful that Oklahomans get it so well."
James Harber / provided
Holiday Pop-Up Shops has operated in Midtown for five years. Retail participants include local businesses.
Two locations
The buy local movement experiences up and downs in sales. Nationally, retail sales were sluggish in October. This came after Americans spent fewer of their dollars on consumer goods in the summer months.
"You win some, you lose some," McDonald said of experiencing the pre-Christmas slump in her sales.
Sales picked up at Out On A Limb Boutique in November as shoppers began holiday purchases. So far, McDonald sees signs she will have stronger sales numbers than previous holiday shopping seasons. While December is typically the strongest month for sales, she attributes her numbers to both her brick-and-mortar spot and her goods sold from a geodesic dome as a participant of the annual Holiday Pop-Up Shops in Midtown.
"My Christmas would be suffering if I didn't do Pop-Up shops," McDonald said. "It helps boost my sales."
It also builds a new following for the boutique known for its handmade jewelry, clothing and beauty products.
"'I saw you at the Pop-Ups,'" McDonald said, repeating a phrase she hears in the winter and spring months. "The Pop-Ups help bring in a lot of new faces."
Shopper reminders
Consumers say they will likely spend an average of $967.13 on holiday gifts, according to an annual survey conducted by the National Retail Federation and Prosper Insights and Analytics. Other national retail reports hint that e-commerce, big chain stores and brick-and-mortar stores will all play an important role in shoppers' holiday purchases this year.
While e-commerce, or shopping online, offers the convenience of a few mouse clicks and big chain stores extend their hours and push customers to buy online and pick up in stores, locally owned shops have their selling points too. Local shops can be more nimble in catering their selections to local tastes. Unlike other retail options, mom-and-pop businesses can connect their products with shoppers by offering samples of food products, providing testers for bath and beauty products or lighting a candle that is for sale.
"You can touch it, you can smell it, you can experience it and talk to the helpful owners," McCartney said.
The buy local movement is closely tied to Small Business Saturday, an American Express-sponsored shopping holiday that began in 2010 to spur support for local businesses the day after Black Friday. The chamber, which represents businesses north of Interstate 40 and west of Broadway Extension, is a champion of Small Business Saturday, McCartney said.
This year, its campaign grew from one day to more than a dozen events taking place over several holiday shopping days.
"One Saturday is not enough," McCartney said. "We want people to be more aware of small businesses all the time. We expanded [the campaign] into a #ShopSmallNWOKC campaign that runs throughout the season. It helps people focus on shop small, but also the different small businesses work together to not only promote their own businesses but the concept of shopping small."
Print headline: Neighborhood business; In the age of e-commerce and low prices at big-box stores, is OKC supporting local retailers?