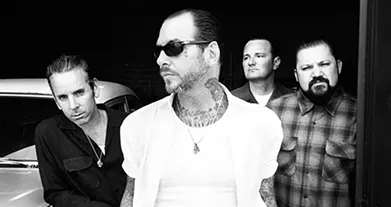 Provided
Mike Ness center has led Social Distortion for 40 years.
To call Social Distortion one of punk's most influential groups would not be hyperbolic, considering lead singer Mike Ness' songwriting helped usher in a wave of new sound just as the genre arrived in Southern California. Their music is still going strong 40 years later.
The band is currently in the middle of its big fall tour and plays 8 p.m. Oct. 24 at Diamond Ballroom, 8001 S. Eastern Ave.
The first iteration of the band formed in 1978 in Fullerton, California, after what Ness describes as a rough childhood. He said he knew he wanted to be a musician when he was as young as 5 years old. He has spoken at length about how his early years were spent listening to bands like Creedence Clearwater Revival, The Rolling Stones and the Beatles.
And then, when he was a teenager, punk exploded.
Ness said his interest shifting from rock to punk music was a natural progression. He started listening to bands like Bad Company and Sweet and then glitter rockers like David Bowie, Lou Reed and T. Rex. He followed artists with unique guitar sounds.
"And then finally I think I heard the Ramones and the [Sex] Pistols," he said. "And it was like, 'Oh, OK. Now we're talking.'"
He said the Pistols in particular reflected his experiences and emotions better than any other band before.
Ness also credits the period with shifting music back into environments where the everyman could thrive and bands could explore new creative methods.
"Because you listen to some of that music from the period, it was like, 'What, do I have to go to music school for six years to learn how to do this?'" he said. "It just seemed so unattainable. All the sudden, in the mid-'70s [and] late-'70s, there's this music that's being introduced back into the small nightclubs instead of just the stadiums. It was a little bit more street."
The area around Los Angeles and Orange County was the focus of this movement, and Ness called it a mecca for great punk bands of the time.
"I often wonder what it would have been like if I would have grown up in a small town in the Midwest," he said with a laugh. "I was fortunate there were older musicians around me, guys that I looked up to. I could have easily just been in a small town that didn't have music."
He joked that could have ended up robbing banks instead.
Distorting trends
Social Distortion has been evolving since its inception, Ness always at the forefront but members changing often around him. The band released its debut studio album,
Mommy's Little Monster
, in 1983. Ness grappled with heroin addiction and got clean, and the band reformed to release
Prison Bound
in 1988.
By the time it put out Social Distortion in 1990, Ness had decided to go for something new. He integrated the sounds of his youth, bringing in more overt country, blues and rockabilly influences.
"By the mid-'80s, a lot of the good bands had already died," he said. "Punk was starting to stereotype itself a little bit and have all these rules. A lot of the bands sounded the same at that point."
Social Distortion took a significant risk to distinguish itself.
"People don't realize that when I wrote the self-titled album, I didn't know that people were going to like 'Story of My Life,' or 'Sick Boys,' or 'Ball and Chain,'" he said. "All I knew is that it felt true to me and I liked it. And I had to write a record that I liked and then hope that other people liked it too."
Ness said his love for all those other music styles never waned, but as a teen, his skill level didn't allow him to play something more complex like a blues song.
"For a while there, it was just loud, fast, British stuff," he said.
Ness said that, as early as Prison Bound, he wanted to differentiate the band's sound from British influences and embrace its American roots, which helped lead him down the blues and rockabilly path.
"And that was the whole thing," he said. "It was about individualism. I remember getting flak for wanting to record a Johnny Cash song. Everyone was like, 'Why?' Why? Because it's cool, and you wouldn't know cool if it mugged you in an alley!"
You might know this song, maybe even within the context of Social Distortion's repertoire. The band's punk cover of "Ring of Fire" almost always makes its way into the live sets. They even performed the song at Sea.Hear.Now on Sept. 30 with Ness' good friend Bruce Springsteen.
Even now, Ness does not care much about following musical or fashion trends, beyond keeping his finger on the pulse of punk to find young bands for Social Distortion's opening acts.
"It's helped me and my career just to ignore what's popular and do what I do," he said.
Social responsibility
He also tends to ignore political trends, and the band has never been an explicitly political punk group. A few songs do address societal issues, like "Don't Drag Me Down" and its take on racism.
"When I was 17, 18, I didn't care who was president," he said. "I was oblivious to politics. I was a high-school dropout. I just trusted that whoever was in charge was going to do a decent job."
Now, at the age of 56, Ness said he has gotten more interested in history as a means to "make sense" of the current political climate. He said Social Distortion's next album will likely contain at least one song with a political slant.
"I do feel a certain responsibility," he said. "Musicians are like journalists. They report what's going on in their lives, personally, and what's going on globally."
In recent years, Ness has tossed around ideas for various creative projects, including a film about the band, a solo record and a "stripped down" Social Distortion album. But for now, he said the band is focused on putting out its new studio album. It will be the first since 2011's Hard Times and Nursery Rhymes.
Ness said a friend recently told him that the band has not peaked, so he hopes to make this album its best yet. He started to describe its new sound but then stopped.
"I don't want to give it away," he said. "I think it's going to be a record people aren't going to be expecting."
Oklahoma City fans will have the opportunity to hear two of the band's latest songs, "Over You" and "Born to Kill," at Diamond Ballroom.
"We're looking forward to coming back," Ness said. "Everyone can expect a live, high-energy, loud show."
Visit socialdistortion.com.