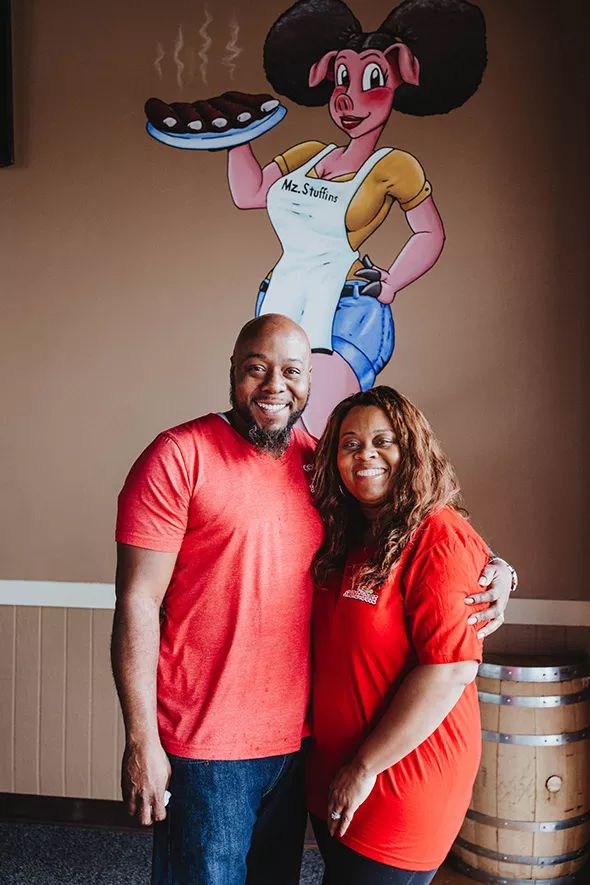 Alexa Ace
Chris and Nicole Cornish are the owners of Cornish Smokehouse.
The journey to opening the brick-and-mortar location of Cornish Smokehouse began six years ago as a trail of hickory and pecan smoke enticed people from Chris and Nicole Cornish's neighborhood out of their homes and to their front door to place an order.
After encouragement from friends and family, Chris took his hobby of cooking and started smoking in the backyard. They gained enough interest from taking orders out of the home that they were able to get a food truck. The couple opened Cornish Smokehouse at 801 SW 119th St. in October.
"Once we started smoking in the backyard, all of the neighborhood was like, 'Who is that?'" Chris Cornish said. "They would come over, say they followed the trail of smoke, and ask to put in an order."
The Cornishes built their business by word of mouth and going to local barbershops and retail stores to establish a following. Once they got a food truck, they set up shop at Midtown's The Bleu Garten and corporate office locations. They said they were diligent in looking for events across Oklahoma to bring the truck.
"The food truck was fun and adventurous because we went to a lot of events we wouldn't have otherwise engage in and traveled around the state," Nicole Cornish said.
As much fun as they had going to towns like Tuttle and Durant, Chris said there was always a common refrain among customers: "When are you going to get a brick-and-mortar in the city so that we know where to find you?"
A two-year process brought them close to moving in at one location, only to see the deal fall through at the last minute. Chris and Nicole both said that it was a blessing in disguise. They're happy with the community support and opportunity to stand out at their location, which is in the Cleveland County section of Oklahoma City, near the Moore border. The family moved from Yukon to Cleveland County to be closer to the store.
"The community has been awesome," Nicole Cornish said. "That has been our support since day one. We're between OKC and Moore, and there's not a lot of barbecue here. Most of the food [in the area] is on 19th [Street], so the community was very excited. There's a ton of housing, schools and two new apartments."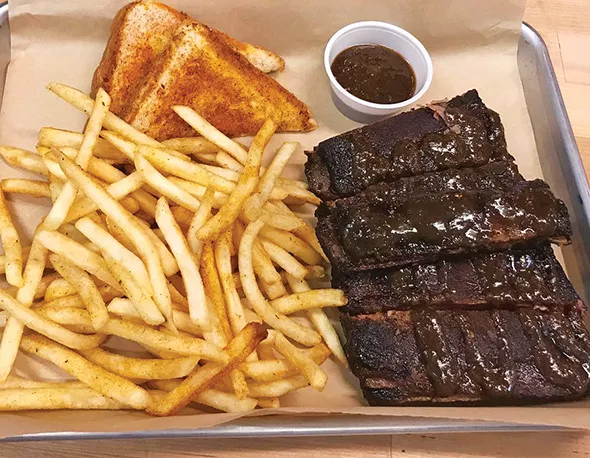 provided
Pork ribs with jerk sauce at Cornish Smokehouse
For Chris Cornish, his impetus for entering into barbecue was to retake the barbecue standard in Oklahoma City away from chains that use small electric smokers, like Billy Sims Barbecue, which occupied Cornish Smokehouse's current location before they took over.
"The enjoyment comes when someone comes up and says, 'That right there was amazing.' I hear it a lot, and it feels like barbecue is back. Back in the '70s and '80s, we had great barbecue," Chris Cornish said. "I'm a local kid born and raised in Oklahoma, been here all my life, and we want to bring it back."
Smokehouse standouts
The Cornishes drove to Nebraska to purchase a custom-built large indirect smoker that they lovingly refer to as Samantha, a play on the fact it's used to "smoke all the meats (SAM)."
Standbys like beef brisket and pork ribs, the latter of which sell out most days, have transitioned from successful food truck items to the brick-and-mortar, but the menu has expanded along with the kitchen size. They've added beef ribs and more applications for the restaurant's signature jerk sauce that include meatballs, jerk fried chicken and pulled pork.
On Sundays, they offer an expanded menu that includes smoked fried chicken, smoked ham and other meat specials along with side dishes like sweet potato casserole, macaroni and cheese, dressing with gravy and greens.
Wednesdays mean chicken wings that are available smoked or smoked and then fried. Chris Cornish is excited about a recent invention: jerk fried chicken served with French toast and spiced butter.
"It knocks it out of the park," he said.
provided
Cornish Smokehouse's restaurant and food truck feature Mizz Stuffins, which Cornish drew himself
The jerk sauce is a key element for Cornish Smokehouse, and Nicole said it was important for marketing because it allowed them to stand out from standard barbecue restaurants.
The inspiration came from Chris' sister-in-law, who is Jamaican, and got her father to send the Cornishes ingredients to make the sauce every month.
"I started putting it on the pulled pork, then the chicken, and once I put it on the ribs, that was it. It's been a huge seller," he said as Nicole mentioned that they hoped to be able to bottle and sell the jerk sauce in 2019.
Chris plans to use Samantha in the early part of 2019 to smoke whole hog and half a beef calf and even try his hand at smoked goat, which is indicative of his personality to push his boundaries as a chef and business owner.
"If you believe in yourself and you believe in your product, then you should try to push yourself out there to see what becomes of it," Chris Cornish said. "A lot of people are afraid and they like to sit back because they don't want the failure or the potential criticism. As long as you believe in yourself and focus on customer service, you can make it."
It's also personified in Cornish Smokehouse's mascot, Mizz Stuffins, an anthropomorphic pig serving a plate of ribs. Chris Cornish drew the character, despite no formal training, in a desire to stand out from the crowd.
"At first, I had a pig that everyone else had and I didn't know that until I started looking up barbecue places," he said. "I wanted my own pig, and just picked up a pencil and started drawing. I got the neck wrong a few times and then the shoulders right, and eventually, it came right."