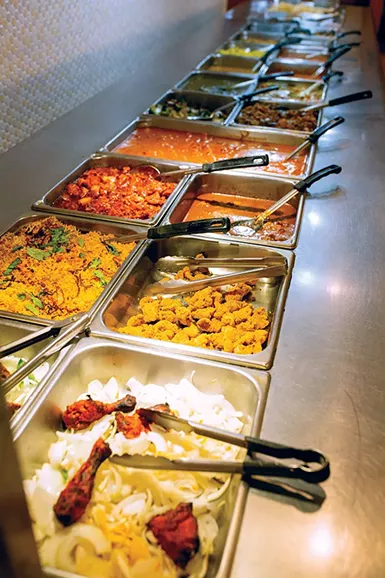 Alexa Ace
Items at Gopuram: Taste of India's buffet have expanded over the years.
Gopuram: Taste of India wasn't the first Indian restaurant in Oklahoma City, but it is the longest serving, celebrating its 25th anniversary this year at its new location at 412 S. Meridian Ave.
Isaac Samuel founded the restaurant in 1994 at 23rd Street and Meridian Avenue at a time when the Oklahoma City market was still wary of the spice and flavors associated with the cuisine. Under the leadership of chef and owner Viral Mehta, who took full ownership in 2008, Gopuram has helped introduce new dishes to the city as it has become more welcoming to vegetarian meals.
Growing up in Bombay and Mumbai with a background that includes advanced business degrees and formal culinary training, Mehta couldn't even find Oklahoma on a map when he received a serendipitous phone call from Samuel in 2002 while visiting family and attending a conference in Chicago.
"'Where is Oklahoma? Do they have Internet?'" Mehta remembers thinking. "I was totally new to this country."
Samuel brought Mehta, who had years of experience working for multinational companies as a consultant, to Oklahoma City, and he immediately saw an opportunity to expand the city's nascent Indian culinary offerings.
"When I came to Oklahoma, my first feeling was, 'I came; I saw; I conquered. This is the place I need to be,'" Mehta said. "If I decided to stay in any of the metros, let's say Chicago. Chicago was already established. It's more fun to introduce things to the people."
When Mehta arrived in Oklahoma City, Gopuram's signature lunch and dinner buffets had a limited selection of items, but slowly but surely, he began to introduce new dishes for the a la carte menu as well as the buffet.
"I saw there was a market and tell people that this food isn't spicy and not just curry," he said. "People always think that there is one kind of curry; no, there is a masala sauce, korma sauce and different kinds. You can introduce that to the market, and that's what we've done."
A strict vegetarian, Mehta added things like vegetable cutlets and Indo-Chinese cuisine, like spring rolls, which was new to the market. Gopuram offerings are almost evenly split between meat and vegetarian dishes.
"Between 2002 and 2006, you could hardly find vegetarians in Oklahoma," he said, noting that only about 5 percent of customers ordered vegetarian dishes when he first started working with Gopuram.
"Starting between 2010 and 2012, [the number of vegetarian orders] started to increase, and now it's about 30 percent as we've introduced new dishes," he said.
Gopuram's robust vegetarian offerings include baingan bharta, eggplant cooked in herbs and spices; four preparations built around paneer cheese; bhindi masala (okra); daal (lentils); chana (chickpeas); both dosas (rice and lentil crêpes); and utthapam (rice and lentil pancake).
"It is very easy to please a non-vegetarian; anyone can please a non-vegetarian with spices and meat," he said. "It is very hard to please a vegetarian, and a person that can please a vegetarian is a real culinary."
Over the decades, the prices of the lunch ($9.95 from $8.95) and dinner buffet ($12.95 from $10.95) haven't even kept pace with inflation. Mehta said that the buffet is key to drawing in customers, especially those that might not be familiar with Indian cuisine.
They supplement the buffet experience by delivering naan and freshly fried pakora to the table.
Alexa Ace
Viral Mehta owns Gopuram: Taste of India.
"If person walks in, they haven't had Indian food, and they order the wrong dish, they'll have a bad experience that will prevent them from having Indian food again," Mehta said.
He said that while the assumption might be the buffet is where food goes to sit under a heat lamp for hours on end, that's not the case at Gopuram. Everything is rotated at a minimum every two hours, and a fresh order of chicken often only sits out for 10 or 15 minutes because of its popularity.
The buffet brings in customers, but it doesn't keep the doors open. Over the years, Mehta said the buffet has introduced people to the cuisines and allows them to be more adventurous on the a la carte menu, where they pair dishes with imported beer and wine selections.
As it has become more established regionally, Gopuram has bolstered itself as a sought-after on-site caterer, servicing clients as far away as Boise and Boston. Mehta said about 30 percent of its income is made through weekend catering service.
"We'll be there at 7 a.m. if need be; it might cost extra, but we'll be there," he said.
Mehta relies on his business degrees to turn Gopuram, which also has a location at 4401 W. Memorial Road, Suite 111, into a stable and successful restaurant business in an industry with an already-slim profit margin, even though he said that it basically breaks even on buffet service.
The key to its survival is 15,000 square feet of warehouse space across three locations where it stores dried goods and spices bought in bulk. It runs through so much inventory that all of the ingredients are replaced every two to three months.
"The restaurant industry is always going to have a cash crunch problem. Margins are low," he said. "One day, you might see 300 covers, and next day might be 100. Some days are cold, some are hot; some days are snow, some are rainy. People start cutting corners on the food quality. [We] don't cut corners on the food quality, but people generally do that. The fresh food is always going to help."
Visit gopuramtasteofindia.com.