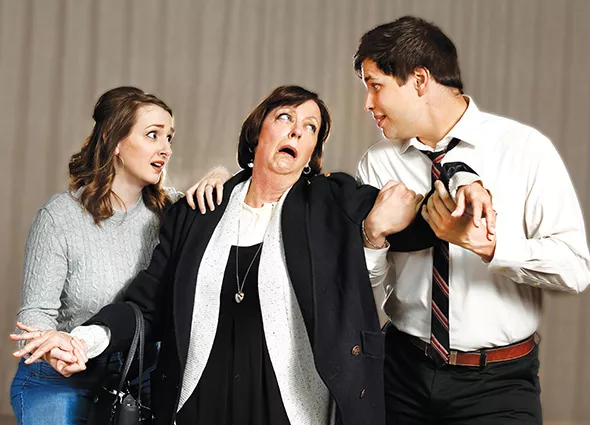 Jim Beckel / provided
from left Korri Werner, Lilli Bassett and Paxton Kliewer appear in a scene from Barefoot in the Park.
First comes love, then comes marriage, then comes … a disastrous first apartment. Or at least that's the case in Neil Simon's 1963 classic Barefoot in the Park, which runs Thursday-Feb. 17 at Jewel Box Theatre, 3700 N. Walker Ave.Performances will take place 8 p.m. Thursdays-Saturdays and 2:30 p.m. Sundays. Tickets are $20-$25 and are available for purchase by calling 405-521-1786 or visiting the box office.
Barefoot in the Park, which began its successful run on Broadway in 1963 and has been adapted for film and television multiple times, follows newlyweds Corie and Paul Bratter as they move into a New York brownstone that perfectly encapsulates the thrills and anxieties of major life changes.
Paul, an attorney, is highly strung, while Corie is more of a free spirit. Together, they take on their new life and the attendant problems of a cramped apartment. They don't have a bathtub or heat. A broken skylight lets snow fall into their apartment, and the closet has a leak — all issues that might make a New York winter (especially the first winter as a married couple) interesting, to say the least.
Set against this host of problems are compelling interpersonal dramas — Corie and Paul's new marriage and the attempted romance between Corie's mother, Ethel Banks, and another resident of the Bratters' building, Mr. Velasco.
Fresh perspective
Director Wil Rogers is no stranger acting at Jewel Box, where he has performed for over two decades (while also working at Shakespeare in the Park for 15 seasons), but Barefoot in the Park marks his directorial debut at the theater. He was drawn to the show by the script, which showcases Simon's legendary comedy.
"It's kind of the original The Odd Couple," Rogers said, referring to Simon's 1965 play and 1968 film. "It's one of my favorite Neil Simon plays because I think it's a very cute romantic comedy. I was fortunate to be given it because it's going to play through Valentine's Day, and also in light of [Simon's] passing this last year, it's a real honor for me to be able to direct it."
Rogers praised Simon's quick wit and penchant for great dialogue — especially between Paul and Corie — as well as the show's distinctly 1960s aesthetic.
"That was a very attractive aspect of it for me," Rogers said. "I love old comedies like The Philadelphia Story and comedies that have an older, classic sensibility to them."
In order to make it look like the actors have taken a step back in time, Rogers said he looked to productions like Mad Men when it came to inspiration for style, clothing and kitchen furnishings.
As much as any good romantic comedy prioritizes its settings, the genre also calls for distinct ways of acting and interacting, which Rogers wanted his actors to connect with through mannerisms and stage work.
"People carried themselves a little differently 50 years ago," he said.
For Lilli Bassett, playing Ethel Banks, Barefoot in the Park transcends its immediate temporal setting to remain fresh today in 2019.
"It really holds up very, very well," Bassett said. "There's a couple of references that I think people will giggle about, but other than that, just the relationships and the dynamics of the two couples — it's still very, very relevant and very pertinent."
Bassett, who studied theater at University of Oklahoma (OU) and who has worked extensively in community theater, said the mother-daughter relationship in Barefoot in the Park is one of care and love. In order to bring Ethel to life, Bassett said she was able to tap into her own experiences as a mother and the inevitable process of letting one's children grow up.
"My kids are probably about the same age as Corie in the play," Bassett said. "She's reached that point in motherhood where, OK, they're grown up, they're out there on their own and I just have to stand back and let them be grown-ups. … You just have to let them find their way in the world."
Korri Werner, who shares a name (albeit spelled differently) with her character, Corie Bratter, similarly drew on her own previous experiences as a newlywed in a big city. After studying acting at Oklahoma City University, Werner and her husband moved to Chicago in 2010, where they lived for six years before coming back to Oklahoma.
"It's a very contemporary script; they're having very real conversations with some crazy hijinks thrown in," Werner said. "I remember being a newlywed, and we moved to Chicago into this tiny apartment immediately after we got married, and so I relate to this. You get into this New York City apartment, and it's not really what you expected; it's small and a nightmare and things are broken. … We're newlyweds; how do we navigate this?"
Barefoot in the Park asks such questions of its characters. How do they deal with the mundane stresses of married life? Are people static, or do they change? Can they run, carefree, barefoot in the park?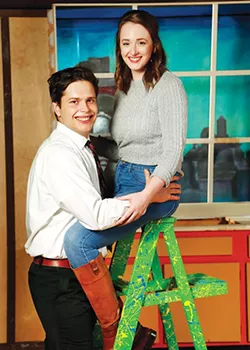 Jim Beckel / provided
Paxton Kliewer and Korri Werner star in Barefoot in the Park.
Staging Simon
Paxton Kliewer, a junior acting major at OU, remembers reading Barefoot in the Park for a school assignment.
"From the first time I read it a couple of years ago, I was like, 'Wow! This would be a really fun role.' With Neil Simon, it's really easy to bring it to life. … Getting the opportunity to work with this material has been really, really wonderful."
For Kliewer, getting into character is all about closely reading the script and examining past interpretations of the role in relation to one's own ideas. He said that working with comedy — specifically the intricacy of Neil Simon romantic comedy — also requires a keen sense of the timing that goes into talking to one's new spouse.
Another element that affects any play at Jewel Box is working in the round, where the audience surrounds a central stage. Fortuitously, as both Rogers and Bassett pointed out, the stage at Jewel Box is roughly the same size as Corie and Paul's New York City apartment would be, replete with landings and stairs.
Bassett said that working in the round offers a kind of actor's freedom, offering up an organic, realistic way to move around the stage.
"That's a lovely thing about Jewel Box," Rogers said. "It's so intimate that you're kind of in the apartment with them."
For Rogers, Barefoot in the Park also creates another kind of intimacy — that of its nostalgic relatability.
"Corie and Paul, I think, make us all harken back to our first relationships or the beginnings of our marriage," Rogers said.
Visit jewelboxtheatre.org.