Garett Fisbeck
The abandoned Union Bus Station in Oklahoma City, Tuesday, Jan. 13, 2015.
1) Historic building fight shows up at state of the city
The Greater Oklahoma City Chamber of Commerce, which hosted the luncheon and venue for the state of the city, encouraged the over 1,400 attendees to sign a petition at each table in support for the 499 Sheridan development that would demolish nine historic buildings in downtown, including the now vacant Union Bus Station.
The proposal has drawn opposition from preservationists and the city's planning committee has recommended that the development not be approved, at least not in its current form.
Cornett's chief of staff, Steve Hill, said the mayor saw value in both sides but did not have a personal opinion on the matter yet. Hill also said the mayor wanted to see the process play out, which includes a hearing in front of the Downtown Design Review Committee on Thursday.
2) Crime and police
Cornett reported during his address that homicide (down 38 percent) and auto theft (down 14 percent) rates had declined in 2014, which are two crime benchmarks he said are almost always reported and good to look at. He also referenced the city's hiring of 40 new officers last year and expressed his support for body cameras for Oklahoma City police officers.
"As we move into a new budget cycle, [body cameras] needs to be a priority," Cornett said.
The city manager announced this week the city would purchase 100 body cameras as part of a pilot program at a cost of nearly $400,000.
Cornett also addressed domestic abuse, but rather that mention statistics, he had advice for the audience.
"We must continue our focus on domestic violence," Cornett said. "If you suspect domestic violence it is probably because its there. You need to get involved."
3) Transit talk absent from speech
Cornett has been a vocal supporter of public transportation and is leading an effort to get regional buy-in for a regional transit system. However, except for his mention that the new downtown streetcar system continues to move forward, there was no mention of future transit plans, including the city's move to Sunday and evening bus service this year.
Even though the mayor did not address transit, his audience, the OKC chamber, has also become a vocal supporter of a regional transit system.
"At the chamber's annual retreat their whole focus was transit," said Nathaniel Harding, chair of the city's downtown streetcar committee. "There is definitely buy-in from the business community and city leaders. You can only talk about so much at this venue, but no doubt that is a focus and we are thinking about how we can communicate this to voters."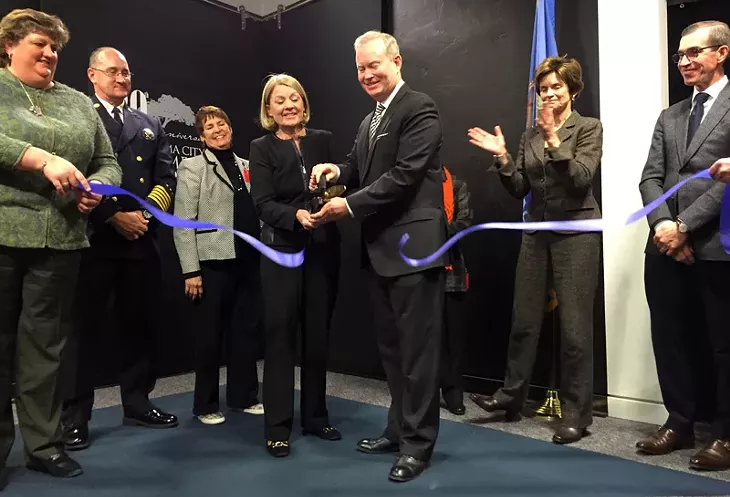 4) 20 years since the bombing
2015 marks 20 years since the Alfred P. Murrah Federal Building bombing
in 1995.
Cornett addressed this milestone and spoke specifically about the recent renovations at the Oklahoma City National Memorial and Museum.
After the state of the city, the museum's director, Kari Watkins, said 2015 was a crucial year for the museum.
"I think its more important today than it was when it opened," Watkins said. "When it opened it was really a very special place for those who lost loved ones and came, but now we enter a phase where we have to educate and educate beyond anything we have done."
5) Future focus
While Cornett spoke about the city's past, most of his speech looked to the future. New high rises, a new convention center, downtown park and streetcar system were all projects Cornett addressed as coming in the next few years.
Cornett also spoke about the city's new generation of residents who have come to expect the new level of entertainment and service they find in OKC.
"A generation [of residents] still believes the ballpark has always been downtown and the river has always had water … because that the city they have grown up [in] because that's the city you created for them," Cornett said.