With all the breweries around the state, it's hard to stay on top of all the new permanent releases, much less the seasonal selections. Fortunately, we've done at least some of the work for you, focusing on a handful of sours and fruited beers (yes, cucumbers are a fruit) available from Oklahoma brewers this summer. With their lower alcohol content, these offerings pair well with summer session activities and won't compound your dehydration so quickly.
Battle Unicorn
Angry Scotsman
ABV: 3.9 percent
As sweet as it is fierce, the Battle Unicorn won't throw you until the dirt if you polish off the four-pack in a single sitting. This fruited Berliner weisse (German white) ale comes on strong with its raspberry and blackberry notes with a second wave of serious tartness. The sour bite gets less intense with each swig, but the sweetness never dulls. While Pride month may be over, Angry Scotsman is keeping the party going into the scorching months with this unique offering. A portion of the proceeds from the Battle Unicorn also goes to the OKC Pride Alliance, who were responsible for Pridefest at Scissortail Park this year.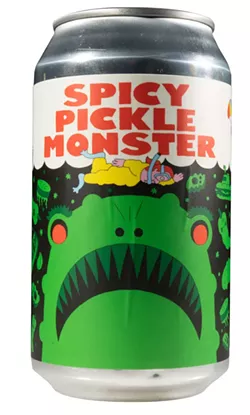 Spicy Pickle Monster
Prairie Artisan Ales
ABV: 5.3 percent
While this one seemed like a novelty beer, after noticing at least two other pickle-flavored offerings at the Oklahoma Brewer's Fest, it seems like these dill- dominated sour ales might become a bit of a thing. The name lives up to its taste, with spicy pickle flavors balanced by a trio of lemon, lime and orange that tastes almost exactly like it sounds. The spice doesn't provide as much of a kick as the pickle, which is bolstered by the trio of citrus fruits. Since Prairie was one of the first Oklahoma breweries to start leaning heavy on non-traditional beer ingredients in their brews, it stands to reason that they would be one of the first to take a crack at an ale that gives a hangover as much as it takes it away (look up pickle cures for hangovers if you don't believe me).
Watermelon Slice T-Shirt
Stonecloud Watermelon sour
ABV: 5.3 percent
Beer Advocate ranked Stonecloud among its top ten craft breweries in the state and for good reason. They consistently put out a dizzying array of new limited releases and seasonal beers in addition to their core lineup, which is also constantly expanding. Available in four- packs of pint cans from the taproom for a limited time, the Watermelon Slice T-Shirt contains 2,000 pounds of watermelon brewed into a blonde foeder sour (foeder — pronounced food-er — is characterized by its large barrel, which you obviously need if you're blending 2,000 pounds of melon into your beer). The watermelon flavor hits first, with a sour finish and an aftertaste that combines both flavors. If fruity beers aren't your thing, check out the Stonecloud Lite, a refreshing pilsner in the style of major beer producers, or the Lagaritaville, a Mexican-style cerveza with a hint of lime.
Life is a Pie-Way
Anthem Brewing Co.
ABV: 7.4 percent
Taking a step away from full-fledged sour ales for our final selection is a cider summer offering from Anthem. Made from apples and black cherries, this one tastes more like a cross between a sour ale and a seltzer anyway. The apple is more muted than the black cherry flavor, with a strong sour kick that masks the stout alcohol content at 7.4 percent (which is high for a sour, ale or a seltzer). Available, at least for now, as an exclusive release available in On-Cue Express stores, Life is a Pie-Way is a taste of home baked goods in a can. If your grandma was drunk anyway.