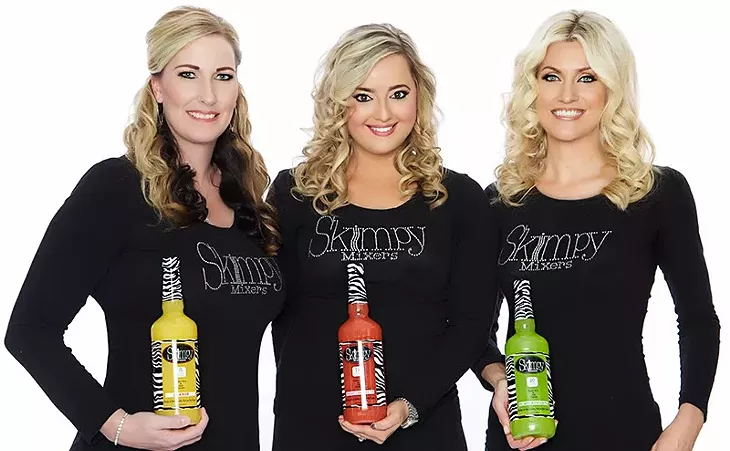 Megan Toole and Summer Lamons, two of the three owners of Skimpy Mixers, graduated from Edmond Memorial High School in 2005.
In school, Toole and Lamons were standout athletes, and they would go on to be scholarship athletes at Oklahoma universities, Toole at OU and OSU and Lamons at Tulsa University.
They loved to party, but they hated the calories that came with exotic mixed drinks.
At a pool party in 2010, Toole and another friend, certified nutritionist Krista LaMothe, came up with the idea for a low-calorie mixer after reverse engineering a Frozen Dreamsicle cocktail they both loved. The original drink clocked in with more than 600 calories, so the two set out to make a lower-calorie, delicious mixer made with real fruit juice.
Lamons joined in, and in 2011, the trio created Skimpy Mixers, their own brand line. They are 35 calories per serving or less, far lower than sweet-and-sour mix or other sugary concoctions that line grocery store shelves. It did well on its own, promoted by word-of-mouth and social media among friends.
However, by 2013, all three were ready for something bigger and Toole approached Wal-Mart. She spent months studying the giant retailer, and she took her research to the top of the company.
"I knew they wanted to double sales in their beverage division by 2016," Toole said. "We had been doing grassroots work marketing our product in small towns all over the place. I pulled our sales sheets and noticed that every town we were in had a Wal-Mart."
She offered the retailer a deal: The $12-per-bottle Skimpy Mixer could be $4.98 on store shelves, and most of the preliminary marketing was already completed. The gutsy risk paid off, and now, Skimpy Mixers is available in 650 Wal-Mart stores in all 48 contiguous states.
Flavors include Orange Dream, berry lemonade, Skimpy Margarita, pineapple and Sweet 'n' Sour, all made with real fruit juice. They're also low-sugar, low-carb and gluten-free, Toole said.
The latest creation was cherry limeade in a joint marketing effort with Torrei Hart, star of the VH1 reality show Atlanta Exes and former wife of actor-comedian Kevin Hart.
Hart approached the trio after seeing their product line at a marketing event, Toole said. Hart loved the package and the quality, so she signed on.
"She's moving out from her ex-husband's shadow, and she is establishing herself and her brand," Toole said. "We want to show that this isn't about a color or race, but it's about women showing that they can run with the big dogs. We can compete with the men."
All three founders now live in Dallas.
Toole, who now also runs an insurance agency as a second business, said the team behind Skimpy Mixers wanted to emphasize women's empowerment, and Hart helped make that happen.
Skimpy Mixers are available at Wal-Mart, Amazon.com, the official website at skimpymixers.com and on Facebook at facebook.com/skimpymixers.
Print head: Slim slurps, Skimpy Mixers started as a pool party experiment and is now available at more than 600 stores nationally.