Alexa Ace
Matty McMillen's has a Kegs and Eggs brunch on weekends.
Once Matt McMillen retired last June after 19 years as assistant athletic director of football operations at University of Oklahoma, he decided to shift gears.
Local restaurateur Hal Smith approached him with an idea for a new restaurant: an Irish pub in Oklahoma City inspired by McMillen's Irish roots.
Matty McMillen's Irish Pub at 2201 NW 150th St. opened Aug. 13 to great fanfare with the help of a full company of kilted bagpipers. Since then, the pub has continued to develop its ambience and refine its menu.
Outwardly, the pub itself is slightly nondescript, a large building in a growing development that includes several other restaurants, including another Hal Smith property, Neighborhood J.A.M.
Inside, it is spacious and decorated in deep greens and dark wood, along with Oklahoma City Energy soccer jerseys and scarves. Irish proverbs and sayings from McMillen himself adorn several signs and chalkboards. Is it kitschy? Yeah, a little, but that's part of the place's charm. I think I saw a photograph of Liam Neeson on one wall, too.
Throughout the rest of the space, there are high-top tables and booths and plenty of large-screen televisions for sports fans. On a late afternoon midweek, several patrons gravitated toward the bar and chatted easily with bartenders as a mix of Irish folk and rock music played.
Altogether, it's a newer, more upscale version of a pub you might find in Boston, Chicago or Dublin, but without the limited space, low ceilings and city grunge.
The pub's managing partner Ross Crain said its opening went smoothly, especially since the property was simply transitioning from a previous restaurant, Hollie's Flatiron Grill. Some walls came down, fixtures were changed and pictures of McMillen were hung on the walls. The renovation took roughly a month and a half, he said, and much of the staff stayed on.
Although he has worked in bars and currently runs three of the Toby Keith's I Love This Bar & Grill locations, Crain said he still did some research to figure out how to achieve the Irish pub feel.
"We went to some pubs in Chicago," Crain said. "We went to look at some traditional, down-and-dirty, older Irish pubs."
"Down" and "dirty" are fairly apt terms when it comes to older, more traditional pubs, which can sometimes be dives. Crain said they were aiming more for a "homey feel" and a relaxed atmosphere with Matty McMillen's.
"It's funny how you can put 'Irish pub' out front and paint it green and everybody comes in and starts drinking beer at three o'clock in the afternoon," Crain said.
McMillen remains involved in the pub's operation and even visited to help celebrate Halfway to St. Patrick's Day on Sept. 17.
The pub had another visitor during that party, Crain said. Former OU head football coach Bob Stoops came in and pulled a few pints alongside McMillen.
"He's retired," Crain said. "He wants to relax and have a good time. But the one thing he wanted to do was pour some beer. And I said, 'Well, you gotta get a liquor license. We gotta get you on payroll so it's legal. You guys retired; now you're going back to work!'"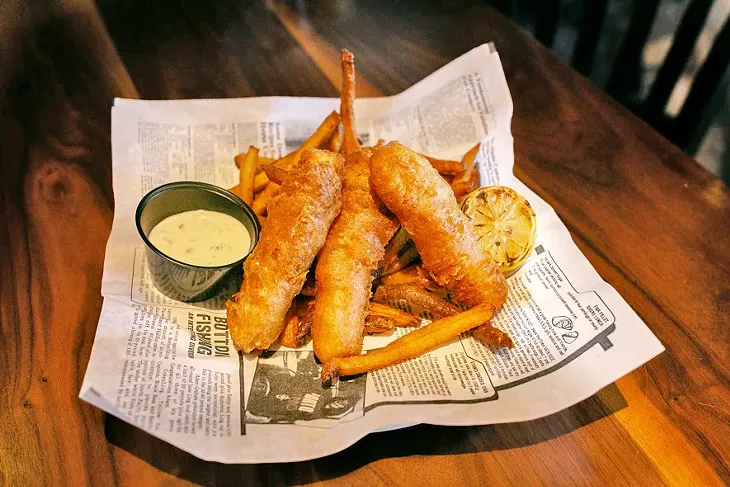 Alexa Ace
Housemade fish and chips
Gabe Ikard, former NFL player and current cohost of radio show Franchise Players on 107.7 FM, tweeted video evidence of Stoops behind the bar as he poured a Guinness on Aug. 29.
The bagpipers made another appearance at the pub's Halfway to St. Patrick's Day party, and Crain said he hopes to soon have even more live music once or twice a week. They're also in the early stages of planning a trivia night.
For the menu, Crain said they're seeking the delicate balance between what might be unfamiliar Irish fare and familiar, comfortable sports bar food. Alongside the bangers and mash or corned beef and cabbage, patrons can order flatbreads, hamburgers and salads.
One of the most ordered items on the menu is a classic pub meal from across the pond.
"Well, I found out that in an Irish pub in Oklahoma," Crain said, "if people don't know what to eat, they eat fish and chips."
Matty McMillen's battered cod is served with a side of fries and tartar sauce. If you were walking down a London street and stopped by a fish and chips shop, you'd get something very similar, probably wrapped in newspaper for on-the-go munching.
At this pub, the meal comes on a fancier facsimile of newsprint. It's still simple and familiar, and it's easy to see why the dish would be popular. Drench that fish in malt vinegar, and it's pretty authentic.
Crain also pointed out the stout-braised brisket sandwich as a personal favorite.
"I've been in the restaurant business for 26 years, and I think it's one of the best sandwiches I've ever had on a menu," he said. "It's really good. You put beer cheese on anything, I think it's pretty good."
Alexa Ace
Guinness Stout is decanted perfectly at Matty McMillen's Irish Pub.
On tap, McMillen's has Guinness, both stout and blonde, as well as Smithwick's and Harp — all Irish staples. It also serves twists on cocktails made with Irish whiskeys, like the Bob's Hellcat Mule (a variation on the Moscow mule) and the Hot Irish Mama (which mixes Jameson Irish Whiskey and jalapeños). Familiar domestics are also available.
In addition, the menu includes an option to buy a round of pints for kitchen staff. Crain said they usually get a few rounds bought on busy nights.
The pub is currently not open for lunch except Fridays, although Crain hopes to expand its hours soon. It serves a Kegs and Eggs brunch on weekends. And despite a namesake with a background in OU football, Crain said the bar is equally supportive of Oklahoma State University sports.
"We don't want to alienate," Crain said. "We want both sides in here having a good time."
Crain said hopefully they will be able to grow and open another pub location in Norman or Moore in a year or so, building upon what they learn from their first pub and perhaps adding pool tables and dartboards. He said the menu will continue evolving as they find what resonates with Oklahoma City customers.
Crain also said that planning for St. Patrick's Day has already begun, and he envisions it as a celebration over the entire holiday weekend, complete with an outdoor beer garden and other festivities.
"The biggest thing is it's here, it's fun, it's casual," Crain said of the pub.
Matty McMillen's Irish Pub is open 3-10 p.m. Monday-Thursday with extended hours on weekends.
Visit mattymcmillens.com.