The holiday shopping season is fast approaching and The Paseo Merchants Association wants to help you get a jump on holiday shopping in the fun and funky atmosphere of the Paseo Arts District.
"We really want to make guests aware that there are a wide range of gift options in the Paseo," said Amanda Bleakley, Paseo Arts District executive director. "A great example is the shops at The Avalon Building (514 NW 28th St.), which is a little out of the way, and it's a great place to discover all kinds of neat things at places like Bone Dust Gallery and MJ Alexander Photography."
The Paseo was established as a shopping district in the 1930s and revitalized in the '50s as a home for jazz clubs and small businesses. In the '60s, the counterculture that continues to influence the district's vibe and color began to take hold. It has grown exponentially since then, and the area now boasts more than 35 galleries, boutiques and restaurants.
For five hours on Sunday, Paseo businesses will demonstrate just how many treasures can be found.
"This is a great chance for people to discover the Paseo and get a jump on holiday shopping in the casual atmosphere of the district," Bleakley said.
Hoping to show the community that the district offers so much more than art that hangs or paint on canvas, several merchants banded together to create The Paseo Merchants. In cooperation with The Paseo Arts Association, they hope to bring the event to the district every year.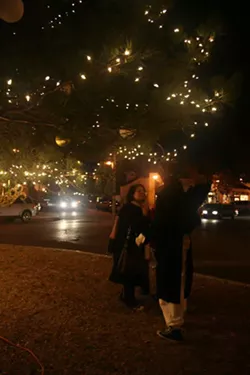 Visitors will be able to peruse all the shops and galleries, and there will be several special attractions to make it festive and fun. There will be children's activities with an opportunity for them to make their own ornaments. It's a perfect chance for one parent to sneak away and do some solo shopping.
Oklahoma Shakespeare in the Park, which recently moved its offices to the Paseo, will perform Something Merry This Way Comes, a collection of holiday songs and stories to get everyone in the holiday spirit. As a special treat, Santa will make an appearance during the festivities.
There will also be local food trucks stationed at the ends of Paseo Street. Katiebug's has switched over to its winter menu, which includes hot chocolate topped with organic, gluten-free, salted caramel marshmallows, a rich reward for finishing a good portion of your holiday shopping early.
Meanwhile, Jann Jeffrey Gallery, 3018 Paseo St., carries glass earrings, and Craig's Curious Emporium, 3004 Paseo St., is full of unusual items.
Get your shopping done early this Sunday in the Paseo Arts District.
Print head: Paseo treats, Sleigh bells will be ringing to the tune of holiday-themed deals at Sunday's Holiday Gala on the Paseo.