provided
A collage at a Hideaway in Tulsa
All of the furniture in artist Jessica Petrus' house — save for a small couch — has wheels on it. She never knows when everything will have to be moved to make room to work on a giant collage that has become a trademark at many of the 18 Hideaway Pizza locations across Oklahoma and into Arkansas.
"My family doesn't even mind," Petrus said. "My son was a baby when I started, and it's been so long that it's a lifestyle. They'll come home and I'll say 'Hey, I need you to move this,' or 'You can't come through this doorway,' and they don't even think about it."
In total, Petrus has created more than 30 collages for Hideaway that began with an entry into the company's millennium collage competition in 1999. Petrus is a self-taught artist with experience in painting and jewelry making and entered the competition on the advice of a friend. She took home a $2,000 prize and developed a relationship with Hideaway that has turned art into a full-time career.
"I feel like a secret," Petrus said. "I'm blessed to have the continued support of Hideaway Pizza, and that they still like my work. Being a working artist is a tough thing to do."
Petrus is also the set designer for the city-run Northwest Optimist Performing Arts Center, an instructor at Oklahoma Contemporary Arts Center and a member of Oklahoma Arts Council's pre-qualified artist pool for her work in large-scale installation work.
provided
A collage at Hideaway Pizza in Norman
Collage connection
Hideaway Pizza's connection to collages dates back to its original Stillwater store. When Richard and Marti Dermer purchased the Stillwater location in 1960, they were college students, just like the ones they were serving at the hole-in-the-wall location, so they didn't have much money, according to Hideaway's marketing director Janie Harris.
The Dermers needed to decorate the space with whatever they could find: cutouts of old Life and National Geographic magazines and whatever else they could find.
"[The collage] was famous to anyone who went there because you never knew what you were going to sit next to," Harris said. "When they moved to a new Stillwater location, they had to make a new collage because it was so popular."
The Dermers sold the rights to Hideaway Pizzas outside of Stillwater to former Hideaway dishwasher Gary Gabrel, who made a fortune after developing and selling the board game Pente to Hasbro.
A sports collage was included in Oklahoma City's first Hideaway Pizza in 1997, and in honor of the upcoming millennium, Hideaway started the collage competition as a way to give back to the community. The Oklahoma Centennial Project got involved and extended the competition for the state's 2007 Centennial, ultimately ending in 2010. Each year, Hideaway gave away $10,000, often to Oklahoma public education departments, whose art students supplied many of the selections.
"We started hanging them in our restaurants because they're beautiful and some of them are mind-bogglingly intricate, fascinating and artistically creative," Harris said. "As a result, we liked the idea of a [large] custom collage for each restaurant as we started growing the company."
With Hideaway's first Edmond and Norman locations set to open, management kept coming back to Petrus' submission.
"Her collage totally broke all the rules," Harris said. "It made me crazy because it was a really great collage, but she did it in the wrong direction and used the wrong wood with a different finish."
Petrus was hired to create a 24-foot collage featuring the history of Oklahoma jazz musicians for the Edmond store and another 24-foot piece with University of Oklahoma athletes in Norman. Petrus is the artist behind the scenes of every large-scale collage.
"Her work is meticulous," Harris said of Petrus. "She does a great job with the research and brings a fresh look to the ideas."
The collages take different forms. There are some dedicated to athletes, others are filled with historical photos — like ones in Moore, Bartlesville and in Conway, Arkansas. There are also the "faces" collages, comprised of photos taken of customers or submitted from the community.

"I can easily identify people," Petrus said. "It is the weird thing about doing these collages and seeing so many faces is that I'll be out and about, and I'll want to wave to someone because I recognize them from photographs in the collages.
Harris said that the faces collages are among the most popular with customers.
"There is one up in Edmond, and we took it down when we remodeled and people were like 'Where are our faces? I got my picture taken when I was six and show it to people every time I come in.' It's so fun to have something people can relate to," Harris said.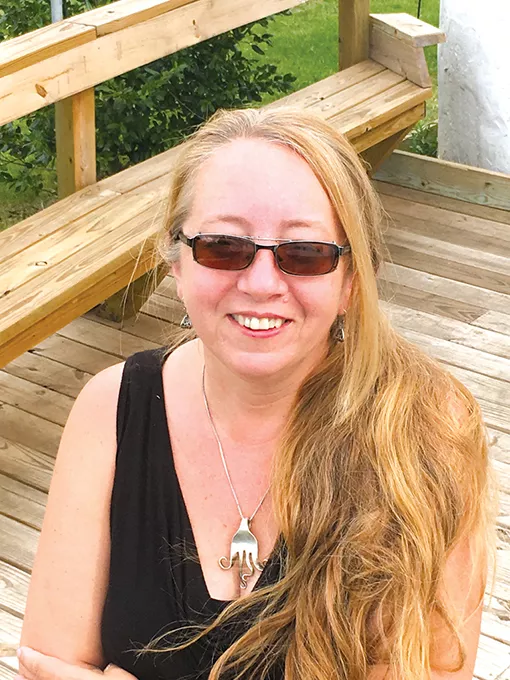 Jacob Threadgill
Jessica Petrus won Hideaway's inaugural collage contest in 1999 and became the restaurant's main artist, creating its signature collages at 18 locations.
New Western location
The "Faces of Western" collage will move from the original Oklahoma City location at the corner of NW 66th Street and Western Avenue to its new two-story, 244-seat restaurant at the intersection of NW 50th Street and Western Avenue, which is set to open July 11. The original Western location will close for good July 8.
Petrus will have a second collage in the new Hideaway and an updated version of the sports collage that survived the 2012 fire at the original Western Avenue location. Petrus added more Thunder players and converted the 24-foot piece into a two-sided 4-foot by 8-foot collage that will hang in the waiting area.
The first 57 groups at the new Hideaway location will receive a gift bag with $57 worth of gift cards (in honor of its 1957 founding), and one bag will have a gift card for a year's worth of pizza. The first 200 takeout orders with two large pizzas will receive an insulated heat bag.