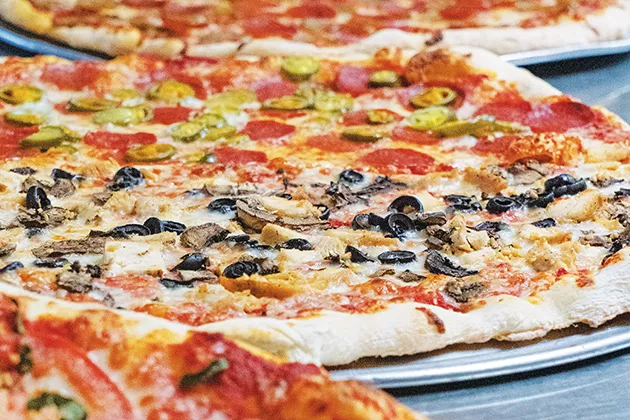 Phillip Danner
Pizza is available by the slice and whole pie at New York Pizza & Pasta.
The common legend for what makes New York pizza special is the water. But for New York native Danny Falcone — who introduced Oklahoma City's first by-the-slice pizza option — the qualities of a good crust are about the other ingredients.
"I use olive oil and if you use the right oil, you get the right crust," Falcone said. "People say the water, and the water has a lot to do with it, but you can give me any water and I'll make a good pizza; that's the truth."
Thirteen years after Falcone opened his eponymous restaurant on May Avenue, which briefly spawned three additional locations (only the original remains), Falcone has returned to Oklahoma after seven years operating a pair of restaurants in Florida.
"I came for two weeks to do a real estate deal with an army buddy of mine, and 16 years later, I moved back east," he said. "It was a long two weeks. I really got to like it here and to like the people, and it's really calm."
After making a name for himself in Oklahoma City, Falcone is trying his hand in Norman, taking part ownership and complete control of the restaurant at New York Pizza & Pasta, 217 W. Boyd St., on Campus Corner directly across from the University of Oklahoma campus.
Phillip Danner
Meatballs and tomato gravy served over spaghetti
Like a sports manager that has already won a title and is looking for a new challenge by turning a mediocre team into a contender, Falcone has overhauled New York Pizza & Pasta's menu since taking over in mid-January.
"We've completely revamped the place," Falcone said, referring to new tables, chairs and electronic menu boards. "It wasn't really known for its food."
Falcone paired with co-owner Mark Pritz to increase New York Pizza & Pasta's lunch and dinner crowds, which will enhance its already-popular bar crowd.
"He has over 30 years [experience] in the restaurant industry, so I thought it was a perfect opportunity to bring in an expert who has more experience than I have and make some changes," Pritz said. "It's good food, not that it was bad before, but Danny has been a perfect fit."
Falcone has revamped the menu to include New York-style thin crust that is light and crispy but still has a good amount of chew. Pizzas are available by the slice or whole ($10-$23).
He also makes variations like a deep-fried pizza in which the dough is dropped into the fryer and topped with sauce, cheese and toppings and placed in the oven. There's also a stuffed pizza that has a second layer of crust. The Grandma pizza is on the menu in honor of Falcone's grandmother, who made a square pizza with thin crust, minimal sauce, fresh tomatoes, mozzarella and basil.
There's also off-the-menu Roman and Sicilian styles of pizza available — both of which are thick crusts, but Falcone said the Roman style is more airy.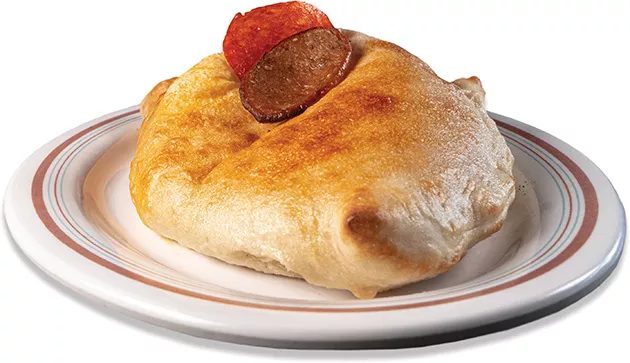 Phillip Danner
Pepperoni and sausage calzone at New York Pizza & Pasta
"They're not to be confused with Chicago deep dish," he said.
Falcone's wife Winsil prepares meatballs each day made with beef, pork, veal, garlic and fresh basil. They're served over spaghetti ($8.99) with Falcone's recipe for tomato gravy.
"I have a hard time educating people on what the difference is between the [tomato gravy and marinara]," he said. "Every day, people come in here and want meatballs with marinara, and I tell them no. They ask, 'Why not? You don't have it on the menu?' We do, but in English, marinara means meatless, and you don't put meat with marinara sauce. I do make gravy, but they automatically think brown or white. I've got to explain to everybody that gravy means I cook it with bones, meat and simmer it for hours."
The restaurant offers a cheese lasagna made with marinara and a meat lasagna served with gravy. There is also an Alfredo sauce on the menu and a pink sauce (Alfredo mixed with marinara) by special request.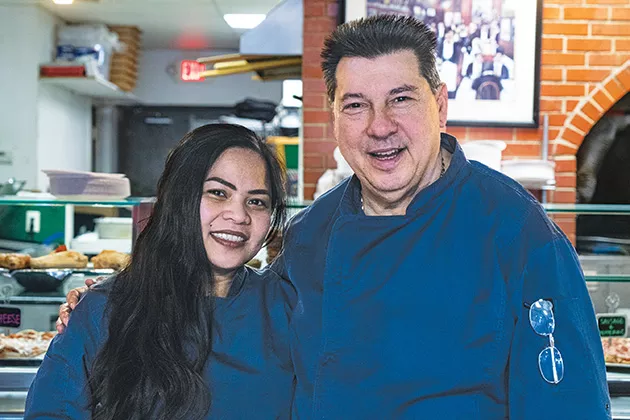 Phillip Danner
Winsil and Danny Falcone operate New York PIzza & Pasta in Norman.
There are eight hot sandwiches ($7.49-7.99) like meatball parmigiana, sausage and peppers and a cold Italian cold cut sandwich. Falcone takes pride in serving salads that he likes to refer to as "exotic" like the Key West salad with mandarin oranges, smoked gouda, blueberries and a homemade mango poppyseed dressing.
There's also a seafood salad ($8.99) packed in oil and spices imported from Italy bursting with baby octopus, mussels, shrimp, clams and cuttlefish and served on a bed of lettuce. The restaurant makes all of its dressings in-house, from blue cheese to ranch, which Falcone used to consider a faux pas for a pizza restaurant, but the Oklahoma market wants it with pizza.
"At Falcone's, we wouldn't even sell you ranch; we didn't even carry it," Falcone said. "My wife convinced me put it on the menu. They must drink it because we make it by the bucket full. I don't get it."
At lunch, New York Pizza & Pasta offers specials for two slices and a drink for $5 or a burger and fries. For dinner, it offers family meals to feed four, like a large two-topping pizza with a bowl of spaghetti and salad for $25.99. The restaurant is now open on Sunday from 11 a.m. to 10 p.m.
"I can eat pizza every day or pasta every day, and it's good to back in Oklahoma," Falcone said. "I'm trying to change the mentality to from a bar to a restaurant, and it's going to take time."
Visit nypizzausa.com.