Chaos Studio / provided
Chaos Studio offers visitors a chance to build, destroy or both.
Creation and destruction go hand in hand, not so much two sides of the same coin as essential stages of an unending cycle. In artistic terms, the idea finds expression in recently opened Chaos Studio, 1322 NW Sixth St.
The experience available to customers can be broadly divided into two forms of activity. On tables inside the studio, guests are free to engage in relatively restrained tinkering and building using objects supplied from thrift stores; outside, they are given goggles and hammers for a kind of cathartic smashing, either of their own creations or of other discarded objects.
The space sprang from the mind of Oklahoma entrepreneur Jennifer Mayo, whose academic background — she has a master's degree in entrepreneurship from Oklahoma State University and is working toward a doctorate in creativity from Saybrook University — puts her in a unique position to introduce a new type of business to Oklahoma City's urban landscape.
Chaos Studio / provided
Old technology is repurposed for creative tinkering at Chaos Studio, 1322 NW Sixth St.
"The name of Chaos came from [the concept of] 'chaotic good,' which means a free spirit and a good heart," Mayo said. "So those two things are what I want to inspire here. The idea of free spirit, of building whatever you want — but also in the Iron Works District, where there is homelessness and poverty, so I want to be a good neighbor here."
The neighborhood in question is deceptively modest, dotted with early-to-mid 20th-century industrial structures and beautifully decaying residential architecture.
Approaching the building in which Chaos is contained, visitors are greeted with an outdoor banner on which the message "Tell your story" is encouragingly emblazoned. The interior is far less cluttered than might be expected from a business called Chaos. A sense of "breathing space" prevails, evoking a simultaneous impression of workmanlike efficiency and reassuring calm.
Streamlined and utilitarian in design, the building was formerly the site of welding activities and retains much of its original character, Mayo said, adding that she essentially "just cleaned it."
She is quick to note the importance of the surrounding area in the greater scheme of her entrepreneurial vision. On one hand, there are whispers of new and exciting businesses on the horizon. On the other hand, the presence of less economically fortunate people in the vicinity cannot be denied.
In fact, Mayo — who also has prior experience working for food banks — wants to help alleviate their plight. The studio is already in active partnership with Regional Food Bank of Oklahoma and City Care OKC in efforts to provide food for area children and affordable housing for low-income families.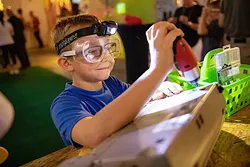 Chaos Studio / provided
All ages can find great productive or destructive projects at Chaos Studio.
All ages
Endless ideas for future applications of the space seem to percolate through Mayo's head at any given moment. She mentions, for example, a desire to host affordable classes for teenagers to work on electronics. But corporate team-building events are also in the works, attesting to the versatility of the studio's potential appeal.
The atmosphere of Chaos — complete with popcorn, Kool-Aid and the ever-present promise of playful destruction — certainly radiates a natural appeal to children. However, Mayo takes a special interest in providing adults a unique opportunity to embrace their inner childlike abandon, including as a date night.
"I like the idea of adult play, being able to exercise your mind to think creatively, and the idea of free play — so just dreaming without much structure, like what kids do," she said. "Kids think of the weirdest things, and as adults, we have to really practice that, so I was hoping that this would be that date-night experience where they could have that free play of playing like a child."
Guests are free to take home any of their creations, but not everyone does. Lying around the studio space are a few of the more elaborate examples of ingenuity from both children and adults, including makeshift battle robots, a mechanical alligator, a rocket pack and a periscope.
While others who visit might feel less inspired, Chaos is not really the type of space where something can be taken apart or put together "wrong," Mayo said.
"If you get frustrated, that's why we have the outdoor space, to just smash it," she said. "Some people could call it therapy at times."
This remains the main attraction, as everyone who walks through the doors ends up smashing something, often documenting their deconstructive efforts in photos and videos, Mayo said.
"It's great marketing for me because they're taking slo-mo videos of smashing TVs and things like that," she said.
And television sets are just one of many items subject to Mayo's distinct brand of recycling. What's next to feel the wrath of the hammer simply depends on what's available that day, but coffee makers, food processors, flip phones, printers and a host of other consumer electronics and appliances are all likely to be found there, destined for sacrifice to the gods of Chaos. Some might take only a couple of minutes to obliterate, while others prove more resilient.
"Some things are more smashable than others," Mayo said.
In any case, as Picasso said, "Every act of creation is first an act of destruction." At Chaos Studio, guests of all ages prove this adage, knowingly or otherwise, as they smash their way through preconceived notions of art — all while having fun.
"Everyone has had great things to say," Mayo said. "My Facebook has great comments on it. Everyone that comes has just given me awesome reviews so far."
Admission for two hours of creation or smashing is $15-$25, and Chaos Studio is open 6-10 p.m. Thursdays, 6-11 p.m. Fridays-Saturdays and 2-5 p.m. Sundays. Visit chaosokc.com.