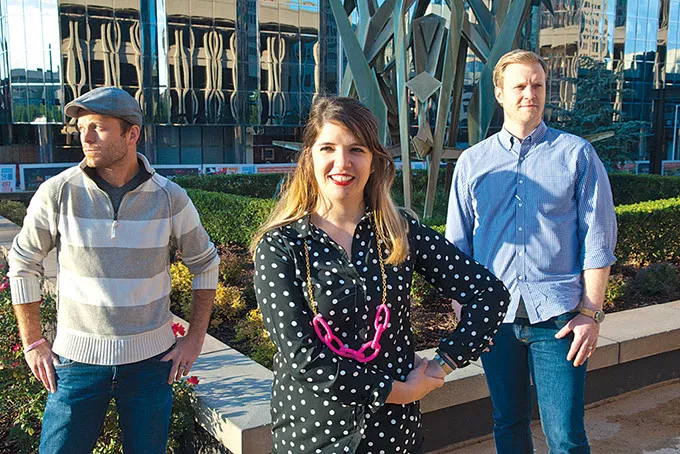 Among those Oklahoman's traveling to Kortrijk Belgium to attend the Creativity World Forum, from left, Kyle Roberts, Cayla Lewis, and Justin Briggs , photographed in downtown OKC. mh
This November, Creative Oklahoma will send its delegation of 17 homegrown artists, entrepreneurs and innovators to the Creativity World Forum in Kortrijk, Belgium.
"Instead of seeking out people in government, we decided to look for people who are out there in the thick of it, that are risking capital," Doug Sorocco, Creative Oklahoma commerce committee chair, said.
One of those people in the thick of it is Justin Briggs. Briggs serves as the director of Accele BioPharma, a company focused on both research and the capital management of life science technologies, including ways to combat Ebola.
Briggs said that biotechnology is often overlooked as a creative endeavor.
"Creativity manifests an idea into something physical," Briggs said. "In my field, you have to come up with something no one has thought of and you have to actualize it."
Briggs joined Accele this year. He also serves as a consultant for many software companies across the state. Since his professional career began, he has noticed a change in how the rest of the world views Oklahoma.
Jonathon Stranger, chef at Ludivine, 805 N. Hudson Ave., was selected as a delegate for operating a restaurant that takes ingredients from local farms and brings them directly to your fork.
"You want to know where your food comes from, and as a chef, you want to work with the best possible ingredients. Start with the best, end with the best," Stranger said.
In 2013, Ludivine spent $370,000 on locally grown food.
"That's injected right back into the community. Think about if more restaurants did that," Stranger said.
Cayla Lewis, community relations coordinator for Downtown OKC and part of Oklahoma's delegation to the World Creativity Forum, is part of the team that makes sure that happens.
Lewis' main goal at the forum is to show international business leaders Oklahoma is "the place to be."
"Oklahoma is up-and-coming; it's booming. I think we're at the forefront," she said.
Oklahoma will have more delegates than any other region at the forum, Sorocco said.
Creative Oklahoma launched in 2006. In 2010, it hosted the World Creativity Forum in Oklahoma City. Each year, it also hosts The State of Creativity Forum, an innovation and creativity conference.
Presently, Creative Oklahoma is the only North American member of the Districts of Creativity Network (DCN), which links 14 regions of creativity across the globe, nine of which reside in Western Europe.
Creative Oklahoma and DCN will cover the cost of registration. However, the airfare and lodging for the delegates costs $36,000, an amount Creative Oklahoma aims to raise with help from the community.
To make tax-deductible donations, visit stateofcreativity.com/donate or call 232-5570, extension 3.
The event, running Nov. 4-6, features speakers such as Will.i.am, Guy Kawasaki, Marco Tempest and Zaha Hadid. Attendees will have the opportunity to interact directly with speakers and network with creative minds from across the planet.
Print Headline: Creative streak, A group of Oklahomans will serve as delegates to a forum on creativity.