Garett Fisbeck
Bebe Adams performs during The Gender Bender Lipstick Revue at Phoenix Rising
Bebe Adams endlessly danced across the length of the OKC Pride Parade. It would be a long enough hike into the NW 39th Street enclave in tennis shoes, but she did all her flipping, kicking and hair twirling while strapped into a pair of six-inch heels.
"That was the first time I ever paid attention to the kind of dancer she was," said Raven Delray, who participates in the regular Gender Bender Lipstick Revue with Adams and others around 10:30 p.m. each Saturday at Phoenix Rising, 2120 NW 39th St. "It's just burned in my memory. Every time I see her, I just flash back to that."
That parade about 13 years ago was Delray's first in Oklahoma City. More than a decade later, she regularly hosts the weekly show that features some of the most experienced drag performers in the state strutting elegant or vibrant clothes and hairstyles while dancing or lip-syncing to music.
Each Friday night, Phoenix Rising hosts another show for less-experienced performers.
The state's drag community is highly connected. Delray describes Adams as her drag aunt. Taylor Bryans is Delray's drag mother because she was responsible for bringing her into performing.
Most trace their drag ancestry in this way. If someone drew a family tree, everything connects, and branches would extend into Texas, Kansas and Pennsylvania.
"It's our fun little way of creating our own family, which is something a lot of gay people have to do when their real family doesn't understand," Delray said.
Adams, Bryans and Delray have performed at Phoenix for six to 10 years and have more than 60 years of drag experience between them.
"We've done it around each other for so long, we all make bonds with each other," Bryan said.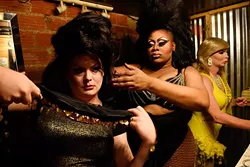 Garett Fisbeck
Lindsay Paige (center) helps Raven Delray with her costume during Gender Bender Lipstick Revue at Phoenix Rising
Making space
A lot can be accumulated in a long career. Adams' two-car garage at home has no space for parking. Instead, it's packed with gowns and drag accessories.
"My guest room is basically full of drag," said Delray, who has performed since she was 15 years old. "My laundry room is full of drag. My garage is full of drag. Some costumes are just too big, and some stuff you don't wear as often but you don't want to get rid of it."
Delray makes many of her own outfits as a way to keep thrifty in an avocation that can get very expensive very quickly. A dress might cost $50 to make. Shoes can cost in excess of $100, and $8 nails and $4 lashes stack on top of makeup, tights and jewelry costs. And that's one outfit. Phoenix dancers go through two or more each night they perform.
At the pageant level, prices get truly exorbitant. Adams said the cheapest gown from her pageant days was $2,000.
"If you're serious, you've got to spend a million to look like a million," she said.
Drag queens aren't just quiet models showing off flashy outfits.
To earn tips at Phoenix shows, performers are expected to entertain crowds with music. Delray streams Pandora Internet Radio at home and turns everyday household chores into rehearsal sessions.
Each of the girls has a long list of tunes in her repertoire. They have songs or routines they're known for. Bryans, a 30-year drag veteran, is known for performing her version of Cher. Tips come easier when music is recognizable. Song selection on any given night varies according to mood and what seems appropriate for a given audience.
"We all try to cater to the crowd," Bryans said. "You have to, really, if you want to make any money."
The thrill of a captive audience and the chance to take on an alter ego keep them going despite the cost and personal demands on time and space.
"It's just an adrenaline rush when you become somebody else and somebody new," Adams said. "It's exciting."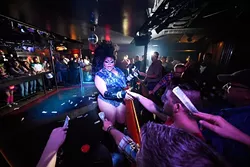 Garett Fisbeck
Lindsay Paige (center) performs during Gender Bender Lipstick Revue at Phoenix Rising.
TV tropes
The popular reality show
RuPaul's Drag Race
has significantly impacted the drag world. Drag has never been more popular, and with that popularity has come an unprecedented wave of new performers into the scene.
Often, those new entertainers come with expectations molded by what they've seen on television.
Nothing like that was available to the Phoenix girls. Any understanding of the culture was obtained through what they saw firsthand.
"When we started, we didn't have that," Adams said. "We had to go to the bars and see what the girls were doing."
Infighting or general "bitchiness" between performers is rare, Delray said. There are occasions when people don't get along, but that occasionally happens when you put together any large group of people.
"[New performers] come in with preconceived notions," she said. "They don't always get what they see on TV, but usually by the time they leave, they're OK with it."
Another common misconception is that all drag queens really want to be women.
"I have never wanted to be a woman," Bryans said. "I like portraying a woman. I've loved it for all the time I've done this."
While there are performers who use drag as a way to help discover who they are, Adams enjoys putting on a persona very different from the one she assumes on a day-to-day basis.
Garett Fisbeck
Taylor Bryans performs during The Gender Bender Lipstick Revue at Phoenix Rising,.
Finding success
The best drag advice Delray has to offer is also excellent advice for life in general: Be kind.
"Sometimes, just being nice to people is all it takes for people to become your fan or your follower," she said. "Those people will come back every single time and they'll ask you to do those numbers. They'll want to see you on a show."
When Delray started experimenting with drag as a teenager, people told her the average drag queen lasted about 10 years. Today, she's a few years away from her second decade of work.
"We have all proven that we've been able to stick around and still be able to be successful," she said. "I think that says something about the crowd liking what we do."
Print Headline: Gender benders, While some things have changed since the girls of Phoenix Rising began their drag careers, a close bond remains constant.