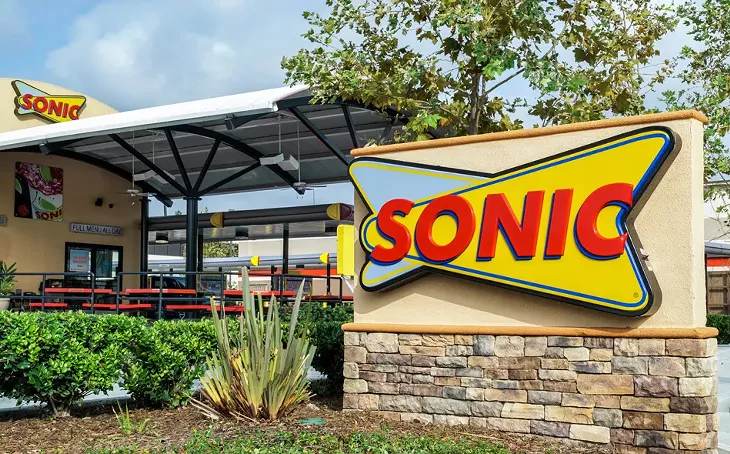 Bigstock.com
Georgia-based owner Inspire Brands will buy Sonic for $2.3 billion.
On Sept. 25, Oklahoma City-based Sonic Corp. officials announced the sale of their company and its more than 3,600 Sonic Drive-In locations to Inspire Brands Inc., owners of Arby's and Buffalo Wild Wings, for $2.3 billion.
The amount will include any debt accrued by the company, Sonic spokeswoman Christi Woodworth said. The deal will not be finalized until close to the end of the year when Sonic's shareholders will receive $43.50 per share in cash.
According to business experts, the sale is by all accounts a good deal for shareholders and Oklahoma City-based executives. But across the state and on social media, Oklahomans whose childhood memories and daily routines involve the popular drive-in mourn the loss.
"It's just kind of sad news," said Jill Johnston Luker, who grew up in Davis. "Growing up in a small town in the 1980s, going to Sonic with my family was the highlight of my week. We would go to nearby cities to grocery shop, and I always knew that if the place had a Sonic, then it was a legit town."
Similar sentiments can be found on social media. President of Norman-based Fowler Automotive Group Jonathan Fowler asked social media followers to share their thoughts regarding Sonic's Oklahoma departure using the hashtag #dontchangetheice.
Woodworth said Sonic will remain headquartered in OKC and will continue to operate independently after the buyout, but locals like Fox 25 news reporter Phil Cross expressed concern online.
"Sonic has been such a huge part of Oklahoma and OKC … and has given a lot back to this state," Cross said on social media. "Way too early to tell what this means for anyone ... but what a shocker."
Oklahoma Twitter user Makayla Smith said Friday nights at Sonic in high school are memories cemented in her mind forever.
"I met a girl today that said she'd never been to a Sonic," Smith said on social media. "I'm sorry, but what did you do on Friday nights?"
On her 2005 debut album Some Hearts, Oklahoman Carrie Underwood paid tribute to Sonic.
"On any given Friday night, we'd drive a hundred miles between the Sonic and the grocery store," Underwood sang on "I Ain't in Checotah Anymore." "Laughing all the while with as many friends as I could pack in my daddy's Ford, but I ain't in Checotah anymore."
How we Sonic
Nazarene Harris
Sonic's signature cherry limeade is one of the most popular items on the drive-in's menu.
"America's Drive-In," as it is known today, was launched by World War II U.S. Army veteran and entrepreneur Troy Smith in 1953 in Shawnee, not far from Smith's hometown, Seminole.
According to Bob Blackburn, executive director of Oklahoma Historical Society, Smith was born in Seminole in 1922. His father worked in the oil fields. When Smith was 7 years old, he lost one of his eyes while playing with a BB gun. Blackburn met Smith in 2009 when Blackburn was working on his book Sonic: The History of America's Drive-In.
"He was very humble, giving credit to his associates who went into other states and made this Oklahoma company a national company," Black-burn told The Oklahoman in 2009. "He was as excited seeing one of his associates succeed as he was to see his own stores succeed."
Smith died in late 2009 at the age of 87, leaving behind his wife Dollie, daughter Leslie Baugh and son, Troy Smith Jr. At the time, Smith had eight grandchildren and nine great-grandchildren.
In 1940, before he enlisted in the Army, Smith married Dollie Twiggs. Upon completing his military service, he returned to Oklahoma and set out to be his own boss. Smith worked as a milkman before opening a root beer stand he called Top Hat. While driving across the Texas-Louisiana border, Smith stopped at a local restaurant and was impressed by the way employees used personal intercoms to communicate with customers.
He took the idea home and incorporated it into Top Hat, which he renamed Sonic since he figured with the help of intercoms, customers and employees could communicate at Sonic speed, or the pace at which sound travels through air.
"The teenagers just went crazy," Smith told the Associated Press in 2003. "They liked to say 'Roger, over and out.'"
Smith decided that carhops delivering food on roller skates would complete the restaurant theme of 1950s diner meets speedy service.
In 1956, Smith negotiated his first franchise, which opened that same year in Woodward. Early franchises cost $500, plus half a cent for each burger sold. To give Sonics across the nation a hometown feel, Smith gave franchisees liberty to customize their menus to fit local preferences, a practice that is still used today and will continue to be used, Woodworth said, when the company's keys are handed over to Inspire.
According to pop culture online food magazine Thrillist.com, the most popular items on Sonic's menu are the SuperSonic Bacon Double Cheese-burger, chili cheese tots and Sonic's signature cherry limeade.
In Sonic's 65-year history, the restaurant has offered customers 1.3 million drink combinations, Woodworth said. The company launched Sonic's Limeades for Learning in 2009, and the philanthropic campaign has since donated $10.4 million to public school teachers across the nation.
Of the 278 Sonics in Oklahoma, 38 are located in Oklahoma City.
None of Sonic's franchisees, Woodworth said, will be affected by the buyout since Sonic will become a privately held subsidiary, maintaining current management, employees and branding initiatives.
Sonic's new owner oversees more than 4,700 Arby's, Buffalo Wild Wings and Rusty Taco locations worldwide.
In Blackburn's book, Sonic's founder is portrayed as a man who believed in growth and viewed change positively.
"He believed in shared responsibility and shared profit," Blackburn said. "He believed in a collaborative process."
While Sonic's future will soon be in the hands of executives nearly 850 miles away, its roots are in the Sooner State, where memories of Sonic can never be replaced and loyal customers remain.
"If they keep that happy hour going," Johnston Luker said, "they'll have a lifelong fan in me."