In honor of Oklahoma's statehood anniversary later this month (Nov. 16), indulge in the official state meal by getting some of the best renditions of parts of the meal or try to tackle the entire thing every Tuesday.
By Jacob Threadgill with photos by Alexa Ace, provided and Gazette / file
Cuppies & Joe
727 NW 23rd St.
cuppiesandjoe.com | 405-528-2122
You might (rightfully) assume that cupcakes are a main focus at Cuppies & Joe, but it also delivers some pretty great pies. When it comes to the pecan pie from the state's official meal, don't forget about this Uptown 23rd destination. You can get the classic pecan or try something seasonal like a pumpkin pecan pie or an apple praline to get a good dose of some Oklahoma pecans.


Buttermilk Paseo
605 NW 28th St., Suite A
buttermilkokc.com | 405-605-6660
Did you know there are large swaths of the country where it's nearly impossible to get a good biscuit? It's easy to forget when we've got multiple biscuit-themed restaurants, but Buttermilk's take on South Carolina chef Sean Brock's biscuit is dark and crispy on the outside but fluffy on the inside. Order the Buttermilk Debris to indulge in the full sausage gravy experience.


The Press
1610 N. Gatewood Ave.
thepressokc.com | 405-208-7739
Every Tuesday evening, this new 16th Street Plaza District hotspot offers the entire Oklahoma state meal for $40. It's enough food to easily feed three to four people. The Press' version of chicken-fried steak is made with rib-eye, and the cornbread is also excellent. The Press excels at offering Oklahoma classic comfort food with a twist, as it serves plenty of vegan options as well.


Pinkitzel
150 N. E.K. Gaylord Blvd.
pinkitzel.com | 405-235-7465
One of the problems with eating the Oklahoma state meal in November is that one of its main sides is out of season. Obviously we live in the 21st century and can now easily get fresh fruit year-round, but it won't be as good as something local. Why not get a fresh strawberry and support Oklahoma-owned confectionery Pinkitzel at the same time? The store sells boxes of chocolate-covered strawberries for $60.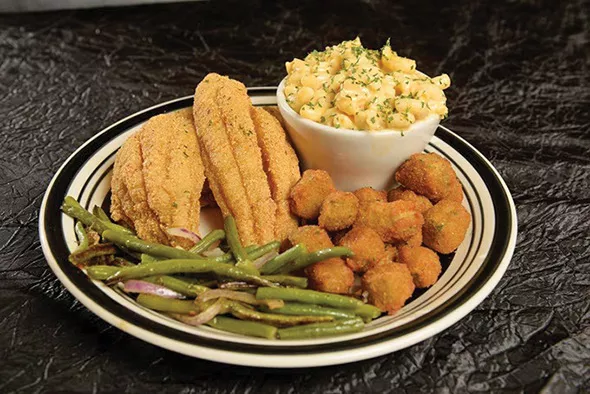 Aja Bleu Cafe
2222 W. Hefner Road
405-607-0553
You can get fried okra at many establishments around the city, but none of them combine with a gooey macaroni and cheese as good as Aja Bleu Cafe's version. The pork chop plate and catfish are worth the drive up to Hefner Road, but be sure to pair your entree with some of the cornmeal-breaded version of an Oklahoma classic.


Leo's BBQ

3631 N. Kelley Ave.
405-424-5367
The other main entree of the Oklahoma state meal in addition to chicken-fried steak is barbecue pork. It's hard to do this list and not include Leo's, which is still delivering the city's finest pork barbecue, and you can get another item from the meal — strawberries — with a piece of its famous strawberry-and-banana cake.


7301 N. May Ave. | 405-242-6100
Ned Shadid is one of the city's most venerable chefs, but one of his personal favorite recipes — the ubiquitous chicken-fried steak — has only been available through his catering service for years. Now that his retro-contemporary restaurant is now open on N. May Avenue, you can enjoy his chicken-fried steak on a sandwich or as an entree paired with poblano gravy.