Provided
Ong, featuring former members of '80s new wave band Video Fish, is scheduled to play The Deli Sunday.
The Deli 40th Anniversary Weekend
Friday-Sunday
The Deli
309 White St., Norman
thedeli.us
405-329-3534
$5-$10
Break out the question mark-shaped birthday candles; The Deli is 40-something.
Friday-Sunday, The Deli, 309 White St., in Norman celebrates its 40th Anniversary Weekend with three days of live music, which the venue's website proclaims it has been "serving up" since, um, 1973.
"So it's really not the 40th," said booking manager Tobias Schiele. "It's something like that. We've had this idea for a while; it just hasn't happened yet."
Opened as Deli City in 1970, the venue and bar originally only served sandwiches. In an article titled "The Deli marks 40 years as live music showcase," dated Jan. 6, 2012, The Norman Transcript's Doug Hill wrote that musician Charlie Rayl was the first person to play on the restaurant's newly built stage. Though Rayl is not scheduled to play this weekend, Schiele said the acts he booked for the anniversary celebration include musicians who have been performing at the venue for decades.
"The main goal was to try to get a sampling of all of the music from the last 40 years," Schiele said. "I polled some of the older generation on who they thought should be included, and then I've got a pretty good wealth of knowledge going back to the early '90s."
Acts such as Spacedog, The Ringos of Soul and Red Dennis & the Red Devils (featuring members of The Silver Tongued Devils) — all of whom are scheduled to play Sunday — have years of history with the venue, Schiele said, but they should have no trouble recognizing it, even if they have not been around in a while. Only a few notable changes have been made.
"The Deli's pretty much the same as it's always been except for improvements in sound equipment," Schiele said. "The bathrooms were directly across from the bar in the old days, and the place where the bathrooms exist now is where the kitchen used to be. That's an interesting fact. They moved those bathrooms in early 2000. Generally, it's identical. Most people that used to come here back in the '80s always stick their head in, their reaction is that it's the same — smells the same, looks the same."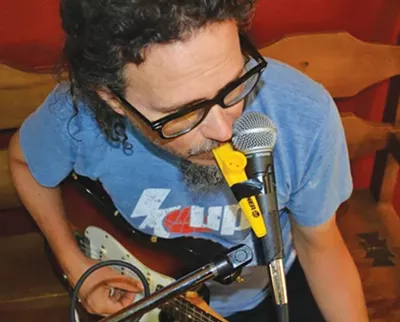 Provided
Like most weeks, Mike Hosty is scheduled to play The Deli on Sunday.
Ong, also scheduled to play Sunday, includes members Tony Ong and Mark Hancock, who played at The Deli in the 1980s in the "new wave punk" band Video Fish. Ong (the person) played in the band Boneyard before reuniting with Hancock in 1996 to form Ong (the band), which played its first gig at The Deli. Hancock said The Deli is essentially the same as it ever was.
"It's still the same little, little loud place," Hancock said. "Whenever there was a band in there, they always turned it up is what I remember in the '80s, '90s up until now. I haven't been there in a while, but everybody always turns up and just, you know, speakers to the wall, just rock, playing their stuff. It just always had this sort of freeform, 'Do your originals; put on your show, and we'll get into it' kind of atmosphere."
Some of Hancock's memories of playing at The Deli are of playing outside of the venue itself.
"People would jam in there, and it's kind of a small place, right? So they would have a guy at the bar with the door propped open and whatever, and people in and out, so from the stage, you can see the front door and people coming in and out all the time. Then there's this big glass window, like, on the stage, and they're out there, too, looking in at you. So you're on this little display, right? So people could check it out before they come in and pay. … Probably the second time [the band Ong] played there, back in the late '90s, we used to do a little wireless parade off the stage, where the guitar and bass player went wireless and I would follow them with a snare drum with a strap. We would march out there and out onto the sidewalk, and we marched back in. I tended to roll back up on stage, and I banged my snare drum against my lip, my little bloody lip."
Mike Hosty, who headlines Sunday's show, said he first played at The Deli, which he called a "local-based treasure," in December of 1990.
"It was just a cool little dive bar," Hosty said. "They had an old cooler in the back that you could sit on and watch the bands and an old deli counter that used to be in there. I could feel the ice-cold air coming out of the front door. It was dark. Everybody in there was having a good time, and the music was loud. That's what attracted me to it."
Provided
A crowd waits in line for a weekend show at The Deli.
When he turned 21 the following year, he began playing regularly at The Deli. In 1998, he began playing every Sunday night there as a one-man band, and he said he has always been happy to help new customers celebrate turning 21.
"They'll have their first legal beer at the bar, and I make up songs for them onstage," Hosty said. "People come back year after year to get those songs. They write down stuff, and I just roast them onstage. It's really fun for their friends. I've done hundreds and hundreds of those. … I had someone the other week that said it was their 34th birthday and they came when they were 21. They go, 'You don't remember, but you sang my 21st birthday song.' I said, 'You're right. I don't remember, but this is a new year.' So I sang them a new one."
However old it actually is, Shiele said, The Deli's mission remains the same.
"The music comes first," Schiele said. "The way the stage is set, the sound system, all that jazz — definitely music is the focal point. Although alcohol is a close second."
Friday's show featuring My So Called band begins at 10 p.m., and admission is $10. On Saturday and Sunday, the doors open at noon and admission is $5. Only patrons 21 or older will be admitted.
Visit thedeli.us.