Jacob Threadgill
Catfish with sweet potatoes, greens and a cornbread muffin with a drink for $12
Travessa Burge always enjoyed cooking the recipes she learned while growing up in New Orleans for family and friends in Oklahoma City.
Already a small business owner operating Options salon, she brushed off the encouragement to open a restaurant until she had no other choice.
"It wasn't really me that wanted to do it," Burge admitted. "[Friends and family told me,] 'You're going to open up this restaurant, and you just don't know it yet. You cook good enough to open, and we're going to go ahead, try it, and see how it goes.'"
Vesa's, 8937 NE 10th St., opened in late September 2017 in the former Casey's Cajun Fried Catfish location that was vacant for a few years. Burge created a menu that features chicken wings, pork chops, catfish, red beans and rice and, perhaps most surprisingly, fried Cornish game hen. Burge said the dish is something that she grew up eating in New Orleans, but it's something she hasn't seen in Oklahoma City.
"I make a regular home-cooked meal, and it seemed like that's what everyone was lacking, a good, old home-cooked meal," Burge said. "Everything nowadays is so fast."
Judging by the outpouring of support in online reviews, Burge was correct in her assessment. Out of 48 user reviews between Facebook, Google and Yelp, only two have been less than the maximum five stars.
It's that kind of feedback that fuels Burge during long days. She heads into Vesa's in the morning, doing prep work and seasoning fish and chicken for the day. She heads over to her salon — located on the back side of the first floor at Midwest Office Park at 7901 NE 10th St. during the day, and heads back over to Vesa's between clients or at night to get some baking done. She said her 7UP Bundt cake has been a crowd-pleaser. Joe Johnson mans the kitchen while Burge is at the salon.
"It's hard work, and slowly, people are starting to recognize us, so business is starting to pick up," Burge said. "And I figure it will only get better over the next six months."
Vesa's offers gumbo every other Friday, with the next offering set for June 1. The seafood-heavy gumbo is filled with blue crab, shrimp and two kinds of smoked hot sausage and sells for $7.99 for a 16-ounce portion.
It also hosts a buffet the third Sunday of every month. The next one is scheduled for June 16. The buffet features smothered pork chops — a weekend specialty — smothered chicken, baked meatloaf and lots of sides like greens, mashed sweet potatoes, corn and fries.
Burge also expressed interest in adding a crab boil in the coming weeks as the months begin to warm and Maryland blue crab season kicks into high gear.
While it is Vesa's addition of Cornish game hen to its menu that originally piqued my interest in the restaurant, it is the catfish that has stayed on my mind for a few weeks.
I lived in Mississippi for the last 10 years before moving to Oklahoma last summer. Mississippi devotes more than twice as much acreage to catfish farming than the No. 2 state (Alabama). I include that to say that I take my catfish seriously.
The introduction of catfish's cheaper cousin, basa (also called swai), typically imported from Vietnam has diluted the American market. Even after Congress passed a bill in 2003 requiring exports to sell it as "basa fish" in the U.S., it still ends up on many U.S. menus as catfish.
To me, the basa fish is heavy on its gamey "fish" flavor because it has been sitting frozen for too long during shipping. Good catfish should have some unique flavor, but it shouldn't overpower the filet.
Burge is committed to serving U.S.-raised catfish, and Vesa's is the best I've had outside Mississippi, which includes many idyllic settings next to rivers in Tennessee. Its cornmeal crust is heavy on paprika, which provides a red hue and smokiness to the batter. The fish inside was juicy, and the flavor was subtle and fresh.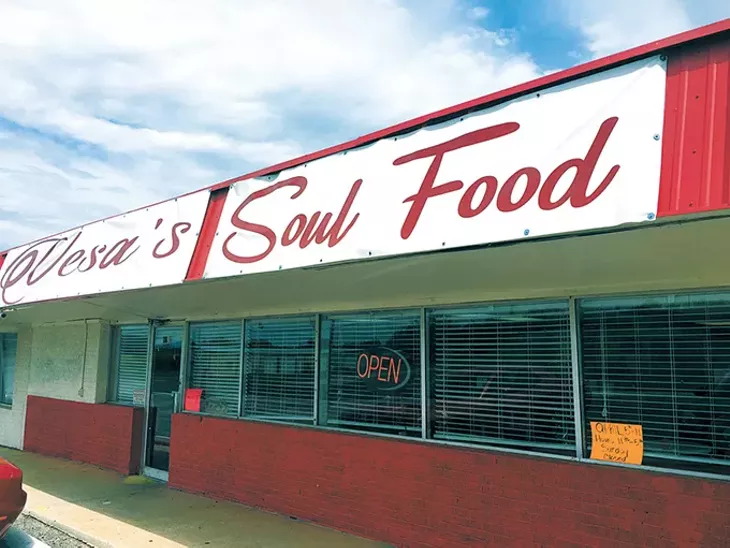 Jacob Threadgill
Vesa's opened in September 2017 at 8937 NE 10th St.
Even the most well prepared catfish can be derailed by disappointing sides, but luckily, Vesa's delivers. Its greens are not overly bitter and are filled with generous flecks of pork. I like to take notes on my iPhone during review meals, and the only note I have next to the sweet potatoes is the heart-eyes emoji. I honestly can't think of a better descriptor.
When I followed up with Burge about my meal, I told her that I enjoyed everything, and before I could give her my order, she interjected.
"You had the sweet potatoes, didn't you?" she asked. "The sweet potatoes will always get you right."
They are stewed in a brown sugar-based sauce that finds the perfect balance between comforting and cloying. I have to struggle to find criticism with my meal. The accompanying cornbread muffin is fresh and not overly sweet. I think the batter might benefit from some freshly cracked pepper.
I wasn't sure what to expect when I pulled into Vesa's parking lot. I thought the food would be good, but I wasn't prepared for a meal so good that I would still be thinking about it more than a week later. I can't wait to make it a regular rotation and try some of its gumbo and a smothered pork chop on the weekends.
I want to thank the friends and family who urged Burge to open her restaurant. It has been an important addition to the community.