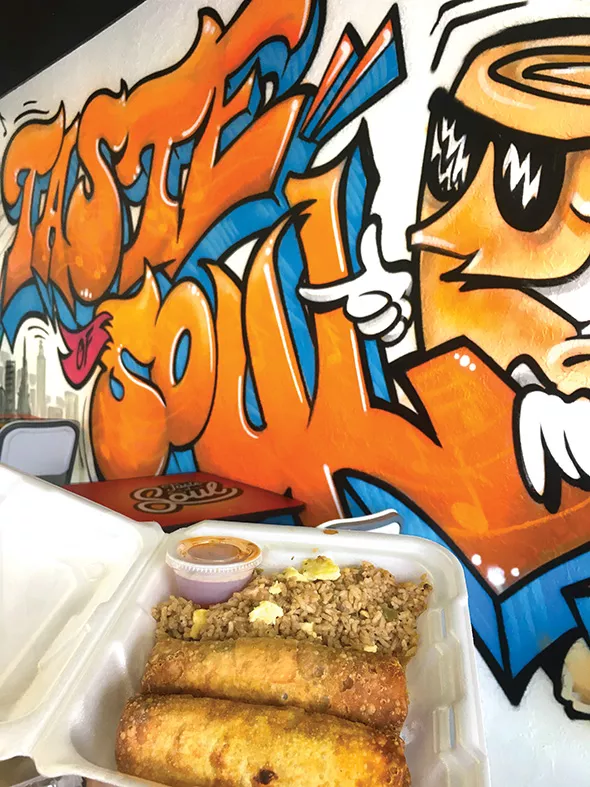 Jacob Threadgill
Taste of Soul's "pick 2" option with spicy chicken-fried rice
The journey from food truck to brick-and-mortar restaurant was already a successful one for Taste of Soul owners Cerese and Ricki Bly, but it has only gotten stronger as the brand opened a new storefront in Del City and expanded its chicken and waffles concept into Kansas.
Taste of Soul opened a new venue for its giant egg roll concept at 4605 SE 29th St. in Del City in August, which replaces its previous location inside the White Star Petroleum building on NW 63rd Street. The Taste of Soul Chicken and Waffles concept opened in Wichita late last year and has a food truck in the Oklahoma City area.
Taste of Soul Giant Egg Rolls
4605 SE 29th St.
facebook.com/tasteofsouleggroll
405-677-5820
What works:
Purple pork is a welcome addition to the menu.
What needs work:
The breastfast egg roll needs a sauce other than sweet and sour.
Tip:
The sesame salad dressing can be substituted for egg roll dipping.
"It's going great," Celeste Bly said. "We still have some stuff to work on; we still have to get a drive-thru window up and running. It's a great spot overall with a great location that is super high-traffic. Everyone is excited we're there."
She said customers will be able to order and pick up food through a drive-thru window later this year and to follow Taste of Soul on social media for a formal announcement.
The new Taste of Soul has easy access to Interstate 35 and is located near Del City staple Don's Alley. The first thing that you notice when walking into Taste of Soul is a bright and colorful mural painted by Plaza Walls veteran and Tree & Leaf founder Dusty Gilpin.
"We wanted to create a fun atmosphere that people, especially in Del City, can be proud to come and call their own," Bly said. "We're having a lot of fun."
The Blys started serving egg rolls out of their original food truck in 2011, building off Cerese's lifelong love of the food. She grew up going to Egg Roll Express in Edmond and made Ricki a convert to the dish with her playful takes that blend traditional Chinese flavors with American comfort.
The hallmark of a good restaurant is one that doesn't stray too far from what it does well. Taste of Soul succeeds in that regard by keeping its menu options to egg rolls, rice and one salad, but the egg roll choices are expanding with the opening in Del City.
The Blys have added a purple pork egg roll with ground pork and purple cabbage and have elevated an Asian-inspired "egg roll in a bowl" salad to full-time availability.
Monthly specials of egg rolls have become a hit at the Del City location. September's feature was an Okie cheesesteak with steak, potato, cheese and tri-colored peppers with a spicy ranch dipping sauce. This month's special is a Korean beef egg roll with bulgogi-inspired ground beef, purple cabbage, carrots, scallions and Sriracha aioli.
"People have already asked us to add the Okie cheesesteak to the menu full-time, and the Korean beef has been popular as well," Bly said. "We might offer 12 egg rolls and then let the public vote to see which one they want to add to the menu because we can't add them all."
On my recent visit to the restaurant, the Korean beef egg roll seemed to be in high demand, and it's one I'll have to get on another visit. I sampled four types of egg rolls and the salad option.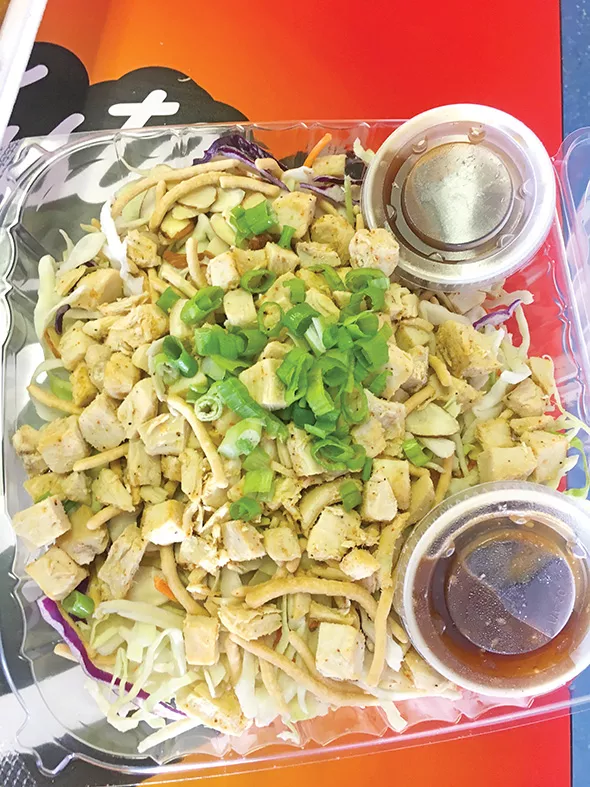 Jacob Threadgill
The egg roll and bowl salad
My favorite of the four was the purple pork, which has the most unique texture and flavor. A close second is the jalapeño turkey, which narrowly edged out the regular chicken variety and the breakfast eggroll with hash browns, sausage and cheese.
If the idea of starting your day with either bacon or sausage, hash browns and cheese stuffed into a wonton wrapper and fried is your thing, then Taste of Soul is the place for you. It's an item that is a fun tailgate option, but it's a bridge too far for me. The combination of meat and hash browns desperately needed an acidic element like salsa to cut through all of the grease.
Taste of Soul's main menu item is the "pick 2" option where you choose from two huge egg rolls and spicy chicken fried rice, regular fried rice or steamed rice with a drink for $9.
The egg rolls themselves are huge; they're basically the size of burritos, and when paired with the rice, it's a heavy meal, to say the least. I was happy to have also ordered the egg roll in a bowl salad, which is basically a deconstructed egg roll that isn't cooked except for the chicken.
The star of the whole meal outside the purple pork was the sesame dressing served with the salad. I dipped my egg rolls in the dressing and preferred it to the house sweet and sour sauce that comes with the order. Bly said the dressing is something customers can order in addition or in place of the sweet and sour for the egg rolls.
The salad with cabbage, green onion, almonds, crispy noodles, carrots and chicken was good, but I would've preferred an additional green for added nutrition. The cabbage has a great crunch but doesn't provide many nutrients. Even if they added antioxidant-heavy cilantro, I think that would be nice.
For dessert, Taste of Soul also offers apple or cherry egg rolls that are topped with powdered sugar and served à la mode. Bly said they'll be adding dessert egg roll specials in the coming months.
The service at Taste of Soul was friendly and relatively quick, considering everything was made to-order. I probably consider the egg rolls a rare treat, but they're well executed, and the monthly specials provide reason to continue to check out the restaurant.