Kamil Lee / provided
The Atlanta-based three-piece — featuring guitarist Brett Reagan, bassist Jamie Austin and drummer Sarah Wilson — plans to release its third album Darque Tan and tour Europe later this year.
Chew
9 p.m. March 4
Red Brick Bar
311 E. Main St., Norman
405-579-6227
$3
If Chew guitarist Brett Reagan absolutely has to apply a label to his band's music, he calls it "savage psych."
"We don't really want to sound pinned down to anything," Regan said. "For me, psychedelic music isn't necessarily like garage rock 'n' roll. … For me, psychedelic stuff is much more than that. … The savageness, I guess, comes from our live shows. We kind of try to put it all on the line for our live shows. … We try to go all-out for that. We always hate when people just look like they're doing their taxes on stage."
Chew plays 9 p.m. March 4 at Red Brick Bar, 311 E. Main St., in Norman.
The Atlanta-based three-piece — also featuring bassist Jamie Austin and drummer Sarah Wilson — has never settled on a specific preshow ritual for getting into a savage headspace before taking the stage.
"Sarah goes to sleep," Reagan said, "and sometimes we'll do some jumping jacks or something, but that's really just a joke. But we don't have anything serious that we fall back on. We used to have a chant that we'd do back in the day, but I think everyone didn't like it, and I was the only one who did it."
The band plans to tour Europe this summer and is preparing release Darque Tan, its third EP following 2016's 3D and 2017's A Fine Accoutrement, on Stolen Body Records later this year.
"We definitely did some heavier production on this one, some stuff that we wanted to try for the last record but couldn't really work it in," Reagan said. "I use an old, outdated sampler with Chew, and I ran a lot of the tracks through it to kind of give it some grit and just warp it out and give it some different sounds. I was really pleased with the way that it came out."
The sampler, a Roland SP-404 is crucial to Chew's sound.
"When we started the band, we just wanted to have some sort of electronic feel. We were listening to a lot of Battles and Black Moth Super Rainbow," Reagan said. "Sarah and I have done a ton of pure rock bands, and that was kind of getting tired. I can't remember exactly what drew me to the 404, but I just knew that I wouldn't have to get a million synthesizers. I could just sample a million synthesizers. … I found one cheap on Craigslist and then just fell in love with it."
The sampler often plays a key role in the band's songwriting process.
"I come up with some ideas, and I'll already have kind of a palette of samples to play with … then we'll kind of just jam it out until something happens," Reagan said. "Then, usually before it gets recorded, we'll take those songs on tour and let them kind of organically morph until they reach their final form for recording."
Samplers are commonly used to create loops from old records, but Reagan said he will sample whatever he can think of.
"I'll take field recordings or things from Ableton or anything, old Kmart commercials, everything," Reagan said. "And then it has onboard effects that I kind of use and twist and kind of make it its own instrument, I guess. … It's just a powerful tool. I hadn't really used one till we started the band, but now it's like my main kind of weapon, I guess."
Individual sounds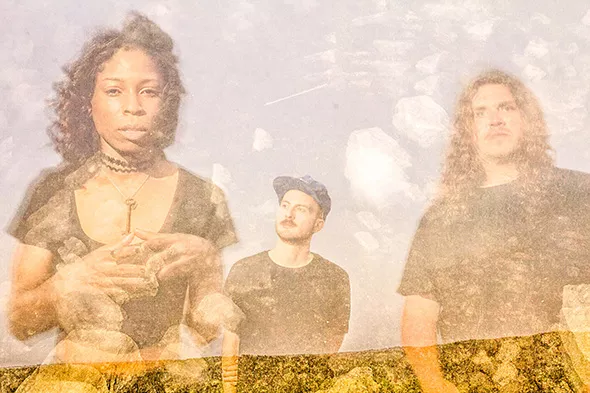 Kamil Lee / provided
Chew plays 9 p.m. March 4 at Red Brick Bar, 311 E. Main St., in Norman.
Writing for Immersive Atlanta, Russell Rockwell said Chew "uses elements of math rock, jazz, and psychedelia to create a mishmash of enlightenment and chaos," but Reagan said hip-hop also plays a significant role in Chew's musical style.
"I've always been a huge fan of hip-hop," said Reagan, who has also produced hip-hop tracks. "I think it's just more of an expression of the stuff I've really wanted to do and more of a collaborative of ideas that I've already kind of been playing with, but it definitely is a newer sound from any other band that I've been a part of, for sure."
Reagan and Wilson played in other bands before forming Chew, but Reagan said the band, formed about five years ago, "is definitely our best thing that's happened with the two of us."
Darque Tan will also include the typically instrumental band's first song with vocals, provided by Katherine Kelly from Florida band Pleasures.
"We're definitely excited about that," Reagan said. "As soon as Sarah and I heard it, we're just like, 'Oh, this is the song.' The original idea was to maybe have the instrumental on the record and then do a single with the B-side with vocals, but the song just sounded more complete with her on than off."
While Reagan said the band hasn't necessarily been opposed to vocals in the past, high standards have limited Chew's collaborations with vocalists.
"It either has to be spot-on or we just would prefer it to be instrumental," Reagan said. "If the vocals aren't spot-on, it's just like, 'Damn. I wish they just wouldn't have put that on there.' … Vocals can be just super polarizing, so for us, it just has to be perfect or we just prefer not to do it."
In an interview with Clemson, South Carolina, college radio station WSBF FM, Wilson said some of Chew's biggest influences are Queens of the Stone Age, The Mars Volta and Death Grips, and Reagan added bad TV and internet video and performance collective Everything Is Terrible.
Since he first started playing guitar, Reagan wanted to make his own kind of music.
"I never really enjoyed learning other people's songs and stuff, and I just always was trying to write as soon as I picked it up," Reagan said. "I think I was like 12 or so when I picked it up and I've never really sat it back down."
Admission is $3. Call 405-579-6227.