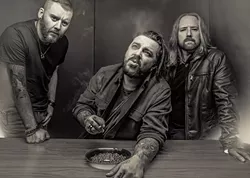 Marina Chavez - Atom Splitter PR - Provided
Seether — Photo by Marina Chavez - Atom Splitter PR - Provided
When Seether emerged in South Africa in the late-1990s, it was considered a hard sell. While the country is occasionally known for producing left-field successes like art-damaged alt-hip-hop group Die Antwoord, most of the music that sells in South Africa is either mainstream pop or indigenous music such as township jive (aka jaiva).
But Seether, which performs 7 p.m. Aug. 1 at Diamond Ballroom, 8001 S. Eastern Ave., came at their early audiences in South Africa's administrative capitol, Pretoria, with a hard-edged style deeply influenced by Nirvana. Originally named Saron Gas, which singer-guitarist Shaun Morgan reportedly found on a sound effects CD, the group released one album, Fragile, before changing its name in 2002 to less toxic-sounding Seether, chosen in honor of the Veruca Salt song.
Morgan and his bandmates' early Saron Gas music came to the attention of Wind-up Records, the home of hard rock bands such as Creed and Seether's future touring partners, Evanescence. Wind-up signed Seether and issued the band's next album, Disclaimer. The first single, "Fine Again," became a massive hit on rock radio and launched the group as a major force in '00s hard rock.
During the tour, Morgan and Evanescence leader Amy Lee started dating, and the two collaborated on the Seether single "Broken." The band quickly followed up that radio hit with another successful single, "Sold Me," which was included on The Punisher soundtrack. The group also solidified around a core trio: Morgan, bassist Dale Stewart and Oklahoma drummer John Humphrey.
In the mid-'00s, groups with a solid debt to Seattle grunge dominated the mainstream rock charts, and Seether was poised for continued success with its next album, Karma and Effect. "Remedy," the first single, could easily have passed as a lost Nirvana track, and the subsequent singles, "Truth" and hard ballad "The Gift," continued the group's string of successes. However, Morgan's battle with alcoholism reached critical mass; his breakup with Lee was memorialized in the Evanescence single "Call Me When You're Sober," and the group was forced to drop out of a package tour with Three Days Grace and Staind.
After completing rehab, Morgan and Seether began work on 2007's Finding Beauty in Negative Spaces, but three weeks before its originally scheduled release, Morgan's brother, Eugene Welgemoed, committed suicide, jumping from the eighth floor of a hotel room in Rapid City, South Dakota. Morgan delayed the album and wrote the up-tempo single "Rise Above This" in tribute to his brother. Despite negative reviews from publications such as Rolling Stone, which criticized producer Howard Benson's processed sound, Negative Spaces became one of the group's best-selling albums.
Four years passed between Finding Beauty in Negative Spaces and its follow-up, 2011's Holding Onto Strings Better Left to Fray, but most critics considered it time well spent. Seether sounded rejuvenated on the album, which featured standouts such as "Country Song" and "Tonight" that displayed a renewed energy and focus. The group then released a bookending greatest hits album, Seether 2002-2013, which included two new originals, several demos and B-sides and a cover of Veruca Salt's "Seether" for good measure.
After Wind-up Records sold to Concord Music Group, Seether reconvened for 2014's Isolate and Medicate, which featured some new textures such as the martial drumming on "Words as Weapons," the layered harmonies of "My Disaster" and acoustic "Save Today," which featured Morgan deploying a smooth falsetto the chorus.
This spring, Seether ventured out on its own, forming a new label imprint, Canine Riot Records, and releasing Poison the Parish, the first album Morgan has self-produced after years of working with legendary rock producer Brendan O'Brien (Pearl Jam, Bruce Springsteen). The album returns the band to a far heavier sound than its previous two albums, and many of the lyrics are a response to the oversharing culture that permeates social media and reality television. The first single, "Nothing Left," directly addresses the culture in which Morgan's teenaged daughter is growing up.
"The inspiration behind that song, and pretty much everything else on this album, is looking around at society and seeing how, in my mind, it seems to be crumbling in the sense that we worship and idolize vapid and empty people that have done nothing in their lives to warrant the admiration that they receive," Morgan told Billboard magazine in April. "I see it, and it makes me angry and it makes me sad. The fact that I have a teenage daughter who thinks that Instagram is a very important place to get 'likes,' because therefore that gives you some sort of self-worth as a human being, I think is bullshit. There's no other way to say it. As far as I'm concerned, there's far more important and valuable ways to be considered important and that you are worth something and that as a human being, you have something to offer, something to bring to the rest of the world."
Print headline: Still Seething, Hard rock act Seether returns to a heavier sound with its latest album, Poison the Parish.