provided
Local Southern rock band Buddy South produced one of 2018's best debuts by an OKC artist, Exchange & Rockwood.
Buddy South made a stellar first impression on me.
Windows down; local NPR affiliate turned way up. What I initially thought was a Drive-By Truckers cut ended up being something a bit more fun and funny. Now, it's your turn to say hi.
Oklahoma City-based quintet Buddy South is the country/Southern rock twist cone that's being served by drummer Brian Barber, pedal steel guitarist Nathan Guilford, bassist Kevin Lee Wells, guitarist Bart Young and vocalist JR Smith (a recent Okie transplant via Virginia). These seasoned players who all balance day jobs somehow eluded my radar for a couple of years and slipped out one helluva album last summer at VZD's.
Exchange & Rockwood contains a dozen twangy originals that shine like an energetic debut should. Oklahoma's music scene has welcomed and elevated a host of young, modern songwriter talent. The Johntourage — Fullbright, Moreland, Calvin Abney — immediately spring to mind, and you can practically trace a line of marked improvement and growth through their discography. But Buddy South seemingly released a fully developed meal of a record before I even sat down to order. Sure, it's none of the band members' first musical rodeo, but it's a welcomed surprise.
Exchange & Rockwood — a nod to the band's Cowtown rehearsal space — is the product of a band that seems to straight-up enjoy playing music together. There's no ego, suspenders or questions of Americana authenticity to contend with, just a polished collection of tracks constantly playing to the band's love of Southern rock. And man, their confidence and sense of humor slap from the starting gate.
The record's self-deprecating opening lines on "Hard Time" would feel at home on a Ron White standup special. Smith sings, "Couldn't get lucky in a women's prison with 20 pardons in my hand." It is a goofy line followed by dozens more. For much of the first half of the record, Buddy South finds a sweet spot between sounding both carefree and clever. Side B is a little heavier with songs tackling the trappings of nostalgia, faded Polaroids, small towns and bad luck. I'd like to hear more tracks like the record's finale, a bonus song called "Dying Breath." It turns the Southern-fried sounds down a few notches and reveals a more sensitive side of Buddy South. I like the big, broad gestures throughout the record, but every road trip needs at least a couple of pit stops.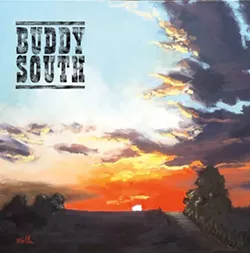 Dryline Productions / provided
Exchange & Rockwood
Exchange & Rockwood strikes me as the product of a lotta thinkin' and drinkin'. It is as memorable of an introduction as anything I've heard out of Oklahoma in years, goes down smooth and doesn't overstay its bubbly welcome. Buddy South is the old-school bar band you didn't know you already loved.
Speaking of loved ones, my dad retired about the time this band got started. He took a couple weeks off before tending to car lots. He now spends his days washing windows, refueling SUVs and picking up messes. Overqualified doesn't begin to describe his relationship to the gig. It's a job normally reserved for three college dudes on summer vacation. He reminds me of Buddy South, a band still working for the love of the game.
Short on time? Stream "Hard Time" and "Better Days."
Pairs well with: Sturgill Simpson's High Top Mountain, Roger Miller's A Trip in the Country and Steve Earle's new So You Wannabe an Outlaw.