Two photographic frames create a panoramic view of the 29th Steet Business Improvement District meeting inside Berta's Mexican Buffet, 635 S.W. 29th Street, Tuesday, 6-30-15. mh
David Castillo, president of the Greater Oklahoma City Hispanic Chamber of Commerce, stood in the center of Berta's Mexican Restaurant in south OKC and agreed with a group of local business owners who had complained that the city's attention is too often focused on other communities, most notably those north of the river, downtown.
"Over the years, I'll be very blunt ... a lot of the stuff that has been passed [by the city council] has been going north," said Castillo as some in the crowd agreed with shouts of "Amen!" "But the reason that is happening is because we've never had a good voice on the southside."
Castillo's comments were made in support of an effort to create a business improvement district (BID) along SW 29th Street, which has become one of the local Hispanic community's business hubs.
Nearly 40 community and business leaders from the southside gathered last week at the Mexican eatery to learn more about the BID proposal. While a healthy amount of skepticism existed from business owners who have watched millions of investments take place in other parts of the city, there also was a willingness to move forward and create a more unified voice that could help sway city officials, especially as another general obligation bond approaches in a few years.
"I'd say this meeting was helpful," said Chris Killmer, owner of Killroy Auto Credit on SW 29th Street. "Obviously, the streets need repair. But I'd also like to see an increase in police and security. Maybe this [BID] is a way to help that happen, and I am for that if we can all be a part of that process."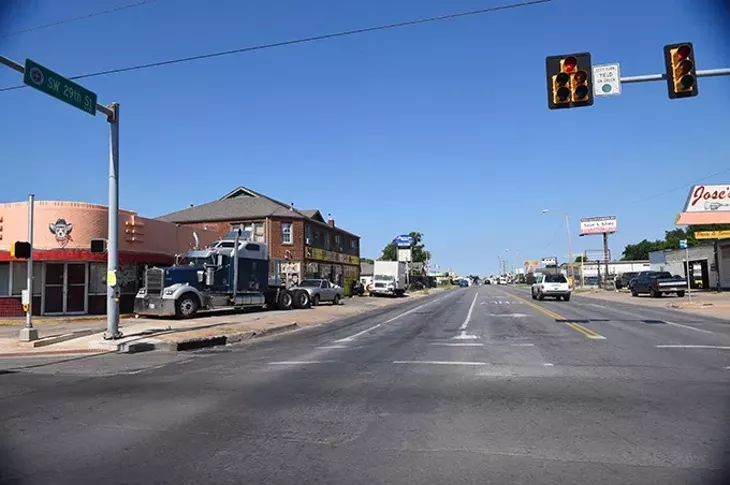 A sample of what SW and SE 29th Steet looks like, shot while passing through the intersection on S. Western Avenue. mh
Healthy start
Oklahoma City Council members Pete White and Meg Salyer were both in attendance and said the investment downtown was viewed as a way to build a foundation for the region but there was an interest in pushing more investment toward other parts of the city, especially as a potential 2017 general obligation bond enters the planning stages.
"The analogy of what has happened in this city is often the city being a body, with the heart of that body being downtown," Salyer said. "If your heart is dead, the rest of the body can't function."
Most concerns expressed by business leaders were over a potential fee from property owners to maintain the BID and its administrative arm. The fee would be based on a property's assessment.
"Even if it's just $1,000 a year, it still adds up for many small businesses," Killmer said.
Emma Kratochwill, Southwest 29th Business Improvement District Association executive director, also known as La 29, gave a presentation on the potential BID and said a proposed annual budget of $150,000 would be spent on staffing, security, street lighting and maintenance and marketing.
As she fielded questions on why the BID was needed, her response was that it was time for the diverse southside community to work together in a way that business districts and neighborhoods in other parts of the city had.
"Our job is rebuilding trust," Kratochwill said. "It will take time, and it will take a lot of conversations. But we've got to just keep talking to people."
A lot of the conversation around creating BIDs in other parts of the city and investing in urban infrastructure has centered on the goal of making OKC an attractive place for young residents to live. Kratochwill said that goal also existed on the southside.
"With over 50 percent of [OKC public schools'] student body being Hispanic, Southwest 29th is an important center for that generation," Kratochwill said. "Those kids are graduating and wanting to stay. Those kids are growing up here on SW 29th, and they are amazingly innovative and their minds work different from the old regime. These kids are going to be the heart and blood of SW 29th."
Gloria Torres, a member of the OKC school board, agreed that investing in the city's Hispanic community was important in an effort to preserve and celebrate a major part of the city's culture.
"You have the Latino flair here, but it is still an Oklahoma culture," Torres said. "As a Latina that is born and raised an Okie, I have those Oklahoma values and traditions as well as the Hispanic culture, and that is a beautiful blend."
Kratochwill said her organization hopes to submit a BID application to the city by the end of the month and the boundaries are proposed as SW 29th Street from May Avenue to Shields Boulevard. The Southwest 29th Business Improvement District Association launched last year with support from the Hispanic chamber.
"We've got our little training wheels off, and we are out there now, trying to prove we can do this," Kratochwill said.
Several business owners expressed excitement for the BID proposal and saw it as an opportunity to access the type of capital investment many have lamented not having over the past few decades.
"This is a way that [the city] has seen that has been very successful for downtown, the Plaza District, Windsor Hills, Uptown 23rd," said Chip Oppenheimer, owner of Economy Square Shopping Center. "If we all sat back and we didn't organize, we wouldn't be able to make the progress we all want to see."
---
Print headline: Heart smart, Southside residents and business owners develop a plan with the city to help La 29 thrive.