Alexa Ace
Mr. Mack's store includes an open kitchen where patients can watch edibles being made.
A familiar face in the medical marijuana edibles market is soon to open its first store.
Mr. Mack's, 7220 S. Western Ave., Suite 109, is set to open later this month, co-founder Erick Almaguer said.
Almaguer has teamed up with co-founder Greg Wilson to bring patients another method of administering their medicine.
"Mr. Mack's started as a company just looking to help people find a smokeless option," Wilson said. "There are so many patients that have different conditions — emphysema, COPD, lung disease, various issues, even down to more common issues like asthma and things like that. They're looking for relief, and pharmaceuticals just aren't the way they want to go. With cannabis, it's been a stigmatized product for a really, really long time. Even though it's legally medical, it still has that black eye to it, and a lot of people, through different focus groups and research, they prefer the edible dosing versus smoking because it gives them that alternative to carcinogens. My mom, she had some health issues, and just finding her some relief, that's how I got into actually breeding strains. I guess that's where the foundation of the brand itself came from."
Wilson has been growing cannabis for other markets under his breeder name, Chilly Mack, but he and Almaguer started laying the foundation for the Mr. Mack's edible line years ago. They have also recently introduced their new brand of THC-infused lollipops, PotPops.
"A lot of people think we're an edible company, but it was really started on flower and breeding and genetics," Almaguer said. "Right now, it's just what's out in the market for us, so we kind of also want to put that out there that we're not just edibles. The good stuff is coming. The edibles are good, but that's not our top product."
"For us, the edibles was the way to fill the gap in the industry," Wilson said. "I have a pastry chef background. Erick has a restaurant and food service background, so we come from hospitality and food service, so we recognized that there was that gap there and that was a product for us that was easy to make on a commercial level and be consistent with it while we grew out our flower to create concentrates, get retail-ready and all that good stuff."
Almaguer estimates the Mr. Mack's edibles are already in about 80 dispensaries across the state, and Wilson has licensed genetics to other farms in outside states, but the storefront will be his Oklahoma debut on the flower front.
"We're Leafly listed, Weedmaps listed," Wilson said. "I would say about ten of our flagship strains are listed on Leafly, have their own tiles, information profiles and photos and all of that good stuff. Our brand pages are on both of those platforms as well."
The storefront will also have an open kitchen where patients can watch current and future products being made.
"Products that we launched with were the rice crispy treat, the fruity pebble treat, gummies, caramels and the hard candy," Wilson said. "The rice crispy and fruity pebble treat come in a single-serving pack. All the others come in a five-serving pack, and our dispensary will be launching our topicals, which are pain balm, lotion, bath bombs, and we're also going to be launching a tincture as well. Because we do have the commercial kitchen, we're going to do fresh-baked goods, on-site infused, and we'll have daily specials. One of the things with the pastry background is shelf life, and that's a really, really big problem with people that are trying to do edibles. They're not really up to par when it comes to shelf life. They're usually used to making it for them, their friends, one of their buddies or something like that, and it usually gets consumed in a day or two — nothing that's been prepared to be packaged over time — so we wanted to offer a different selection of things that would be infused that would be daily specials that you can only find at a Mr. Mack's location."
Many edibles currently on shelves have limited information on their packaging, and Mr. Mack's is attempting to set the standard.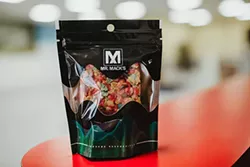 Alexa Ace
Mr. Mack's co-founders Erick Almaguer and Greg Wilson are trying to set the standard with product labeling for its line of edibles.
"On the new, revised packaging, the expiration dates will be on them," Wilson said. "We do have production date, batch numbers, packaging date, all the compliance information. We list all of our ingredients because there's still people that have food allergies and things like that, so we try to be as transparent as possible. Shelf life is going to vary product to product. We will normally cut whatever the recommended shelf life is; we like to cut that number in half. We want our people to have the freshest possible product, so on hard candy, normal shelf life on that is going to be two years; we like to cut that down to one. On items that are like your fruity pebble, rice crispy treats, you're looking at about six weeks. Products like your caramels, you're looking at about six to nine months. A product like your gummy, you're looking at about 12 weeks. We like to keep that within a nice, tight timeframe that you won't have freshness issues, but you also won't have like the product getting old or mildewing or molding or anything like that."
Careful planning
If it seems like Mr. Mack's appeared overnight on dispensary shelves, it is because Almaguer and Wilson started planning the launch nearly three years ago, in July 2016.
"We preplanned and just prayed that everything fell into place, so once there were rumors of [SQ]788 and things like that, we started to visit various markets and learn what worked, what didn't work, what people like, what people didn't like," Wilson said. "So when everything was a go here, we had that extra step ahead of everyone because we had already looked into packaging, we had already looked into what products were effective and what products were not, what products were in high demand and what products were not. We did all of that market research well before everyone else even thought about going that route."
"When everybody was trying to put together recipes, we were trying to figure out our marketing plan," Almaguer said. "All of that's been done. When people started trying to figure out what to put out, we were trying to figure out when to put it out. That was all done. We were trying to get together some content for the social media, but the actual production of it has already been completed long ago. This is years in the making."
Visit onlymrmacks.com.