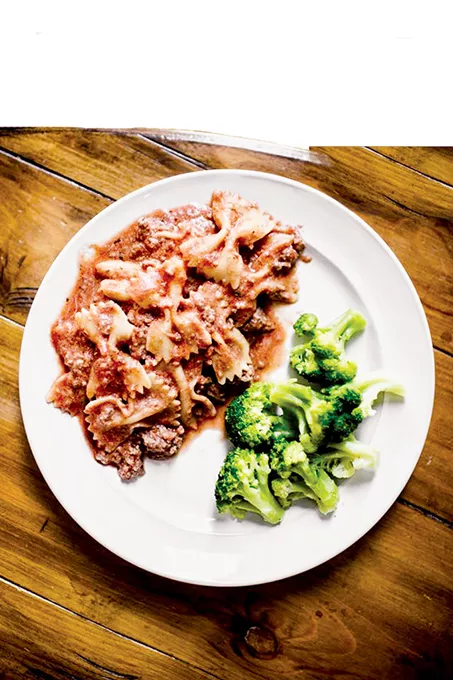 provided
Tomato bow tie pasta from Speedy Spoons' April menu
A driveway conversation between friends has developed into a business designed to help families and single people cut out the meal planning and prep time associated with cooking at home.
Ashley Myers and Christy Stearns met in graduate school classes in the child development program at University of Central Oklahoma and strengthened their bond while swapping stories of the challenges of raising a large family.
"We always had an ongoing conversation on how difficult it is to feed children because they're so picky," Stearns said. "We'd call each other to have one of us watch the other's kids while we go grocery shopping because going to the grocery store has gotten to be the most tedious thing that can happen."
One evening when Myers brought a meal over to the Stearns' house — where meal planning around the schedule of five children can be difficult — the two friends hatched the idea for Speedy Spoons, a monthly meal prep service based in Edmond that launched in January.
How it works: Customers choose meal bundle kits that are 5 for $45.99, 10 for $69.99 and 15 for $99.99 that includes produce, sauces and seasonings that are washed, diced and prepared in a health department-approved kitchen. Meal bundles can be stored in the freezer and include step-by-step instructions and nutritional information.
The meal kits do not include protein or an occasional extra ingredient like butter or sour cream, but leaving those items out allows them to be customizable around vegan, vegetarian and gluten-free diets.
"We know there are other things out there similar to this, and we wanted a different spin," Myers said. "No one else offers many vegetarian meals, and I'm a vegetarian for 13 years."
Speedy Spoons offers 10 "speedy suppers" each month that change based on the season and available ingredients, in addition to add-ons ($9.99) like fresh tomato salsa, pumpkin pie overnight oats or energy balls packed with peanut butter, chocolate and flaxseed.
"We think the energy balls are a fun side, but we pack it with flaxseed because we don't want it just it to be empty calories," Stearns said. "We research all of the food for nutritional value and health benefits. We try it out on our kids, and they've been excited."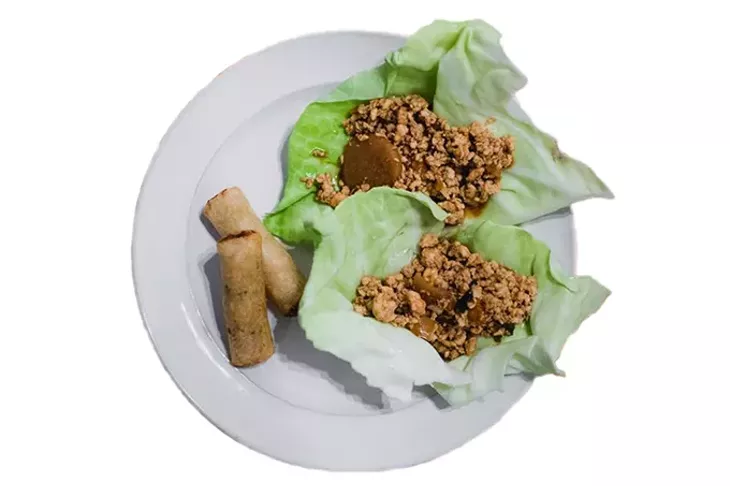 provided
Asian lettuce wraps from Speedy Spoons' April menu
Orders must be made by the second Tuesday of the month and are picked up the following Sunday at Coffee Café, 3700 N. 206th St., Suite D, at the intersection of Covell Road and Portland Avenue in Edmond. All meals are prepared in Coffee Café's health department-approved kitchen and can be picked up through its drive-thru window between 4 and 5 p.m.
"I love the community that we're gathering," Myers said. "A lot of customers have become friends, and at the start of each month, each customer has the opportunity to nominate a family for a free half bundle. We're big in trying to serve the community and give back. Everyone has been generous."
Stearns was attracted to the idea of using Speedy Spoons because it cuts out meal planning and prep time at home. As she juggles her schedule around soccer practice and time in the carpool lane, the service makes it easier to ensure her family sits down for a healthy meal together.
"Sometimes my sad joke is that if it weren't for Speedy Spoons, we would have a frozen pizza every night," she said. "I feel like Speedy Spoons is the only way we eat healthy, home-cooked meals. In between soccer practice and picking up kids from school, there is no time left. It's important that we sit down at the end of the day with our family and our children so that we can share and hear. Establishing good relationships and open conversation when they're young is so important so that when they get older, they feel comfortable. I don't want to feed my kids processed food; it makes me cringe. Sometimes it is inevitable that you're going to make a run to fast food."
Myers — who does most of the shopping and meal planning while Stearns handles packaging labels and website management — is a customer of Speedy Spoons herself. Each meal is portioned for 5-6 servings, which averages to $6 per bag and about $15 when factoring in additional protein.
"Every time our family goes out to eat, it's at least $50 or $60," Myers said. "It's made a big different in amount of money we've saved in the pocketbook."
She said that the service is good even for people without a large family. Some meal kits can be prepared in the oven and others on the stovetop, but a lot of them are designed for the slow cooker. Myers said there are plenty of single customers that use the bundles as meal prep for lunches over a week.
Speedy Spoons' partnership with Coffee Café was important for Stearns to signal boost another locally owned business, in addition to providing approved kitchen space. Coffee Café owner Sabrina Poindexter said that Coffee Café customers have joined Speedy Spoons and vice versa.
"There is overlap for both us," Poindexter said. "It gives them publicity when people come in and gives us publicity when people come to pick up. It's a win-win. There are people that do something similar, but it's out of their house and it's not a health department-approved kitchen. It's nice to know the health department check on all their stuff. For me as a mom, that is an important thing. It also helps my home life easier."
Visit speedyspoons.com.