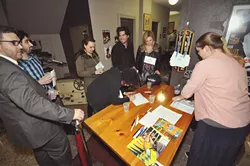 Beer. B-E-E-R. As in, "If I'm going to get on that stage again, I will need a lot more beer."
Now in its sixth year, Midtown Rotary's annual fundraiser Spelling Bee(r) is expanding with a new venue and more room for the mildly inebriated to prove how important spellcheck has become.
"Generally, it's just fun to watch people try to spell when they've been drinking," said Rotary public relations chairman Eric Bradshaw. "Even the most educated people are surprised to find out there are lots of words they can't spell."
Here's how it works:
Tickets can be purchased in advance for $45 or at the door for $50. Each ticket to this 21-and-up event gives the holder one spot in the Spelling Bee(r); beer provided by 405 Brewing Co., COOP Ale Works, Anthem Brewing Company and Black Mesa Brewing Company; and food from Will Rogers Theater & Event Center.
Ticketholders don't have to take part in the competition, but there is a pretty great prize for the winner: $500.
Misspell a word and you're out, but not for good. Those who flub a letter or three can buy back into the next round with costs going up as the competition gets more fierce, Bradshaw said.
Even those who don't win can take home a prize. In 2015, Bradshaw said, the first three people out received trophies to celebrate their "achievement."
Rotary sold about 150 tickets and raised $6,300 from the event. Members gave the money to the community in the form of grants. Last year, Prairie Queen Elementary School received drums worth almost $4,000, Northwest Classen High School received guitar textbooks, several projects were funded through DonorsChoose.org and a donation to the Western Avenue Association paid mural artists for their work.
Despite a massive snowstorm and a change in location, last year's Spelling Bee(r) pulled in its biggest crowd yet, which is why this year's contest will be at Will Rogers Theater & Event Center, 4322 N. Western Ave.
"We worried no one would show up, but instead, there was barely room to move around," he said. "We thought it was getting to the point where we needed the extra space and to plan for growth."
Even better, event co-chairman Ian Dauteuil said sponsors have covered all the initial costs of the Spelling Bee(r), which means the bigger venue could yield a much bigger payout for local charities.
Bradshaw said this event is a perfect example of why he joined Midtown Rotary.
"I'm a transplant, so when I moved here, I wanted to get more involved in the community," he said. "I caught the bug. Rotary is very arts-focused and aware of what's going on in the community. Oklahoma City is in this tremendous growth period, and rotary is very passionate about how the city is diversifying and growing."
Comedian Spencer Hicks and Midtown Rotary member Jacob Rowe host the event 6 p.m. Feb. 26. Guests must be at least 21 years old to attend.
Print headline: A-Beer-C's, Midtown Rotary's annual Spelling Bee(r) challenges drinkers to be thinkers.