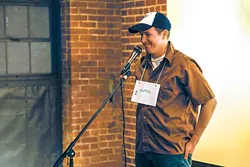 OKC Midtown Rotary Club is happy to give those of you who spent elementary and middle school wondering why the object of your stomach-churning crush was not paying attention to your brilliance a chance at redemption.
For the fifth year in a row, Midtown Rotary will reward someone possessed of super nerdy skills $500 for excelling in school.
The annual Spelling Bee(r) is Midtown Rotary's main fundraiser, and the winner really does get $500 — for spelling words.
Proceeds help fund the civic organization's annual grants, said Matthew Murphy, president elect.
"The beer tasting and the spelling bee are certainly fun," Murphy said. "But we like to emphasize that this is really about the programs we're able to support."
OKC Midtown Rotary invested approximately $10,000 in the community via the 2014 fundraiser and matching grants from Rotary International. Rotary clubs can choose the focus of their charitable work within the group's broad guidelines: promote peace, fight disease, provide clean water, save mothers and children, promote education and develop local economies.
OKC Midtown Rotary supports education and puts an emphasis on arts and music programs.
"Thanks to last year's fundraiser and the matching funds, we were able to buy musical instruments for Capitol Hill High School, send the Douglas Middle School robot soccer team to a tournament and buy supplies for Horace Mann Elementary," Murphy said.
Eric Bradshaw, an OKC Midtown Rotary member and spokesperson, said the Rotary starts working on funding projects a year in advance.
"The money raised at this year's Spelling Bee(r) will be used for programs beginning in July 2015, when the fiscal year begins," Bradshaw said. "We are still looking for schools to help with next year's programs."
This year's event is at The Paramount OKC, 7 N. Lee Ave., in the Film Row district. Paramount will provide food, and Anthem Brewing Company will pour beer. Anthem will feature at least two of its locally made beers: Golden One, a Belgian-style blonde ale, and Arjuna, a Belgian-style white ale.
Ticket-holders can register for the spelling bee for no extra charge.
Registration is voluntary, so if spelling was not your subject, you are free to eat and drink without being traumatized, Bradshaw said.
A designated driver ticket is $20, allowing access to the event, food and registration for the spelling bee. Doors open at 6 p.m., and the bee begins at 7 p.m. Since it is a fundraiser, participants are allowed to buy themselves back into the contest, but the price increases with each round.
Visit okcmidtownrotary.org.
Print headline: Bee-cause, How do you spell winner? With a spelling bee that includes booze while benefitting OKC Midtown Rotary.