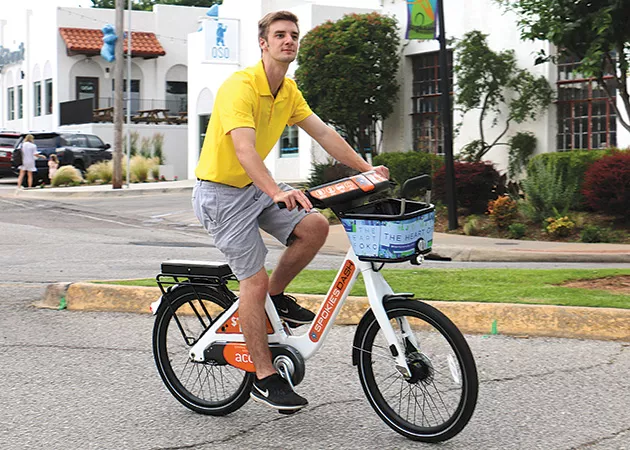 Embark / provided
Spokies Dash bikes can be picked up in districts like Uptown 23rd and The Paseo Arts and dropped off anywhere within the service area.
If you've spent any time in downtown Oklahoma City's flourishing Bricktown, Midtown or surrounding entertainment districts, chances are you've caught sight of the Spokies bike-share stations.
Spokies is currently the only bike-share program in the city and has been operating in downtown OKC since May 2012. It has changed management a couple of times through the years and is now under the purview of Embark transit services, which also manages the Oklahoma City streetcar and Oklahoma River Cruises.
This month, Spokies added 25 new smart bikes to its fleet as part of its Dash program. Spokies Dash is the third generation of the bike-share initiative.
The new Spokies Dash bicycles are smart bikes, meaning they include a touch screen on the handlebars where riders can get turn-by-turn directions, see how long they have spent on their ride and even learn how many calories they've burned.
Unlike the classic, second-generation bikes, the Dash bicycles are dockless and can be left at any bike rack within a service area encompassing an impressive slice of the urban core. The area now includes 16th Street Plaza District, The Paseo Arts District and University of Oklahoma Health Sciences Center. It is approximately 8 square miles.
"It's pretty large, comparing that to our much smaller ridership area that it was before," said Josh Vaught, general manager of the Spokies program. "It was a little over a square mile."
The 25 new bikes were purchased using a Congestion Mitigation & Air Quality grant through Association of Central Oklahoma Governments (ACOG). The Spokies bike-share program contributes to a larger goal of improving air quality and encouraging Oklahomans to use forms of transportation other than their cars.
Uptown 23rd District, Downtown Oklahoma City Partnership and Colony Partners provided matching funds for the Dash program.
"Uptown 23rd is excited to be a part of the new Spokies Dash dockless bikes program," said Christian Cox, marketing director of Uptown 23rd, via email. "It's a great way to open up our city and encourage movement across districts. It will be so easy to hop on a bike in the Paseo and ride down Shartel to Uptown or from Uptown to Midtown and so on."
Jill DeLozier, vice president of Downtown Oklahoma City Partnership, pointed to the importance of multiple transportation options in the fast-growing downtown area.
"Adding more forms of quick, safe and legal transportation is very important to any community, especially during times of massive growth like Oklahoma City is experiencing now," DeLozier said via email. "Although we still have many more improvements to make, adding more bicycles should have a very positive impact on our city becoming truly multi-modal and being more comfortable for cyclists."
Cycling improvements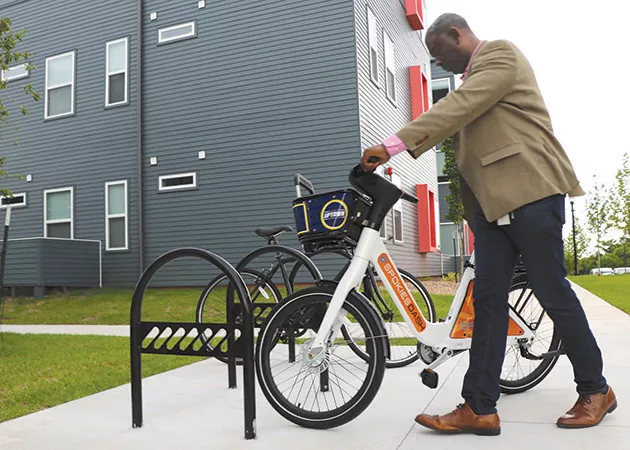 Embark / provided
Spokies Dash bike rides are completed when the bicycles are locked to any bike rack in the approximately 8 square-mile service area.
Both Spokies Dash and classic bikes can be located through the BCycle app on a phone. The app also allows users to check out the bikes. Alternately, bikes can be checked out using a Spokies fob, which is available with monthly, and annual pass programs or by using a credit card at the classic stations.
The classic Spokies bicycles are available for checkout from eight stations in the downtown OKC area. They must be returned to one of the stations at the end of a ride.
The cost for the dockless bikes and classic bikes is $1 to unlock a bike and then 12 cents per minute for single-use riders. Monthly and annual pass-holders get unlimited 15-minute rides and are then charged 10 cents per minute for longer rides. There is also an Explorer's Pass option that offers three hours for $9 and 12 cents per minute after that.
To end a ride on a Spokies Dash bike, the user only needs to use the provided lock to secure the bicycle to a rack within the service area.
Classic bikes have to be returned to a Spokies station, the front wheel securely docked. The dock will beep, and the rider will receive a text confirmation that the ride has ended.
Riders who leave bikes outside the service area will be charged a $40 fee.
Vaught acknowledged that Spokies is in direct competition with the dockless Lime scooters that have been available downtown since last year. His program even contemplated adding motorized scooters too, but they decided that bikes were a safer option.
"We briefly considered operating scooters," Vaught said. "If they're the new thing and they're micro-transit and they get people out of cars and they're riding in the bike lanes anyway, why don't we operate them? And we thought, 'Well, if they were safer, we would.' But they're too dangerous. We didn't want to be responsible for that."
This month, two of the classic Spokies stations were relocated to the Intermodal Hub at Santa Fe Station, 100 S. E.K. Gaylord Blvd., and the Boathouse District, SE Sixth Street and Lincoln Boulevard. Placing a station near Riversport Adventures was highly requested, so the program is experimenting with that location.
"Theoretically, lots of people could ride from Bricktown to Riversport and back," Vaught said.
He pointed out that the Spokies bikes are perfect for events like the monthly Full Moon Bike Ride, which takes place from May to October. Participants can get half off a Spokies Explorer's Pass for the event.
Vaught hopes to expand the Spokies Dash program to include more smart bikes or perhaps motorized bikes. When nearby Scissortail Park opens partially later this year, Spokies will likely move a station closer to the location and add Dash bikes.
He is also hopeful that MAPS 4, the next initiative of the city improvement program, will soon make Oklahoma City an even friendlier environment for bike riders.
"We're really looking forward to MAPS 4 hopefully bringing us protected bike lanes," Vaught said, "because I commute by bike almost daily. Most people that don't cycle, it's because they don't feel like they're safe riding in this traffic."
DeLozier echoed Vaught's wish for safer opportunities for cyclists.
"We just really need those who use cars in these busy areas to slow down and share the road," DeLozier said via email.
Spokies riders must be 16 years old or older, and helmets are recommended but not required.
Visit spokiesokc.com.