This house salad, which changes weekly, was made with blistered shishito peppers, bok choy and heirloom tomatoes. | Photo Jacob Threadgill
Just before opening St. Mark's Chop Room last summer, co-owner Drew Tekell told me that he envisioned the restaurant, which is named after his late father Mark, to be a neighborhood steakhouse where people could casually enjoy a steak while watching a Thunder game.
As I sat down for my first meal in the intimate dining room with six tables and 10 seats at the bar that shares a kitchen with its sister restaurant En Croûte, I found a pair of gentlemen seated at the bar, debating their favorite year of Pappy Van Winkle's Family Reserve bourbon and preferred opening-round playoff match-up for the Thunder as pre-game for a Thunder game against Atlanta played silently on the television. In that regard, it is mission accomplished.
For the small restaurant at 6462 Avondale Drive that doesn't engage in advertising, spreading the word about St. Mark's selection of wagyu beef has been an interesting tactic for staff.
"It's been a celebratory place for anniversaries and birthdays," general manager Brent Buchheit said. "We're trying to pitch it as a great place for meetings for people like drug reps because it's so private and they can sell easier than in a big steakhouse that is crowded."
The small restaurant translates to intimate and personal conversations with the server, who will take the time to discuss their favorite items on the menu and explain the nuance of the changing chef selection specials.
The meal began with a complementary popover that is a smaller version of the Dutch Baby pancake served at En Croûte. I found the center to be a little too eggy for my taste, but the ginger blackberry jam gave me the inspiration to bake a peach, strawberry and ginger pie with a crumble topping at home.
My server Aubrey tried to convince me to begin my meal with the Caesar salad because it's topped with crispy anchovies, which sounded very tempting, but I opted for the house salad ($12), which changes every week, because it came with blistered shishito peppers.
A wagyu rib-eye cooked in a cast iron skillet achieves a crunchy exterior at St. Mark's Chop Room & Bar. | Photo Jacob Threadgill
Chances are you've probably seen the finger-length dark green shishito peppers either in a prepackaged supermarket bag or on a restaurant special in the last two years. Native to Japan, the pepper is usually very sweet and mild but is somewhat like playing Russian roulette. Every 10 to 20 peppers amps up the heat, but even the hot ones are about a third of a jalapeño on the Scoville scale.
The peppers have become so ubiquitous that they earned a place on the Bon Appetit "Food Trends We Hope Disappear in 2017" list, but thankfully for me, they haven't gone away completely. I enjoyed the smokiness paired with heirloom tomatoes, bok choy, haricots verts, tomato vinaigrette, radishes and an avocado puree. The vinaigrette got lost against the puree, but the bok choy was somewhat of a revelation as a salad item. It was tender and not as bitter as some other dark, leafy greens.
The star of any meal at St. Mark's is its selection of wagyu beef, which comes from Ironhorse Ranch in Macomb, Oklahoma. The kitchen staff at St. Mark's, which is overseen by executive chef Jonathon Stranger, cooks each steak in a cast-iron skillet and butter-bastes the meat as it finishes in the pan.
"It's been great, and we don't advertise at all. People say it's one of the best steaks they've had because the way we cook it is so different," Buchheit said. "You get this nice crust, and then the wagyu beef in the middle is delicious."
I ordered the 14-ounce rib-eye ($48) because it's my personal preferred cut, especially compared to its offerings of strip loin and tenderloin. I like the extra fat on a rib-eye for a boost in flavor.
St. Mark's offers the enhancement of au povire, périgueux, chimichurri and truffle butter sauces, but I opted for the complimentary sea salt and roasted garlic head for optimum Oklahoma meat flavor.
My favorite part of the steak cooked on a grill is the bits of flame-kissed pieces that are singed brown and crispy. The cast-iron method allows the entire steak to finish this way for a beautifully brown finish and medium interior. While I'll admit that part of me missed the smoky flavor that comes from a grill, the cast iron is a preferable overall method to cook the steak.
I squeezed out a clove of roasted garlic for nearly every bite and even did a prerequisite Salt Bae meme recreation while adding sea salt to the beef. It was an excellent piece of beef well worth the price. Nothing is as disappointing as going to a steakhouse and thinking that you could've cooked it at home for a fraction of the price.
I finished the meal with a bananas Foster split ($12), which is a slight reinvention of the classic 1950s New Orleans dessert. Banana slices are caramelized on one side in a mixture of brown sugar and rum, and they are joined by house-made caramel and brown butter ice cream.
I don't know how long it has been since I've seen this dessert on the menu, so I ordered it with nostalgic glee. I would've preferred smaller pieces of banana and for it to be cooked on both sides. By the time it came to the table, one side was brûléed and the middle was no longer warm. The crunchy exterior was bitter in places, but the house-made caramel and ice cream were superb and a tremendous way to finish the meal with a latte made at the bar.
Are you looking for a great steak without the loud atmosphere of other steakhouses? St. Mark's Chop Room & Bar allows Oklahoma beef to be showcased in an intimate and attentive setting.
Visit stmarkschoproom.com.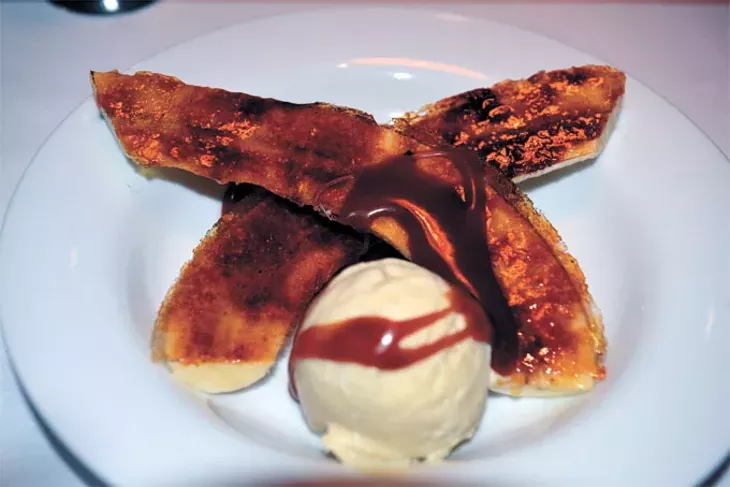 Print headline: Close quarters; St. Mark's Chop Room delivers local wagyu beef in an intimate and attentive setting.